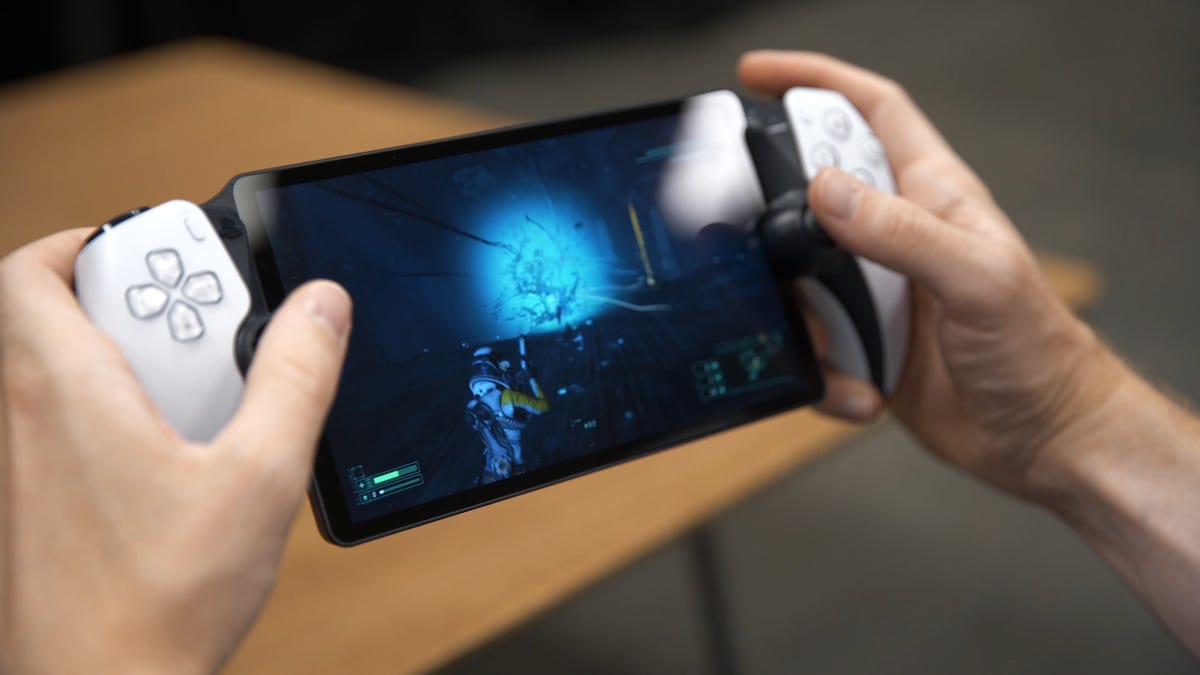 The PlayStation Portal, a controller/screen handheld specifically made to locally stream PS5 games, is coming this year.
Sony is making a return to gaming handhelds — in a sense. The PlayStation Vita, its last gaming handheld is long gone, but earlier this year, Sony announced a surprise new device, Project Q. It looked very much like a giant display fused with a DualSense controller from a PlayStation 5. That handheld became the PlayStation Portal, a $200 gaming device coming by the end of this year. CNET has already gotten a chance to play with it. Sony has also detailed more information on its own site.
The handheld, which should play all PlayStation 5 games over Wi-Fi, has an 8-inch HD LCD screen and a controller that has all the features of the DualSense that's standard on the PS5. The analog sticks are a bit smaller, but the layout is otherwise the same.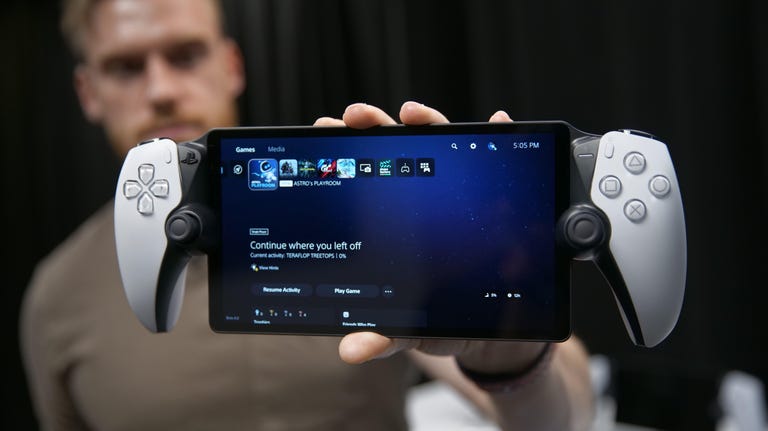 Watch this: PlayStation Portal Gaming Handheld: Hands-On 05:28
Streaming handhelds are a definite trend now, with Android devices like Logitech's G Cloud and the Razer Edge, and PC gaming-related devices like the Steam Deck and Asus' ROG Ally. But the Portal is specifically made as a second screen and a local play option for the PS5, not as a cloud-streaming or standalone device. Alternatives also exist: the Backbone One game controller, which has a PlayStation partnership and works with phones to play PS5 games wirelessly via streaming, is already a cloud-friendly alternative. However, devices like the Backbone One don't have the haptics that DualSense controllers and the PlayStation Portal have.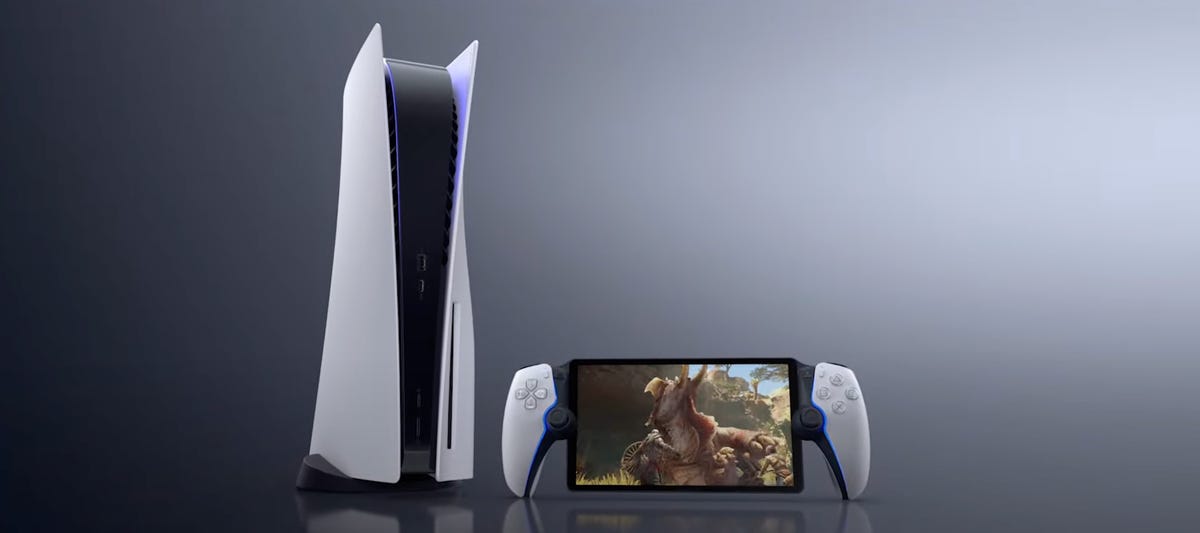 A glimpse of the handheld next to the PS5 for comparison.
Sony Interactive Entertainment
Sony's had a lot of pricey PlayStation 5 accessories debut this year. The PlayStation VR 2, a $550 VR headset that's tethered to the PS5 with a cable, almost seems like the antithesis to what the Portal offers. Sony also has the expensive DualSense Edge, a $200 customizable pro controller. Sony also announced a new line of wireless headphones.
That's the biggest concern here: So many accessories, and how many of them will anyone be able to afford? We'll have more detailed thoughts on how worthwhile the Portal is when we fully review it, but in the meantime, this is what we know about the Portal and how it differs from the rest of the handheld gaming landscape.
Price: $200
The Portal's price is less expensive than a Steam Deck, but the same price as a Nintendo Switch Lite. It costs less than some tablets. It's far less than the $550 PlayStation VR 2, though, making it possibly a more affordable gaming accessory. And even though this isn't VR, it sort of does one thing similarly: it extends your PS5 gaming experience onto another display.
Release date: Sometime this year
Sony's still being coy on the specific Portal release date, although it's coming in 2023. We're heading into the holiday shopping season, so it all depends on how readily available Sony plans to make the Portal.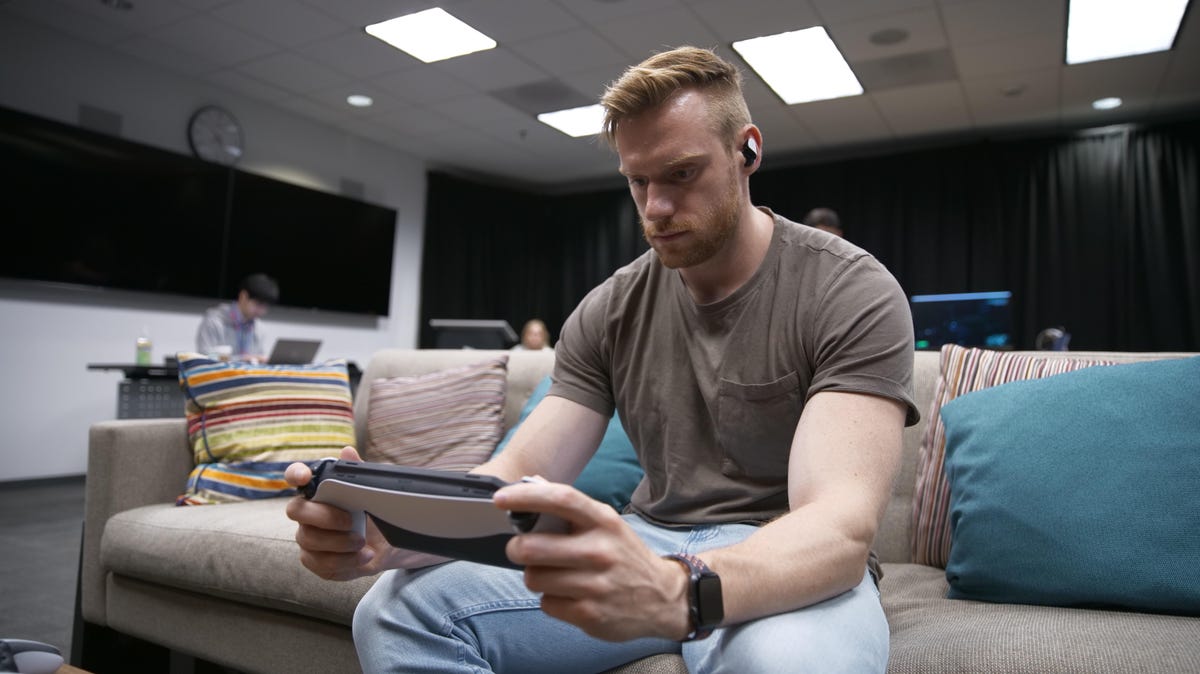 The Portal works like a dedicated wireless extension of the PS5.
CNET
Functions: A way to wirelessly play your PS5 games
Based on CNET's hands-on time with the Portal, you can keep your expectations low on how multipurpose this quasi-handheld device will be. PlayStation Portal isn't a standalone system, and it doesn't even seem to have any other ways to stream PlayStation games via the cloud like some cloud-streaming tablets and phone apps already do.
Display: Not OLED
The 8-inch display on the Portal is LCD, not OLED. For this price, that's not a huge surprise. But our first play impressions were at least positive: CNET's Sean Booker felt it was more than good enough to enjoy PS5 games, and its 1080p 60Hz display promises smooth, lag-free gaming.
While the Nintendo Switch's top-end model has an OLED display, the popular Steam Deck makes do with a 720p LCD screen.
Is this like a Wii U GamePad for the PS5?
Do you remember the Wii U? Its screen-enabled accessory could locally play Wii U games away from the screen. The PlayStation Portal has the same idea.
One advantage for the Portal, it seems, is the PS5 DualSense controls on it look to be as good as you'd expect. The haptics, triggers and buttons seem to work the same.
Does the Portal work with PSVR 2?
Short answer: No. If you're imagining a world where all of Sony's PlayStation 5 accessories work in tandem together, that's not the case when it comes to VR. The Portal won't work with PSVR 2 games, so you'll need to choose which one you'd rather play with.
Audio: A headphone jack and wireless
There's a 3.5mm headset jack on the Portal. However, it does work with a variety of wireless headphones: Sony's own Pulse models, including new wireless earbuds, which use a new PlayStation Link audio protocol that promises less latency. There's also Bluetooth.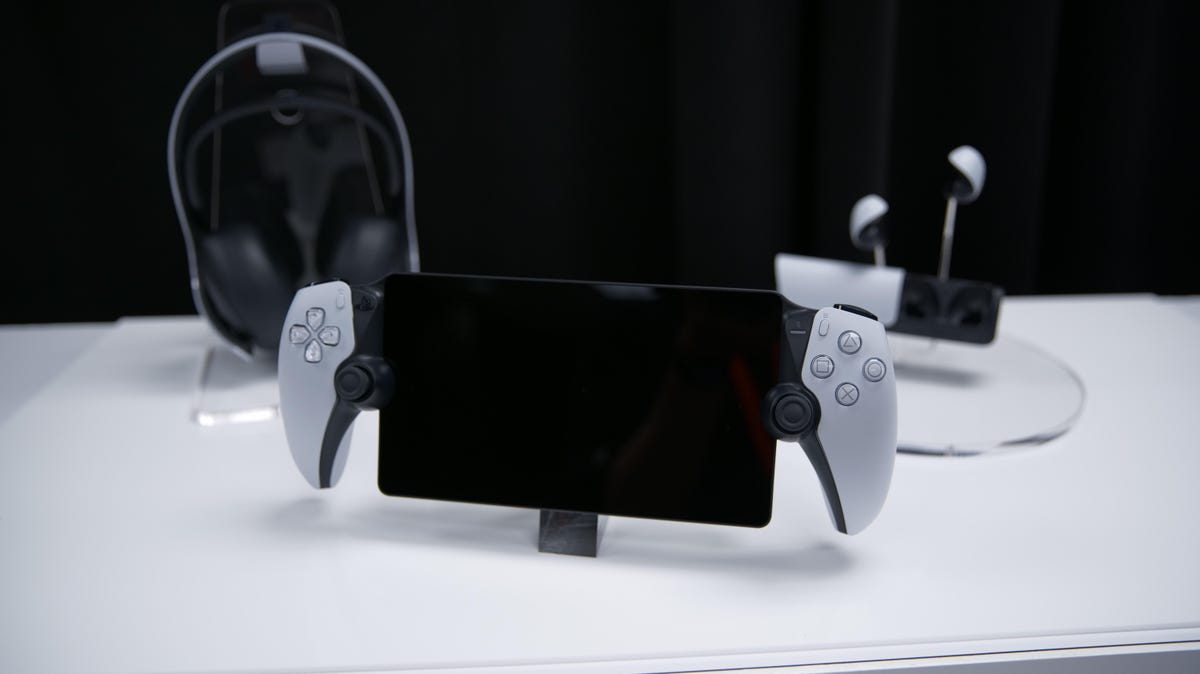 It looks like Sony's own audio accessories will be even more optimized for the Portal.
CNET
What's the Portal's battery life?
According to Sony, the battery life may be similar to what its controllers can last for — which would be, as mentioned by CNET's Booker, seven to nine hours. That should be more than enough for most people, but it also means you'll want to charge it after a big day of playing.
How do I order a Sony PlayStation Portal?
Sony hasn't introduced any preorder system yet for the Portal, so we don't know. But, Sony had some very specific ordering systems for the PlayStation 5 and PlayStation VR 2 at their launches. Be ready for a similar sort of process for the Portal.
Who is the Portal for?
Think of PlayStation Portal as a way to play the PS5 somewhere else in the house, off-screen, maybe in bed, or in a handheld-like mode like the Switch while someone else uses the TV. But it most definitely looks like a home device, a PS5 accessory and perhaps a more controller-optimized, lag-free version of what you can already do on a phone or tablet. Whether that's enough to entice you depends on how much you've always wanted to take your PS5 around the house. And of course, we won't know more until we get to play with one for a more extended period of time in a full review.