Publishing giant Simon & Schuster is to be sold to a private equity giant for $1.6bn (£1.27bn) in cash.
The deal with investor KKR marks the likely end of a years-long saga for owner Paramount Global, which had been looking for a buyer for the book company since 2020.
Competition concerns had scuppered a previous deal, which valued the firm at more than $2bn.
KKR said the publisher would continue to operate independently.
Simon & Schuster, founded in the US in 1924, employs more than 1,600 people globally.
Its first book was filled with crossword puzzles. Titles released since include Dale Carnegie's How to Win Friends and Influence People; Joseph Heller's military satire Catch-22 and best-selling mysteries by Stephen King.
KKR, which counts digital books platform Overdrive among its earlier investments, said it saw an opportunity to expand the company's distribution "across mediums and markets".
It said it would also create a plan to provide employees shares of the firm, to help create an "ownership culture".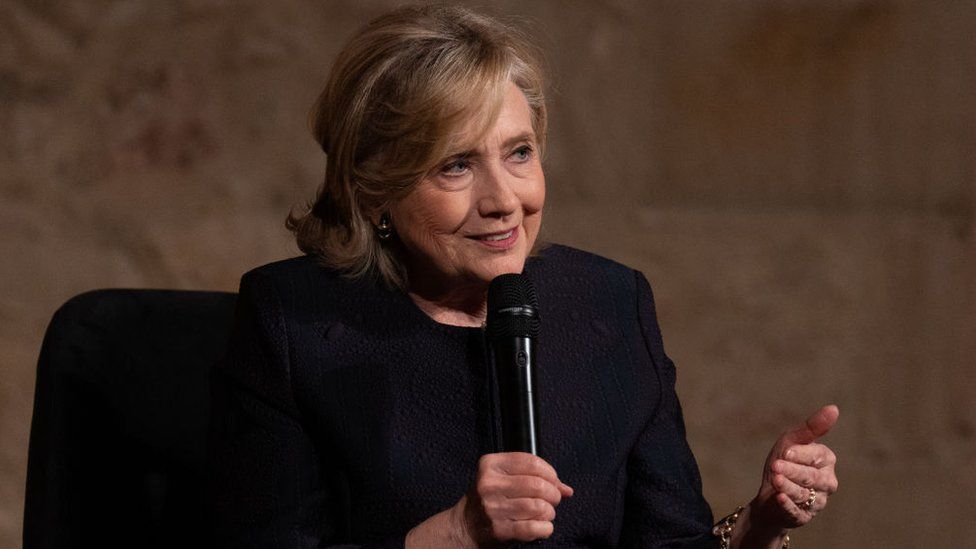 Image source, Getty ImagesImage caption, Simon & Schuster's roster of writers includes former US presidential candidate Hillary Clinton
Simon & Schuster is the fourth largest of the US's "big five" publishing companies, which also include HarperCollins, Hachette Book Group USA, Penguin Random House and Macmillan Publishers.
A tentative deal to sell the company to Penguin Random House for $2.2bn was blocked due to regulatory concerns late last year.
A US judge ruled in favour of the US government, which had attempted to block the takeover, arguing that the tie-up would reduce pay and opportunities for writers.
Author Stephen King was among the big names to testify against the sale on behalf of the US government, which has taken a harder line on competition under US President Joe Biden.
But on Monday, the boss of Paramount Global, Bob Bakish, said in a statement that the money raised by Simon & Schuster's sale would give the entertainment firm greater "financial flexibility".
It will also boost the cash available for content on its streaming service Paramount+ as competition from the likes of Disney and Netflix shows no sign of slowing.
On Monday, Paramount reported sales of $7.62bn in the three months to 30 June – down compared to $7.8bn in the same period a year before.
It reported an overall loss after ad sales at its TV networks fell by 10% and the firm couldn't follow up with a film that was as big as Top Gun: Maverick last year.