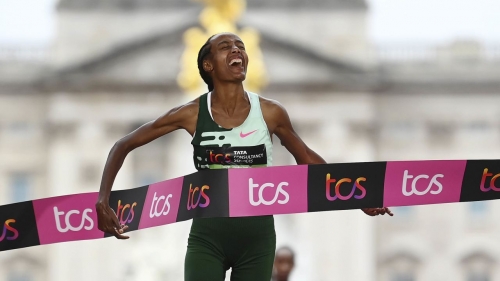 Hassan crosses the finish line at the London Marathon.
Alex Davidson/Getty Images

CNN
—
Running is a simple sport, the art of putting one foot in front of the other faster than your other competitors. That's precisely what Sifan Hassan did in the London Marathon on Sunday, though her stunning, chaotic victory in the women's race was anything but straightforward.
"There were so many dramas," Hassan told reporters after the race, "so many dramas – but it's beautiful."
A three-time Olympic medalist and two-time world champion on the track, the win in London, one of the world's six marathon majors, is the latest addition to the Dutch athlete's remarkable running CV.
Hassan spent much of her debut marathon wondering when she would drop out having stopped to stretch out an injured hip just after the hour mark. She later said she had forgotten to tape up her leg before taking to the start line.
Incredibly, Hassan appeared to shake off the injury and even picked up her pace as she gained on the lead group.
She had made up the lost ground by the closing stages, narrowly avoiding further disaster when she swerved towards a motorbike to collect her bottle from a drinks station.
Apparently unshaken by the near miss, Hassan recovered and had enough energy to outsprint Ethiopia's Alemu Megertu and Kenya's Peres Jepchirchir, the Olympic marathon champion, in the shadow of Buckingham Palace, breaking the finish tape in two hours, 18 minutes, and 34 seconds.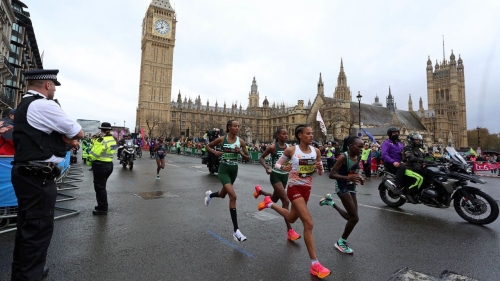 Hassan (center left) passes Big Ben on her way to an unexpected victory in London.
Susannah Ireland/AFP/Getty Images
Not many athletes are able to replicate their success on the track over the 26.2 miles of the marathon, let alone at the first time of asking.
But Hassan, who won 5,000 and 10,000-meter golds at the Tokyo Olympics and a bronze in the 1,500 meters, is no ordinary athlete, such is her talent over a range of distances. She later downplayed the suggestion that she is the greatest female distance runner of all time.
"I'm not the greatest, I'm just okay," the 30-year-old said. "I don't need to become the greatest. I'm fine the way I am."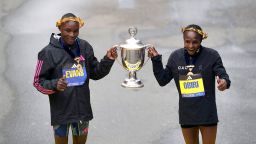 Evans Chebet, left, and Hellen Obiri, both of Kenya, pose on the finish line after winning the men's and women's division of the Boston Marathon, Monday, April 17, 2023, in Boston. (AP Photo/Charles Krupa)
Charles Krupa/AP
Double delight for Kenya as Evans Chebet and Hellen Obiri win men's and women's Boston Marathon races
'Why have I decided to run the marathon?'

Consider her buildup for Sunday's race and Hassan's victory is even less believable. She said she hadn't done much marathon-specific training as she was fasting for Ramadan and therefore unable to fuel and hydrate sufficiently for long runs.
Rather than making a long-term commitment to the marathon, Hassan thought she would test herself over the longer distance and still race on the track this summer.
It was a decision she started to regret on the morning of the race.
"I was telling myself that I'm stupid that I decided to run the marathon," said Hassan. "I even cried, [thinking]: why have I decided to run the marathon?
"I was so scared. This morning, I was telling Tim [Rowberry], my coach, 'Why did I decide to run the marathon? What is wrong with me?"
It wasn't until she crossed the finish line that she finally believed she would win the race. What kept her going, Hassan said, was finding the "spirit" to fuel herself for her next marathon.
"It was not 100% I'm going to finish – it did not come into my mind," she added.
The Ethiopian-born Hassan, who moved to Netherlands as a refugee aged 15, ranked her victory in a rain-soaked London on par with her three medals at the Tokyo Olympics.
Prior to that, she broke the 23-year-old mile world record at the start of 2019 and won 1,500 and 10,000-meter golds at the world championships a few months later.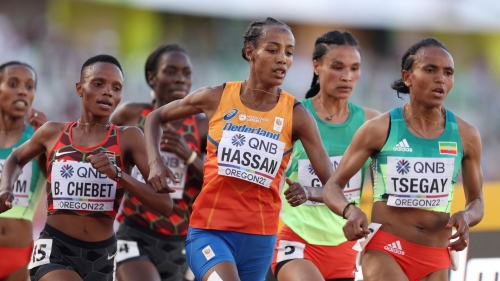 Hassan races in the 5,000-meter final at last year's World Athletics Championships in Eugene, Oregon.
Christian Petersen/Getty Images
Her marathon debut set the tone for another thrilling performance in the men's elite race as Kenya's Kelvin Kiptum set a course record of two hours, one minute and 25 seconds – the second-fastest marathon time ever behind Eliud Kipchoge's world record from last year's Berlin Marathon.
The 23-year-old Kiptum, who ran the fastest-ever debut marathon in Valencia last year, finished nearly three minutes ahead of compatriot Geoffrey Kamworor in second, while Ethiopia's Tamirat Tola was a further 36 seconds back in third.
"I am so happy with the result," Kiptum told the BBC, according to Reuters. "I don't know what to say right now, I am just grateful."