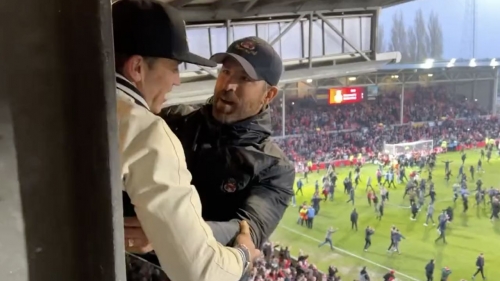 Ryan Reynolds shared a video filmed by Paul Rudd of him celebrating with Rob McElhenney.
VancityReynolds/Twitter

CNN
—
When the referee blew the full-time whistle confirming Wrexham's promotion from the National League for the first time in 15 years, the club's Hollywood owners could scarcely believe it.
Ryan Reynolds and Rob McElhenney, who had promised to transform the club after their takeover in 2021, looked temporarily winded and almost sunk to their knees as thousands of fans celebrated inside the Racecourse Ground.
It was an emotional moment captured by fellow Hollywood stalwart Paul Rudd, who filmed the pair in the immediate aftermath of Saturday's 3-1 win over Boreham Wood.
After a moment to themselves, Reynolds and McElhenney then shared a long hug before the latter appeared to wipe away tears from his eyes.
The pair then turned to celebrate with the sea of fans who had run onto the pitch.
Rob and I kinda blacked out during this moment, but somehow we'll never forget it.

🎥: Paul Rudd

cc: @wrexham_afc – @RMcElhenney pic.twitter.com/pVCYOHyKoC

— Ryan Reynolds (@VancityReynolds) April 23, 2023
"Rob and I kinda blacked out during this moment, but somehow we'll never forget it," Reynolds wrote on Twitter, sharing the video taken by Rudd.
It was an emotional moment that the team's supporters had been longing for and, such is the way at Wrexham these days, they were joined in celebration by a long list of famous faces.
'Ant-Man' star Rudd has been one of many Hollywood A-listers to visit Wrexham in recent months and the 54-year-old appeared to enjoy his time in Wales.
Footage and photographs on social media showed Rudd drinking in the local pub and meeting excited Wrexham fans ahead of Saturday's match.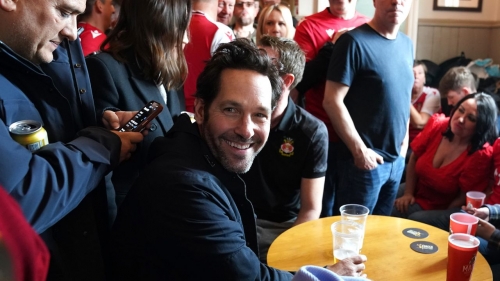 Paul Rudd is one of many actors to have watched Wrexham in recent months.
Martin Rickett/PA Images/Getty Images
Many other celebrities took to social media to congratulate Wrexham after its promotion into the Football League.
Oscar-winning Welsh actor Anthony Hopkins replied to a tweet from Reynolds branding him an "honorary Welsh boyo," while former England player Gary Lineker congratulated the club on its achievement.
"I fancy the next series might be a decent watch," Lineker tweeted, in reference to the 'Welcome to Wrexham' TV series released last year which documented the club's fortunes since the takeover.
As well as acting royalty, the Prince of Wales also tweeted after Wrexham secured promotion.
"A club with such amazing history, looking forward to a very exciting future back in the Football League. Doing Wales proud," Prince William wrote.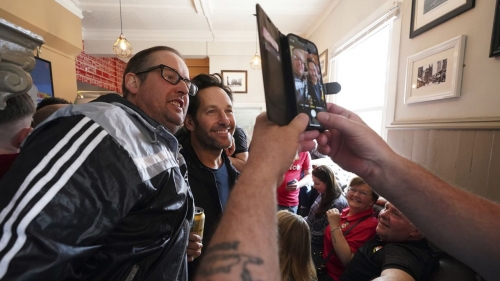 Rudd appears in photographs alongside Wrexham fans in The Turf Pub ahead of Saturday's match.
Martin Rickett/AP
For the community

While the club's new high profile fans sprinkle a touch of stardust to proceedings, Saturday's win was for the lifelong fans who have endured a difficult ride of late.
The historic small town club, which was once in the higher echelons of English football, had been on the brink of extinction in 2011 and had struggled to compete on the pitch.
But since the takeover, the club has been transformed and will play in League Two next season, the fourth-tier of English football.
Three further promotions and Wrexham would be in the English Premier League. Such a notion may appear farfetched, but the surreal has become all too normal for Wrexham supporters of late.
"I think we can hear how it feels to the town and that's what's most important for us – I think this is a moment of catharsis for them," co-owner McElhenney told reporters after Saturday's game.
"For us to be welcomed into their community and to be welcomed into this experience has been the moment of my life."