Shania Twain is getting candid about her friendship with Harry Styles.
During a recent interview on "Today," Twain opened up about what it was like performing with her friend at Coachella in April 2022, saying meeting backstage at one of Styles' solo concerts led to a friendship, which in turn led to their iconic performance together on the festival stage.
"He was just really on his way up when I first met him," she said. "We stayed in touch ever since, and then he invited me to the Coachella performance. We're just very easy together, it's like we've known each other for a very long time."
The two joined forces to sing two of Twain's songs, "Man! I Feel Like a Woman!" and "You're Still the One," while wearing matching sparkly outfits. Twain called the experience "one of the highlights of my career," and was all about showing mutual respect towards each other and their talents.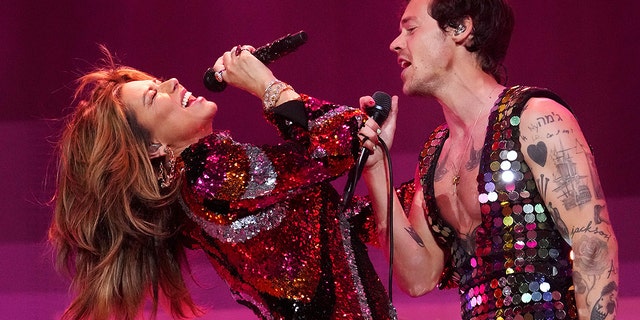 Shania Twain and Harry Styles performed together at Coachella in April 2022.
(Kevin Mazur/Getty Images for ABA)
SHANIA TWAIN DETAILS TRAUMATIC EVENTS FROM ABUSIVE STEPFATHER, CLAIMS HE WOULD 'FONDLE HER'
Twain recalled Styles telling her how he grew up listening to her music because his mom was such a big fan of hers, adding: "'I love (my mom) for that, because I love your music.'" They managed to stay in touch after exchanging numbers backstage, with Twain even surprising his mom with a phone call on her birthday.
"He's one of these kids that's part of the generation that 25, 30 years ago were 4, 5, 6 years old in the audience," she said. "Now it's this full-circle moment where they are old enough now to speak for themselves, and they can come and see me without the parents and express their admiration for my music and to thank me for the inspiration."
Hearing positive feedback from her fans is something Twain still enjoys. "It's very rewarding for me to still be doing this and to hear their gratitude in person," she said.
Last year, Twain revealed how a Lyme disease diagnosis affected her career in the Netflix documentary "Not Just a Girl."
The singer-songwriter was diagnosed with the disease after being bitten by a tick while horseback riding in 2003. Years later, Twain explained her symptoms, which she characterized as "quite scary." The country music star experienced dizziness and blackouts, as well as developing dysphonia. The neurological disorder affects speech and voice, according to Penn Medicine.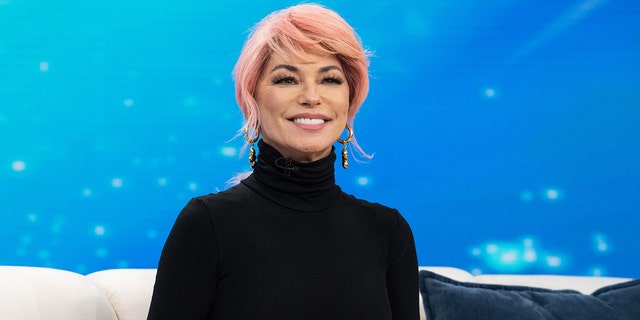 Twain was diagnosed with Lyme disease in the early 2000s after being bitten by a tick, which affected her vocal cords.
(Nathan Congleton/NBC via Getty Images)
"My voice was never the same again," Twain recalled in the doc. "I thought I'd lost my voice forever. I thought that was it, [and] I would never, ever sing again."
CLICK HERE TO SIGN UP FOR THE ENTERTAINMENT NEWSLETTER
After undergoing multiple invasive throat surgeries, Twain said that eventually she was able to find confidence in her voice again. "I'm never going to have my old voice again," she said in a 2020 interview. "I'm OK with that. I've found a new voice. And I like it." Her friends in the music industry, such as Lionel Richie and David Foster, encouraged her to keep singing and to never give up on her passion.
In 2012, Richie released his duets album, "Tuskegee," which featured a duet of "Endless Love" with him and Twain. Twain admitted Friday on "Today" that she "was petrified to do it" because it was before her operation. However, she noted that Richie "was so patient and loving with" her.
"I felt a trust that I had not felt in a long time, sort of like falling backwards and your friend saying, 'Don't worry, I will catch you.' It was that exact feeling, and I knew he would catch me," she said. "I knew he wouldn't judge, and I knew with his experience and his kindness that he would walk me through it and talk me through it, so I had to trust. I didn't trust my voice."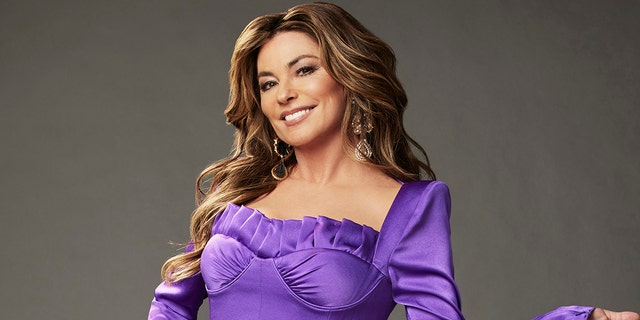 Twain described singing with Lionel Richie as trusting your friend will catch you when you fall.
(Art Streiber/ABC via Getty Images)
Twain has since accepted that her voice is forever different from what it used to be, but is thankful she will always be able to continue her career as a songwriter.
CLICK HERE TO GET THE FOX NEWS APP
"If I do lose my voice — it may not last forever, this procedure that I had — maybe I won't be able to sing satisfyingly again in the future, but for as long as I have my mind and my creativity, I will write music," Twain said.