close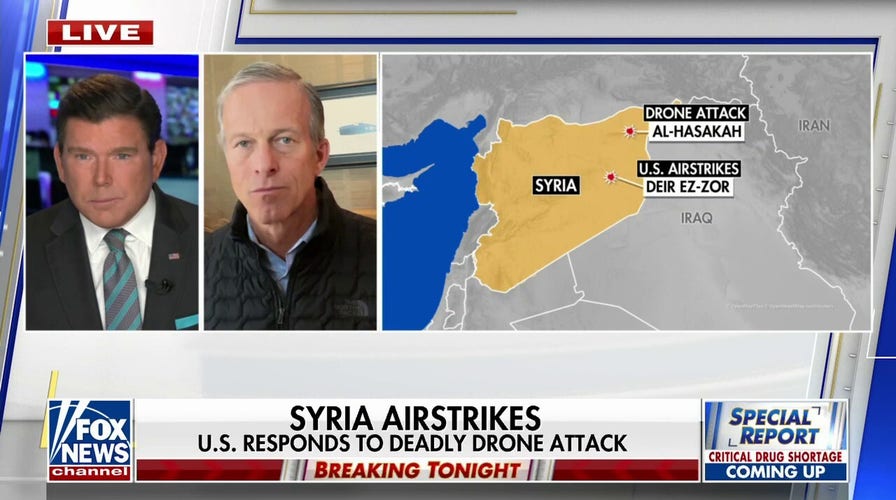 Video
U.S. forces injured after Iran-backed rocket attacks target American outposts in Syria
Sen. John Thune, R-S.D., weighs in on the U.S. response to rockets fired from Iranian proxy groups in Syria and the TikTok national security threat on 'Special Report.'
An advisor to Iran's main military branch in Syria was killed in an alleged Israeli airstrike Thursday night in Damascus, Syria, as fighting between Tehran-backed forces and the U.S. and Israel have escalated in recent weeks.
The Iranian Islamic Revolutionary Guard Corps (IRCG) threatened to avenge the advisor identified as Milad Heydari and according to Israeli reports said, "The fake and criminal Zionist regime will undoubtedly receive a response to this crime."
According to The Times of Israel, the Britain-based Syrian Observatory for Human Rights group said the strikes targeted an arms depot and Iranian-backed groups just south of capital city.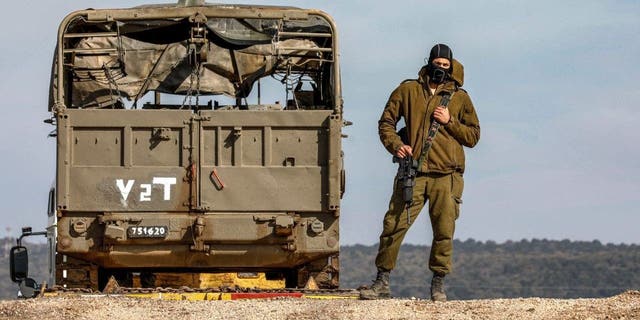 An Israeli soldier stands next to a truck at a position in the Israeli Golan Heights near the border with Syria on January 2, 2023.  Israeli missile strikes on the Syrian capital's airport on January 2 killed four people, including two soldiers, and closed the runways for several hours, a rights monitor said.  (Photo by JALAA MAREY/AFP via Getty Images)
PENTAGON SAYS 6 US TROOPS TREATED FOR TRAUMATIC BRAIN INJURIES IN SYRIA AFTER IRAN-BACKED ATTACKS
The strikes were the second attack on Damascus supposedly launched by Jerusalem in a 24-hour period after it allegedly hit the capital Wednesday night in a strike that injured at least two Syrian soldiers, according to Israeli reports.
Deadly strikes in Syria appear to have increased in recent weeks as the U.S. and Israel – which back opposition forces in eastern Syria – respond to attacks from IRGC-backed forces.
Iran has provided arms and support to the Bashar al-Assad regime since the deadly civil war broke out in 2011.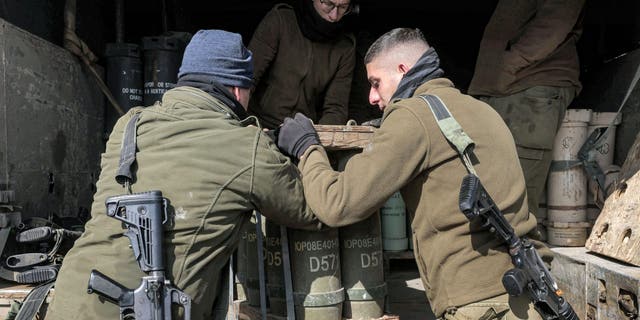 Israeli missile strikes on the Syrian capital's airport on January 2 killed four people in the second time in less than seven months that Damascus International Airport – where Iranian-backed armed groups and Lebanese Hezbollah fighters are present – has been hit by Israel.  (Photo by JALAA MAREY/AFP via Getty Images)
US AIR DEFENSES DOWN DURING SUSPECTED IRANIAN DRONE STRIKE IN SYRIA THAT KILLED ONE AMERICAN
Six American soldiers were diagnosed with traumatic brain injuries this week after IRGC-backed forces hit two coalition military bases in Northeast Syria earlier this month.
Four of the service members were injured during a drone strike at a U.S. base near Hasaka on March 23, while another two soldiers suffered injuries following an attack at the mission support site Green Village on March 24.
U.S. Bradley Fighting Vehicles (BFV) patrol in the Suwaydiyah oil fields in Syria's northeastern Hasakah province on February 13, 2021.  (Photo by DELIL SOULEIMAN/AFP via Getty Images)
CLICK HERE TO GET THE FOX NEWS APP
The Pentagon confirmed that its air defense system was down during at least one of the strikes against a coalition military base in Northeast Syria last week.
Gen. Erik Kurilla testified in a hearing on the Hill last week that since January 2021, Iranian-backed forces have been behind 78 attacks on U.S. bases in Iraq and Syria.
Caitlin McFall is a Reporter at Fox News Digital covering Politics, U.S. and World news.