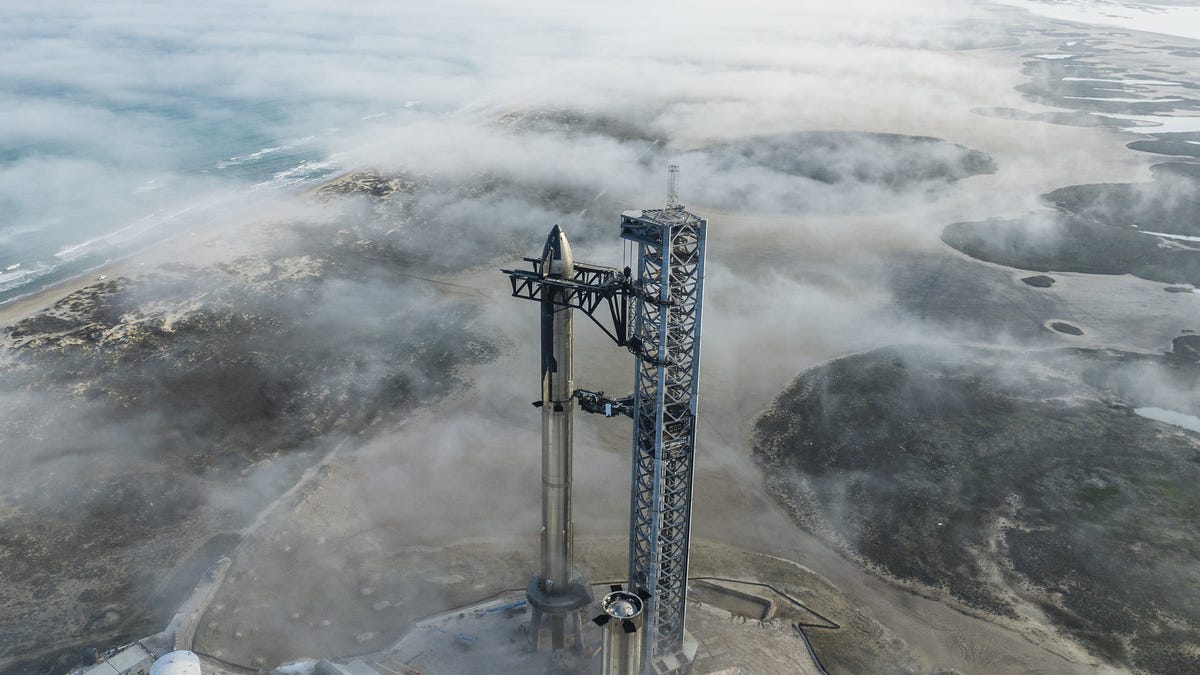 A magical, misty moment in Texas as Starship poses on the launchpad in January 2023.
SpaceX
A new spacecraft may soon reach orbit if SpaceX gets its way with a historic launch of its shiny Starship. Before the next-gen spacecraft takes to the skies, it has to be stacked up on the launchpad and make it through a series of tests. On Thursday, SpaceX shared some impressive new looks at the ship and rocket together.
More pics of Starship fully stacked on the orbital launch pad at Starbase → https://t.co/095WHWN1zX pic.twitter.com/pYzC9nQYSc

— SpaceX (@SpaceX) January 12, 2023
The orbital launch attempt, which doesn't yet have a scheduled date, will take place at SpaceX's Starbase facility in Texas. It's a scenic spot along the coast that provides a lovely backdrop for the Starship glamour shots.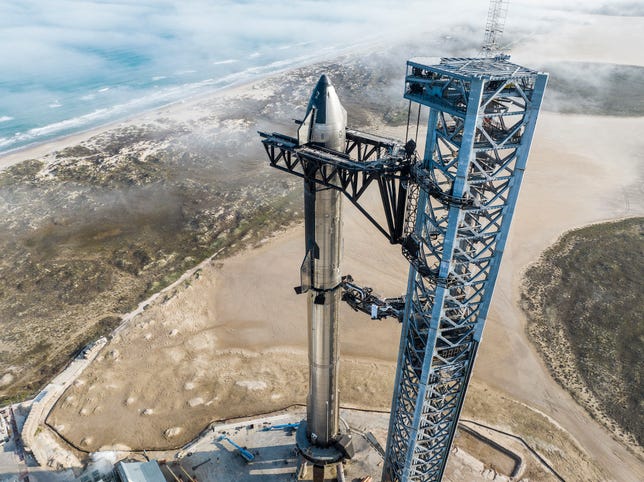 Enlarge Image
Starship looks like it's ready to get off this rock in a January 2023 SpaceX photo.

SpaceX

Narrowing down an actual launch attempt time has been tricky. SpaceX founder Elon Musk has a history of making optimistic projections that don't pan out. Earlier this month, he suggested Starship has a shot at a February launch, with a March date even more likely.
SpaceX has been building excitement for the launch through images and video. The company shared a thrilling top-down view of a fiery engine test late last year. More fancy spacecraft images are available on SpaceX's Flickr site.
See also…

Elon Musk Updates Timeline for Starship to Finally Launch to Space
SpaceX Shares Eye-Popping, Top-Down View of Fiery Starship Engine Test
Starship is meant to open new avenues of space exploration. The first goal is to get it safely to orbit. Then, SpaceX will work on getting humans on board. After that, SpaceX is aiming to send a group of artists around the moon and fulfill a NASA contract to take astronauts to the surface of the moon through the Artemis program.
There's a lot riding on this shiny, uncrewed Starship and the big rocket that will (hopefully) blast it to space. There are a lot of uncertainties with a new orbital launch of new equipment, so it's wise to enjoy the views of Starship in pristine condition while you still can.