close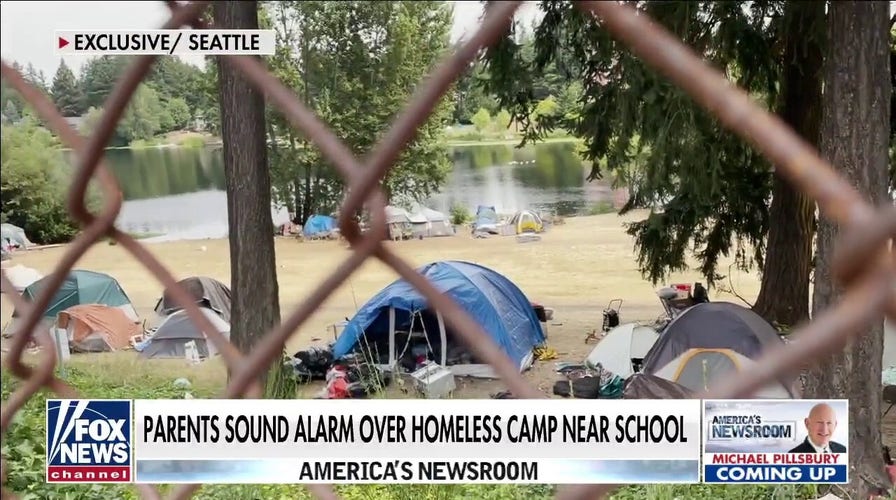 Video
Seattle homeless encampment near school grows as school year set to begin
Radio host Jason Rantz discusses why Seattle school board isn't taking action towards removing homeless camp, as parents raise concerns
Parishioners at a Seattle church are reportedly becoming "afraid" to attend services over a growing homeless encampment and are calling on the city for assistance.
"We want them to get help, we want them to get off the streets. We don't have the infrastructure as a small church to do that ourselves. We need help," Penny Peppes, parish council president for the Greek Orthodox Church of the Assumption told KOMO News last week. "Our parishioners who come from all over are very worried about their safety. They are afraid to come. It's beyond frustrating because it's impacting our ability to come to church to worship."
Peppes said that about a month ago, one tent was established near the church in Seattle's Capitol Hill neighborhood and then "quickly, quickly escalated."
Some of the people living in the homeless encampment are even reportedly using the church as a mailing address for Amazon packages, KOMO News reported.
SEATTLE HOMELESSNESS PLAN: MAYOR ANNOUNCES DATABASE, MORE THAN $150 MILLION IN SPENDING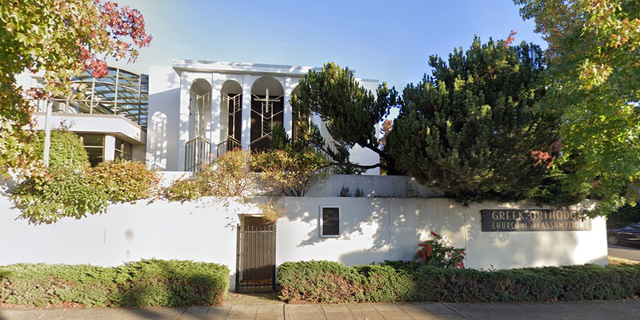 The Greek Orthodox Church of the Assumption in Seattle.
(Google Maps )
"One of the homeless folks knocked on our door and asked, 'Did you get my package?'" Peppes said. "So, they are using our church as their mailing address," Peppes recounted.
Peppes said the congregation at the Orthodox church has long worked to help the city's homeless population, including delivering food to two shelters twice a month.
DOZENS OF HOMELESS PEOPLE SEEN USING SEATTLE PUBLIC TRANSPORTATION AS HOMELESS SHELTER
"We want them to get the help they need," she said.
Fox News Digital reached out to the King County Regional Homelessness Authority for comment on the encampment, but did not immediately receive a response.
The independent agency previously told KOMO News about another nearby homeless encampment last month that "the need for housing and outreach is greater than current capacity."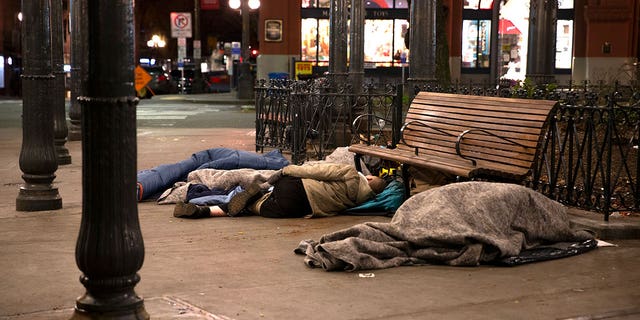 People sleep outside on a sidewalk on April 6, 2020 in Seattle. 
(Karen Ducey/Getty Images)
"Meaning we need more affordable housing units for people to go to, and our outreach teams are quite busy working with people across the region. We confer weekly with outreach teams, and the City of Seattle tracks citizen reports," the statement said.
SEATTLE BUSINESS OWNERS FURIOUS, 'DESPERATE' OVER HOMELESS CRISIS, SLAM 'MUSICAL CHAIRS' POLICY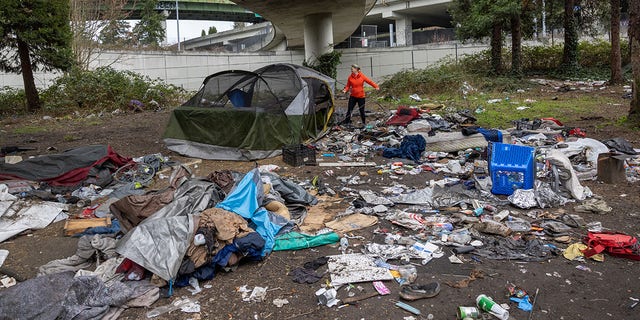 Andrea Suarez dismantles a tent as garbage lies piled at a homeless encampment on March 13, 2022 in Seattle. The accumulation of garbage at such sites has become a major issue in Seattle, as the city tries to move the unhoused out of shared public spaces. Suarez is the executive director of We Heart Seattle, a non-profit that stages trash cleanups across the city. According to a recent report commissioned by Seattle Councilmember Andrew Lewis, the COVID-19 pandemic put undue pressure on the city's shelter system and delayed funds for new housing, leading to an increase in homelessness. 
(Photo by John Moore/Getty Images)
CLICK HERE TO GET THE FOX NEWS APP
Homelessness in Seattle and King County rose roughly 13.8% from 2020 to 2022, according to the U.S. Department of Housing and Urban Development's yearly homelessness assessment.