San Francisco authorities penned letters to the California Public Utilities Commission (CPUC) asking to slow the expansion of Cruise and Waymo robotaxi services, citing safety concerns.
Officials said that although they hope emerging driving automation technology will contribute to improving street safety and enhance equitable and accessible mobility, the expansion of either service "is unreasonable," following recent incidents during which the autonomous vehicles blocked traffic and intruded into active emergency response scenes.
The National Highway Traffic Safety Administration opened an investigation into Cruise last December.
The news was first reported by NBC News.
SELF-DRIVING CARS CREATE NEW OPPORTUNITIES FOR TERRORIST ATTACKS, SAYS FBI DIRECTOR CHRIS WRAY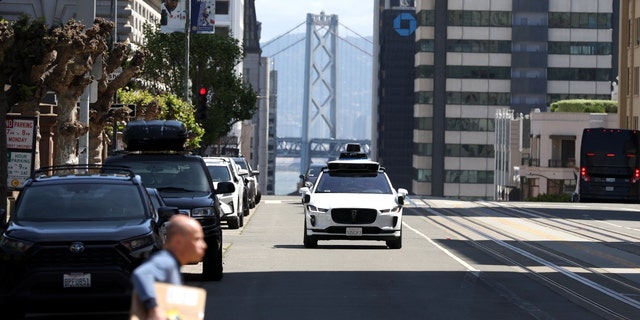 A Waymo autonomous vehicle drives along California Street on April 11, 2022, in San Francisco, California. 
((Photo by Justin Sullivan/Getty Images))
"If the Commission approves sweeping authorizations for both Waymo and Cruise, without timely holding permittees accountable for addressing operational issues in a transparent and incremental way, the scale of these operational challenges may soon affect a large percentage of all San Francisco travelers," the letter to Waymo said. "These challenges call for continuous collaboration between industry and all levels of government. Collaboration is all the more important because the climate emergency leaves little room for policy error; we cannot allow acute disparities in freedom of movement and resulting economic opportunity and public health to worsen."
Both Alphabet's Waymo and GM's Cruise offer driverless services in the city.
"A series of limited deployments with incremental expansions – rather than unlimited authorizations – offer the best path toward public confidence in driving automation and industry success in San Francisco and beyond," the letter said.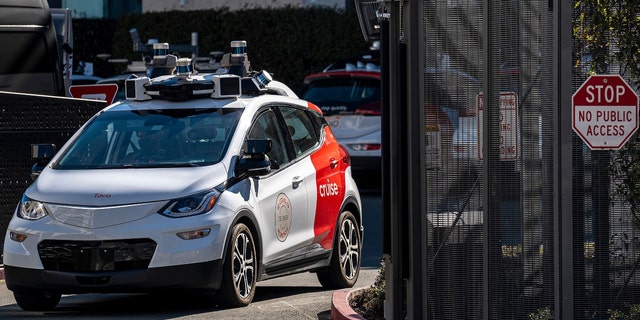 A Cruise vehicle in San Francisco, California, U.S., on Wednesday Feb. 2, 2022. 
(Photographer: David Paul Morris/Bloomberg via Getty Images)
Officials said that companies should be required to collect more performance data, that the authorization of fleet size expansion should be done in "limited increments" and that travel in the dense downtown core streets and during peak transit and travel hours should be authorized only after companies demonstrated that "they can operate a significant volume of commercial AVPS on San Francisco streets over a period of at least several months without significant interruption of street operations and transit services."
SAN FRANCISCO REPARATIONS PROPOSAL WOULD DESTROY CITY'S BUDGET, SUPERVISORS CAUTION
"Cruise's safety record is publicly reported and includes having driven millions of miles in an extremely complex urban environment with zero life-threatening injuries or fatalities," a Cruise spokesperson told Fox News Digital in a statement. "We're proud that the overwhelming majority of public comments – including from advocates in the disability community, small businesses and local community groups – support expanding Cruise's all-electric driverless service to serve the full city."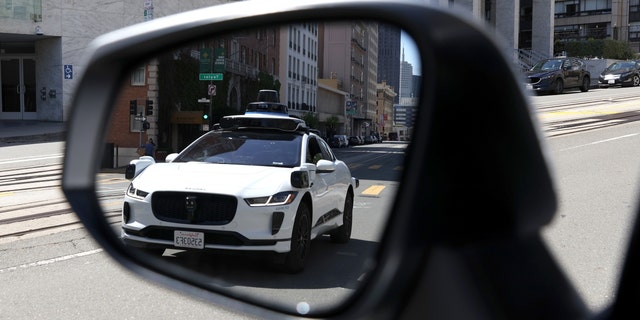 A Waymo autonomous vehicle is seen reflected in a mirror as it drives along California Street on April 11, 2022, in San Francisco, California. 
((Photo by Justin Sullivan/Getty Images))
"These letters are a standard part of the regulatory process, and we have long appreciated a healthy dialogue with city officials and government agencies in California," a Waymo spokesperson told Fox News Digital in a statement. "Waymo will have the opportunity to reply in our submission to the CPUC this week. Beyond that, we look forward to discussing these issues through our continued partnership with public stakeholders."
CLICK HERE TO GET THE FOX NEWS APP
Both Waymo and Cruise pointed to letters of support and positive comments.
In December, Cruise received approval to expand deployment to 24 hours a day, and is waiting on approval from the CPUC.