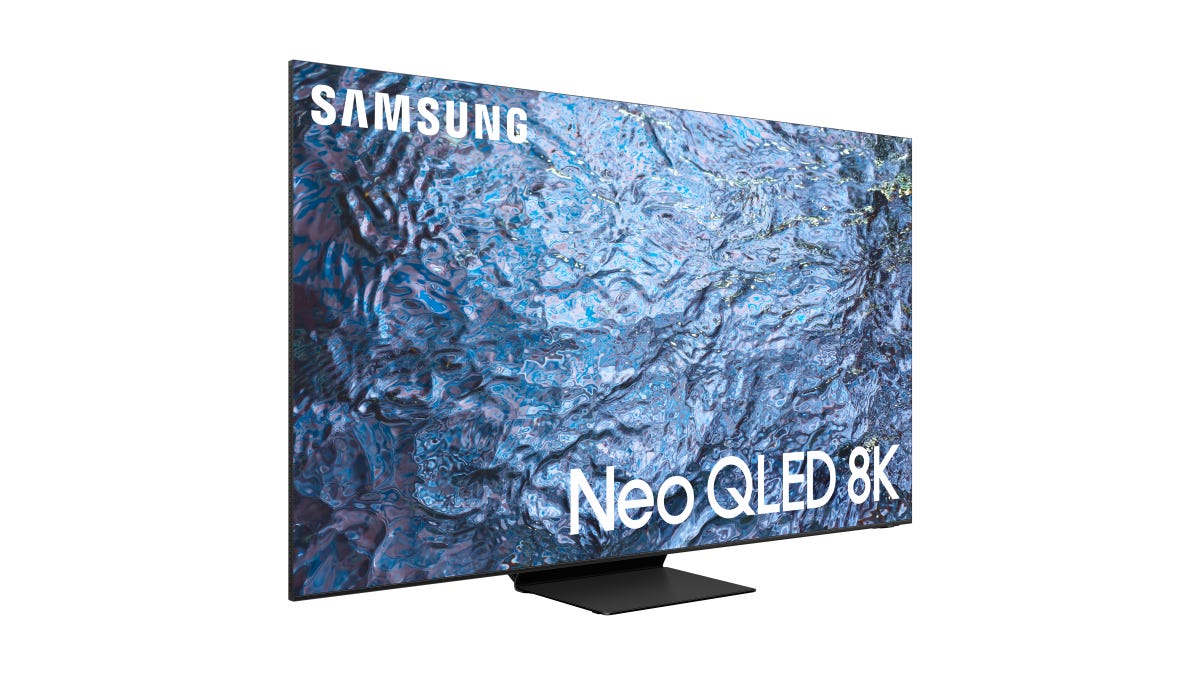 Samsung says its new 8K QLED TVs will get very bright.
Samsung
Samsung is the top TV maker in the world, and while it sells both MicroLED and QD-OLED-based televisions, most of its best-known TVs use QLED screens. At CES, the company highlighted a couple of its flagship QLED TVs for 2023 in both 8K and 4K resolutions, touting better picture quality, a new 98-inch size and some health-related features for its detachable cameras.
High-end Samsung QLED TVs are generally very bright but the top-of-the-line 8K QN900C takes it to a new level. Samsung boasts a searing 4,000 nits peak brightness, which if true would make it the brightest TV I've ever measured. Samsung's peak brightness claims come with a big catch: They dim after a few seconds according to my tests — but either way, I expect that TV to be exceedingly bright. 
The company also debuted a new size of 8K TV: 98 inches. Samsung currently sells 98-inch TVs in 4K resolution but this would be its first in 8K. Samsung hasn't announced pricing on any of its 2023 TVs yet but for reference, the current 4K 98-incher costs a cool $15,000, so the 8K version will likely be significantly more. And as usual, I don't think 8K resolution is worthwhile in any size.
More intriguing to me is the 4K resolution QN95C, an indirect successor to the excellent QN90B I reviewed last year. Samsung says it has improved dimming and 14-bit processing, although while I don't expect either enhancement to allow this QLED TV to beat OLED models, the QN90B was my favorite non-OLED TV of 2022. Samsung also slimmed down the QN95C's TV's frame, to just 20mm, and eliminated the external connection box.  
Samsung QN90B QLED TV (65-inch)
$1,800 at Samsung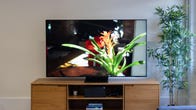 Beyond improving image quality Samsung touted some new features related to its optional camera. Samsung sells its own "easily detachable, privacy-focused videoconferencing and workout-assisting camera" for $99 or you can attach a third-party camera. Either way, the camera can monitor your health — including heart rate, oxygen saturation and stress — by detecting changes in facial skin color, and you can use it to connect to and communicate with your doctor. The camera can also be used for video calls with a new app, to check in on pets or others in the living room or to assist in workouts.
Read more: Samsung's New Telemedicine App, Camera Aims to Give Your TV Telehealth Powers
Samsung's QLED TVs like the QN90B have great design and features, including built-in cloud gaming, a feature I like but hardly consider a must-have. On the other hand, they generally cost more than other sets with similar image quality, so I don't consider them as good a value as models like the TCL 6-Series or Hisense U8H. I got the chance to check out some of the new QLED TVs in person at CES and while they look great, the real question will be how they compare to other 2023 TVs for the money. I won't know that until I can review them for real, which I expect to happen this spring.