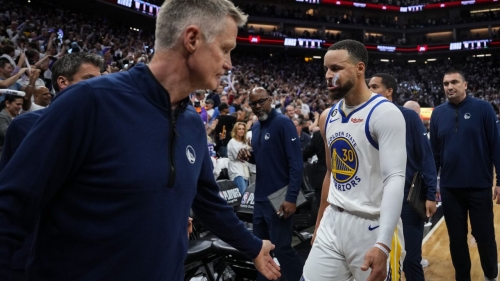 Steph Curry finished with 30 points.
Loren Elliott/Getty Images

CNN
—
The Sacramento Kings could not have enjoyed a better start to their return to the playoffs for the first time in 17 years.
Kings guard De'Aaron Fox finished with 38 points, five assists and three steals in a dramatic 126-123 Game 1 win over the Golden State Warriors in the Western Conference first-round series.
"Sacramento showed out tonight," Fox said, according to ESPN. "But doing this for the fans, just knowing the way that they support this team through thick and thin – really thin. It's just a testament to the way they are."
After a close first half, the Warriors had taken a double-digit lead in the third quarter only for the Kings to come back into the game.
Malik Monk, who scored 28 fourth-quarter points, hit a pair of free throws with 2.9 seconds left and a Steph Curry heave at the buzzer fell flat.
Curry finished with 30 points for Golden State, while Klay Thompson had 21 points and five assists.
Elsewhere, New York Knicks defeated Cleveland Cavaliers 101-97. Julius Randle, returning from a sprained ankle, finished with 19 points and 10 rebounds. Guard Jalen Brunson added a team-high 27 points.
Boston Celtics overcame Atlanta Hawks 112-99, and a passing masterclass from James Harden, combined with electric three-point shooting from his Sixers teammates, proved enough for the Philadelphia 76ers to down the Brooklyn Nets 121-101 at the Wells Fargo Center in Philadelphia.