close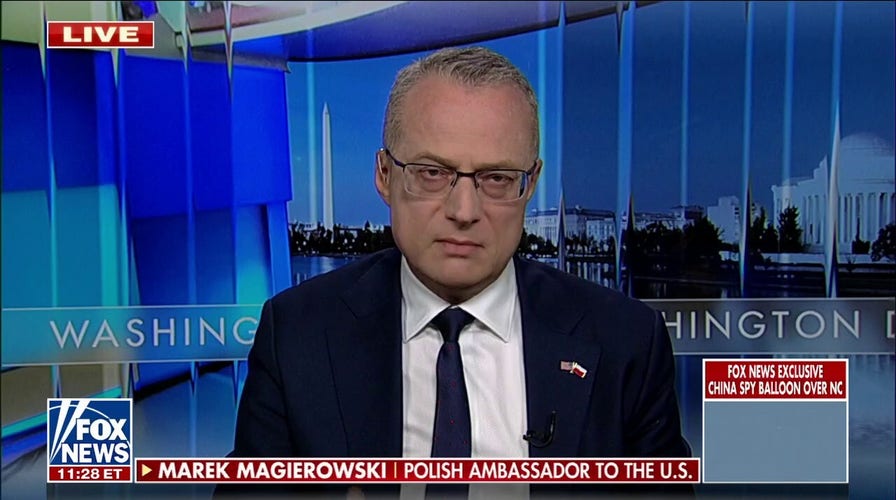 Video
Polish ambassador Marek Magierowski 'not terribly optimistic' about duration of Russia-Ukraine war
Marek Magierowski, Poland's ambassador to the U.S., joined 'Cavuto Live' to discuss the latest news emerging from Russia-Ukraine war, detailing the military aid that the nation is providing. 
Russia's infamous Wagner Group has been accused of supplying its troops with drugs to increase stamina on the front lines as the war nears the one-year mark and Russian causalities mount.
Fierce fighting continues to rage in the Donbas region and despite months of heavy warfare and concentrated efforts by both its military and the use of hired mercenary soldiers, Russia has failed to make major advances or take the Donetsk city of Bakhmut.
Trench and urban warfare not seen in Europe since World War II have dominated eastern Ukraine where soldiers on both sides struggle under extreme conditions.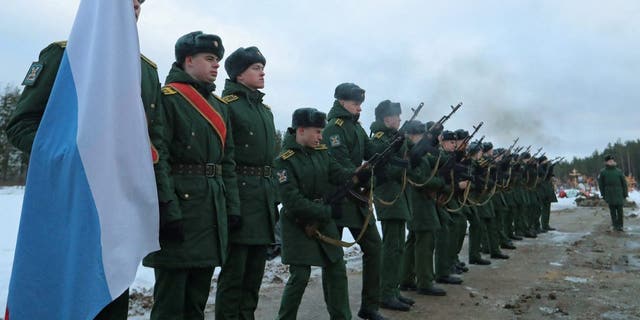 Cadets of a military academy fire a salute during the funeral of Dmitry Menshikov, a mercenary for the private Russian military company Wagner Group, killed during the military conflict in Ukraine, in the Alley of Heroes at a cemetery in Saint Petersburg, Russia December 24, 2022.  (REUTERS/Igor Russak)
WAGNER CHIEF SAYS HE'S TURNING RUSSIAN CONVICT FIGHTERS DESTINED FOR UKRAINE INTO 'CANNIBALS'
Afflictions associated with wars from the twentieth century like trench foot, frost bite and gangrene have become a constant threat for soldiers on the front lines who fight, eat and sleep in muddy and freezing conditions.
Suspicions regarding drug use among Russia's ranks first surfaced in November when Ukrainian soldiers told AFP that fighting Russian forces was like combating "zombies."
"You shoot them and more come constantly," one soldier said.
Strange accounts from more Ukrainian soldiers again immerged last week when one soldier told CNN that a firefight with Wagner forces, which lasted some 10 hours, astounded defensive troops after they saw a gunman hit at least one mercenary soldier only to have him pop back up before eventually falling over while he reportedly bleed-out.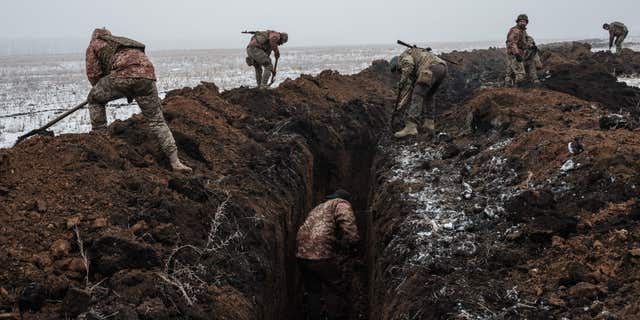 Ukrainian servicemen make a trench near Bakhmut on February 1, 2023, amid the Russian invasion of Ukraine.  (YASUYOSHI CHIBA/AFP via Getty Images)
One Ukrainian soldier said that he believed they must have been on performance enhancing drugs after he described how they "climb[ed] above the corpse of their friends, stepping on them" to continue.
Fox News Digital could not verify whether Wagner or Russian forces have been issued drugs to enhance their stamina on the battlefront.
Though performance enhancing drugs during warfare is not a new concept.
The Nazi's infamously distributed methamphetamine, now known as crystal meth, to its soldiers ahead of the invasion of France and allied forces reportedly used amphetamines, also called speed, to combat fatigue.
Russia expert and former Defense Intelligence Agency intelligence officer for Russian Doctrine & Strategy, Rebekah Koffler, explained that while there is no direct proof that Russian officials are supplying forces with drugs, she said she "wouldn't be surprised."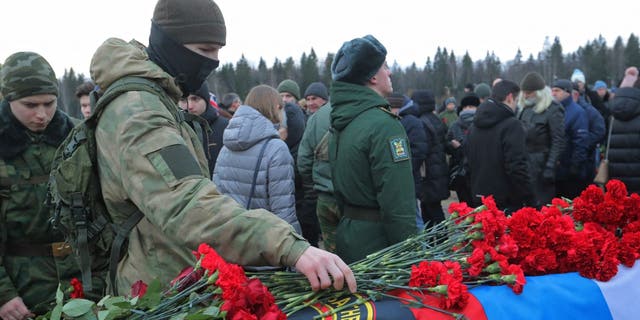 A man places flowers at the coffin during the funeral of Dmitry Menshikov, a mercenary for the private Russian military company Wagner Group, killed during the military conflict in Ukraine, in the Alley of Heroes at a cemetery in Saint Petersburg, Russia December 24, 2022.  (REUTERS/Igor Russak)
RUSSIAN WAGNER GROUP GAINS GLOBAL NOTORIETY FROM AFRICA TO UKRAINE, BUT DIVISION BREWS AT HOME
Wagner chief Yevgeny Prigozhin, a close ally to Russian President Vladimir Putin, has taken a direct interest in the success of his mercenary forces when it comes to the war in Ukraine.
Last year he began recruiting convicts to join his ranks in exchange for commuted sentences — meaning so long as a convict-turned-recruit stays alive for six months in Ukraine they will be granted their freedom.
"Progozhin is trying to show to Putin that his fighters are fighting machines," Koffler said. "That they can achieve their mission better than the Russian military."
Russia's military has long distanced itself from mercenary groups, but the public controversy between Wagner and the Russian military in recent weeks reflects growing fissures in Russia's fighting force.
Russian forces have a history of drug abuse, including during Moscow's involvement in Afghanistan in the 1980's when several reports showed Russian soldiers had become hooked on heroin.
While it is unclear whether there is drug use among Russian soldiers in Ukraine — independently sourced or officially provided — it likely points to low morale in Russian ranks.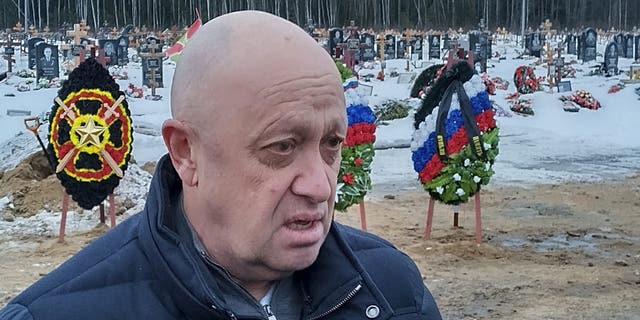 Wagner Group head Yevgeny Prigozhin attends the funeral of Dmitry Menshikov, a fighter of the Wagner group who died during a special operation in Ukraine, at the Beloostrovskoye cemetery outside St. Petersburg, Russia, Saturday, Dec. 24, 2022.  (AP Photo)
CLICK HERE TO GET THE FOX NEWS APP
"What Russia usually uses is fear," she said, pointing to Progozhin's brutal tactics to keep his soldiers in line, including the November execution of a mercenary who was killed with a sledgehammer after he changed sides to fight for Ukraine.
"A dog receives a dog's death," Progozhin infamously said in response to graphic video.
Caitlin McFall is a Reporter at Fox News Digital covering Politics, U.S. and World news.