close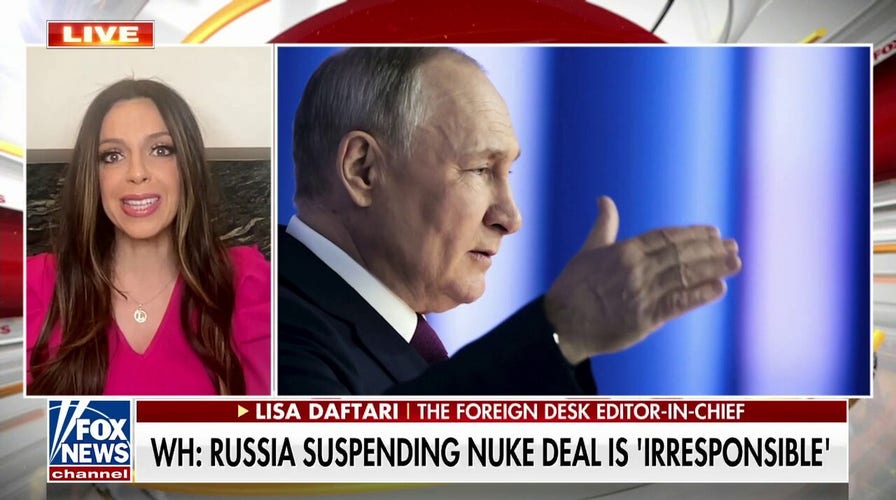 Video
Biden to meet with NATO allies in Poland as Russia suspends nuke deal
Foreign policy expert Lisa Daftari discusses Russia freezing nuclear treaty on 'Fox & Friends First.'
The head of Russia's top mercenary group Wagner on Wednesday brought renewed attention to increasing divisions between Russia's troops and its for-hire soldiers after he accused Moscow's defense heads of "treason."
Yevgeny Prigozhin has increasingly drawn attention to the fissures in Russia's war strategy in Ukraine and in his most recent public outcry accused Russian Defense Minister Sergei Shoigu and Chief of General Staff Valery Gerasimov of ordering the ministry not to distribute arms to Wagner forces.
Prigozhin's press office posted a picture of dozens of dead Wagner soldiers to its Telegram channel Wednesday morning, questioning where their ammunition was and claiming that there would have been "five times fewer" dead had they been properly armed.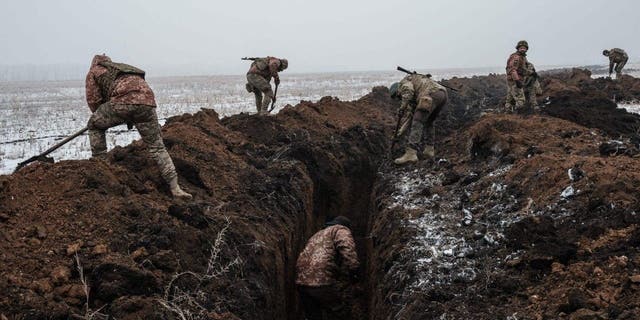 Ukrainian servicemen dig a trench near Bakhmut on Feb. 1, 2023.  (Yasuhoshi Chiba/AFP via Getty Images)
US FORCES CHINA'S HAND IN REVEALING POSSIBLE LETHAL AID TO RUSSIA AMID WAR IN UKRAINE: EXPERTS
Russian and Ukrainian forces have been heavily engaged in a brutal ground fight in eastern Ukraine around the Bakhmut sector in Donetsk and, despite months of throwing men at the problem, Moscow has seen few gains.
In a highly charged video released Tuesday Prigozhin raised his voice and said the defense ministry's "direct resistance" is "nothing other than an attempt to destroy Wagner."
"This can be likened to high treason in the very moment when Wagner is fighting for Bakhmut, losing hundreds of its fighters every day," he said.
Fox News Digital could not independently verify Prigozhin's claims though Western defense officials have been signaling for months that Russia is running low on munitions.
Since the beginning of the war Russia has been unable to adequately train or supply its troops on the front lines, and after Russia's military saw significant losses in the first few months of the war Prigozhin, a close ally of Russian President Vladimir Putin, was allowed to turn to Russia's penal system for recruitment.
The penal recruits have since ceased and as of last month reports began to suggest that Russia's defense ministry was pushing back on Prigozhin's influence after he claimed his soldiers, not the Russian military, won the town of Soledar, just 10 miles north of Bakhmut.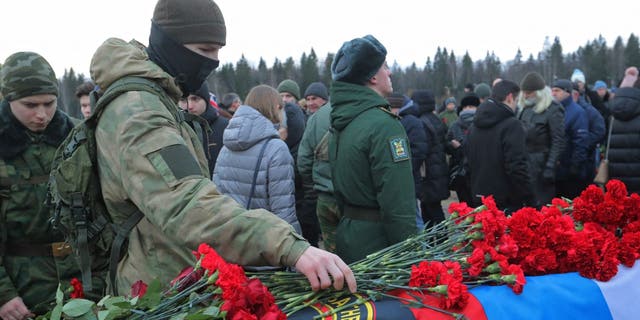 A man places flowers on the coffin of Dmitry Menshikov, a mercenary with the Wagner Group who was killed fighting in Ukraine, in the Alley of Heroes at a cemetery in St. Petersburg, Russia, Dec. 24, 2022. (Reuters/Igor Russak)
It is unclear exactly how many Wagner troops have died since the penal recruitment began last summer, as these figures are not generally reported alongside official military deaths.
The U.K. defense ministry estimated earlier this month that more than 800 Russian soldiers are killed every day, and that during one particularly brutal fight in January in southern Donetsk as many as 5,000 Russian troops died in a single battle for the city of Vuhledar.
RUSSIAN WAGNER GROUP GAINS GLOBAL NOTORIETY FROM AFRICA TO UKRAINE, BUT DIVISION BREWS AT HOME
The Russian defense ministry denied Prigozhin's most recent "excited declarations" of weapons withholding and said there had been supply chain holdups for "assault detachments."
"Attempts to create a split in the tight-knit machinery of cooperation and support between subdivisions of the Russian forces are counterproductive and only benefit the enemy," the ministry added.
The most recent accusation levied by Prigozhin could suggest that Russia has seen significant munition stockpile drops, though one Russia expert warned not to take the Wagner chief "at face value."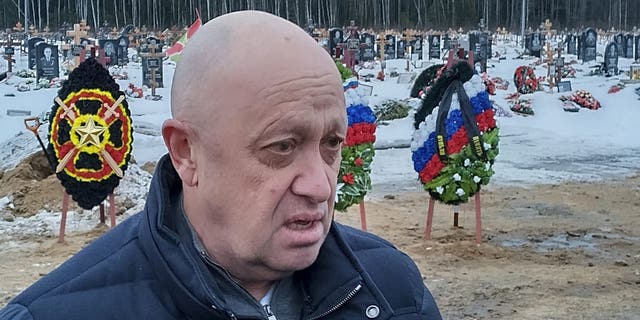 Wagner Group head Yevgeny Prigozhin attends the funeral of Dmitry Menshikov at a cemetery outside St. Petersburg, Russia, Dec. 24, 2022.  (AP Photo)
CLICK HERE TO GET THE FOX NEWS APP
"While Russia is definitely expending high quantities of military hardware in this conflict, I don't interpret his rants as a sign of shortages of weaponry," Russian expert and former Defense Intelligence Agency intel officer for Russian Doctrine & Strategy Rebekah Koffler told Fox News Digital. "[Prigozhin] has his own ambitions for power and reasons for trying to upstage and demonize regular Russian military officials.
"The Russian offensive is not going to be a 'blitzkrieg,' it's a calibrated series of waves, which has already begun," she added. "We've been hoping for a while that Russia would run out of weapons, trying to bleed them out, but that hasn't happened yet."
The Associated Press contributed to this report.
Caitlin McFall is a Reporter at Fox News Digital covering Politics, U.S. and World news.