close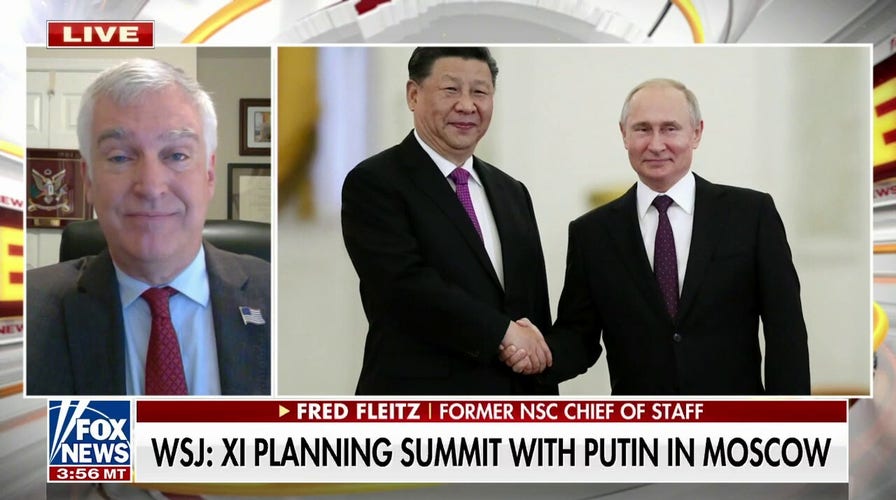 Video
China's Xi planning summit with Putin in Moscow
Fred Fleitz reacts to planned China-Russia summit, calling U.S. relations with both countries 'poor' during the Biden administration.
A spokesman for the Chinese Ministry of Foreign Affairs claimed member states of the North Atlantic Treat Organization (NATO) still retain a "Cold War mentality" that is harming international relations.
Foreign affairs spokesperson Wang Wenbin fielded questions from reporters Wednesday, where he was asked about reports that China is considering provision of lethal aid to Russian forces in Ukraine.
"On the Ukraine issue, China always stands on the side of peace," Wenbin responded. "We have followed the four principles, called for joint efforts in four areas and shared three observations on Ukraine as outlined by President Xi Jinping, taken an objective and just position, and worked actively to promote peace talks."
CHINA FURIOUS AFTER US WARNS AGAINST ARMING RUSSIA: 'THE US IS IN NO POSITION TO TELL CHINA WHAT TO DO'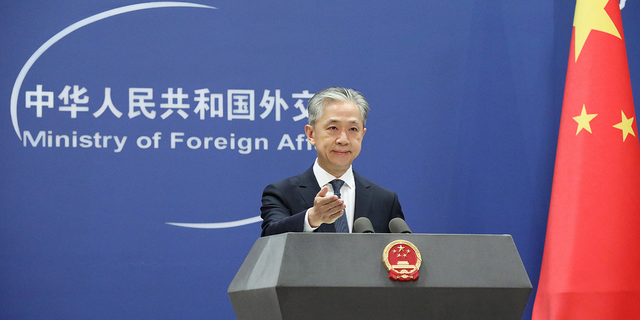 Chinese Foreign Ministry spokesperson Wang Wenbin attends a regular press conference in Beijing, China. Wenbin told reporters that NATO member states must 'grow out of the Cold War mentality.' (VCG via Getty Images)
Wenbin went on to question the continued provision of weapons by the United States to Ukraine, saying it is a "familiar trick" of US diplomatic relations.
He continued, "While claiming itself to be a regional defensive alliance, NATO has ignored others' security concerns, and constantly sought to reach beyond its traditional defense zone and scope, and stoke division and tension. What role has NATO played in the Ukraine crisis? The rest of the world surely has its answer."
BIDEN ANNOUNCES MILLIONS MORE TAXPAYER DOLLARS TO ASSIST UKRAINE DURING SURPRISE TRIP TO KYIV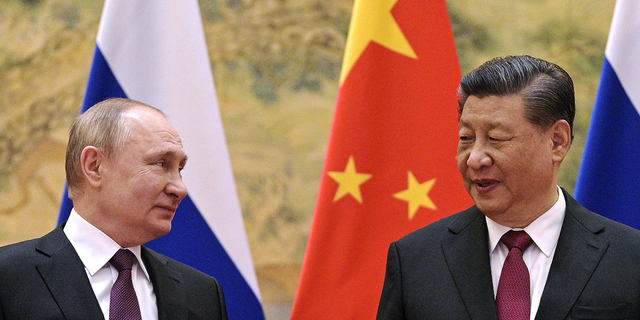 Russian President Vladimir Putin has announced he will be meeting with Chinese President Xi Jinping for a bilateral meeting in the near future. (Alexei Druzhinin, Sputnik, Kremlin Pool Photo via AP)
President Biden met with Ukraine President Volodymyr Zelenskyy on Monday at Mariinsky Palace to announce an additional half-billion dollars in U.S. assistance. The U.S. has already supported Ukraine with tens of billions of dollars in financial aid and military equipment.
"We urge NATO to quit groundless speculation and smears against China on the Ukraine issue, grow out of the Cold War mentality of zero-sum game and bloc confrontation, stop instigating antagonism and fanning the flames, and actually do something conducive to European and global peace and stability," Wenbin concluded.
PRESIDENT BIDEN MAKES SURPRISE VISIT TO KYIV. UKRAINE, MEETS WITH PRESIDENT ZELENSKYY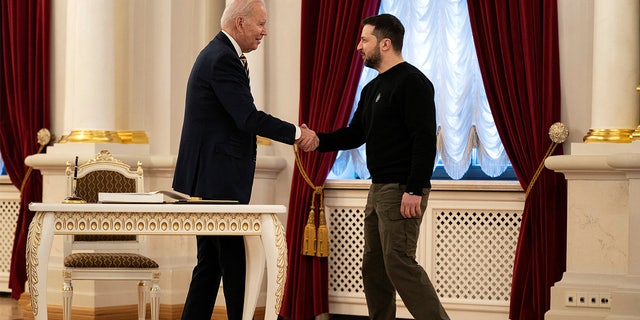 Ukraine's President Volodymyr Zelenskyy and U.S. President Joe Biden shake hands at Mariinsky Palace on an unannounced visit, in Kyiv, Ukraine, February 20, 2023. Biden has pledged total support for Ukraine with an additional half-billion dollars in funding for weaponry. (Evan Vucci/Pool via REUTERS)
Russian President Vladimir Putin announced Wednesday that he was expecting Chinese President Xi Jinping to soon travel to Russia for a bilateral meeting.
Putin hailed China as a key ally on the world stage, saying that "cooperation between the People's Republic of China and the Russian Federation on the global arena is particularly important for stabilizing the international situation."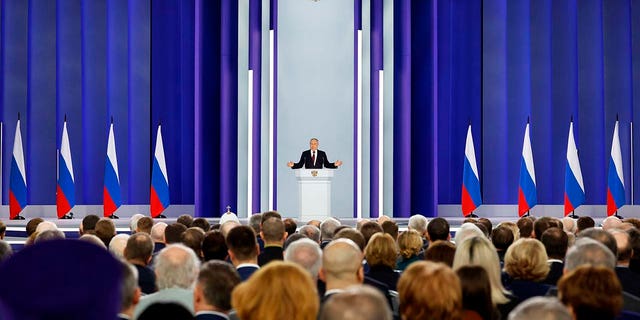 Russian President Vladimir Putin gestures as he gives his annual state of the nation address in Moscow, Russia, Tuesday, Feb. 21, 2023. The Russian president has threatened to resume nuclear weapons testing if the US makes the first move. (Dmitry Astakhov, Sputnik, Kremlin Pool Photo via AP)
Putin claimed in a Tuesday speech that the West was attempting to achieve a "strategic defeat" over Russia and take control of its nuclear capabilities.
CLICK HERE TO GET THE FOX NEWS APP
"Of course, we will not do this first. But if the United States conducts tests, then we will," Putin threatened.
Timothy Nerozzi is a writer for Fox News Digital. You can follow him on Twitter @timothynerozzi and can email him at [email protected]