close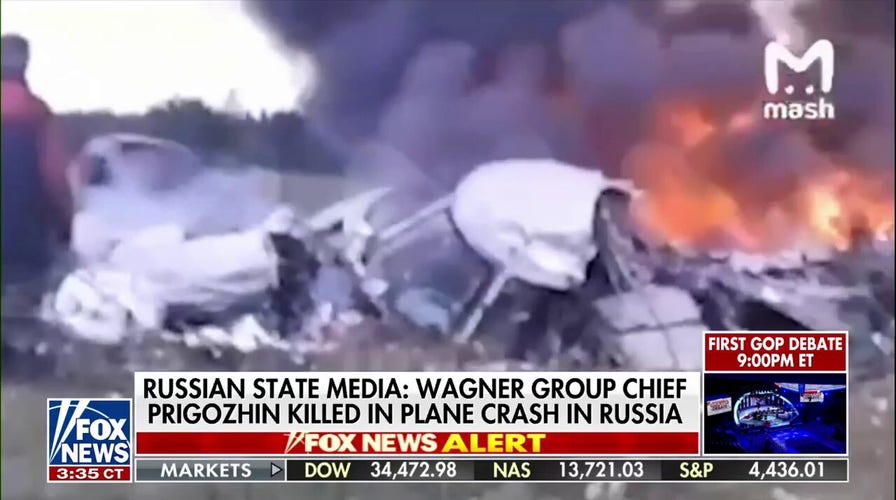 Video
Wagner group leader who stormed Moscow killed in 'mysterious' plane crash
Fox News chief national security correspondent Jennifer Griffin reports on Russian mercenary Yevgeny Prigozhin's death in Russia.
Experts remain split over what the future of the Wagner group looks like following the apparent death of its founder and leader Yevgeny Prigozhin, but they agree Russia will likely try to maintain the success of Wagner while diminishing its influence.
"Frankly, I think that this private military company model that Wagner has really developed over the past few years, nearly a decade that it's existed, has proven to be very profitable for Moscow," Catrina Doxsee, Associate Director and Associate Fellow with the CSIS Transnational Threats Project, told Fox News Digital.
"They're able to use these quasi-independent commercial entities to advance their geopolitical goals abroad at relatively low cost, and this layer of deniability and lack of accountability … that's something that gives enough benefit to Moscow," she added, saying she found it "difficult" or even "just illogical" to give it up.
Russian news outlets reported Wednesday that Prigozhin's private jet crashed following an explosion, and Russian President Vladimir Putin confirmed that Prigozhin was among the passengers killed. Western sources remained skeptical, but the Pentagon on Thursday stated that its initial assessment indicated that "it's likely Prigozhin was killed" and it will continue to assess the situation.
WHO IS YEVGENY PRIGOZHIN?
"We don't have any information to indicate, right now, the press reporting, stating that there was some type of surface-to-air missile that took down the plane … we assess that information to be inaccurate," Pentagon Press Secretary Air Force Brig. Gen. Pat Ryder said, stressing that the U.S. would not comment on whether the death occurred as a result of an assassination.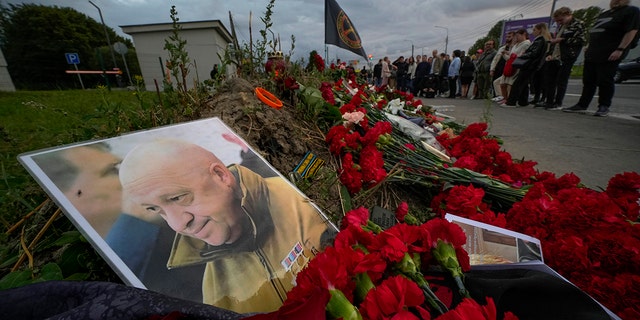 A portrait of the owner of private military company Wagner Group Yevgeny Prigozhin lays at an informal memorial next to the former 'PMC Wagner Centre' in St. Petersburg, Russia, Thursday, Aug. 24, 2023. Russia's civil aviation agency says mercenary leader Yevgeny Prigozhin was aboard a plane that crashed north of Moscow.  (AP Photo/Dmitri Lovetsky)
On Sunday the Associated Press reported that the Russian committee tasked with investigating the crash confirmed Prigozhin's death in a statement that said genetic testing confirmed that all ten passengers on the manifest were confirmed as dead.
Sunday's statement by the Russian investigators would mean his reported death would therefore have occurred two months after his Wagner forces briefly mutinied against the invasion of Ukraine, claiming that Russian military leadership had failed the country's armed forces.
Prigozhin repeatedly stressed that his protest was not against Putin, with whom he had developed a seemingly close relationship as his mercenary forces succeeded in making several significant gains for Russia in Ukraine, including the then successful capture of Bakhmut.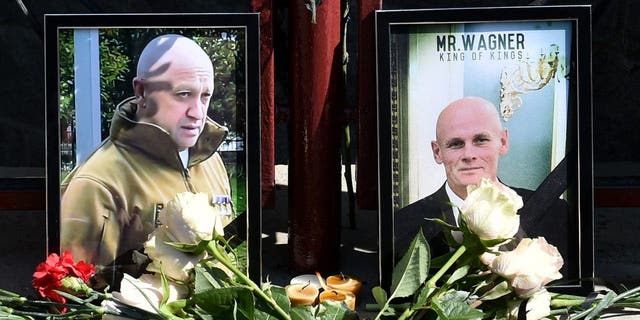 Portraits of Yevgeny Prigozhin (L) and Dmitry Utkin (R), a shadowy figure who managed Wagner's operations and allegedly served in Russian military intelligence, are seen at the makeshift memorial in front of the PMC Wagner office in Novosibirsk, on August 24, 2023. Russian state-run news agencies on August 23, 2023 said that Yevgeny Prigozhin, the head of the Wagner group that led a mutiny against Russia's army in June, was on the list of passengers of a plane that crashed near the village of Kuzhenkino in the Tver region. ( (Photo by Vladimir NIKOLAYEV / AFP) (Photo by VLADIMIR NIKOLAYEV/AFP via Getty Images))
Earlier this year, Prigozhin seemed to have gained such prestige within Russia due to his successes that he felt confident in butting heads with the Russian Ministry of Defense, openly criticizing officials for failures in the Ukraine campaign. New leadership spent the following months diminishing Prigozhin's influence and prominence.
KREMLIN DENIES TAKING DOWN PLANE ALLEGEDLY CARRYING WAGNER WARLORD WHO CROSSED PUTIN: 'ABSOLUTE LIE'
The success of Wagner, which has advanced Russian interests in other regions including Africa, cannot be overstated: Putin relied so much on Prigozhin's men that he allowed Wagner to openly recruit troops from the prisons in a Suicide Squad-style agreement to earn a parole following six months of service, which resulted in many hardened criminals returning to public life and upsetting the Russian public.
Businessman Yevgeny Prigozhin shows Russian Prime Minister Vladimir Putin his school lunch factory outside Saint Petersburg on September 20, 2010. – Kremlin-linked businessman Yevgeny Prigozhin has filed a lawsuit in an EU court to remove him from the bloc's sanctions list, his company said on December 15, 2020. The European Union in October sanctioned Prigozhin — nicknamed "Putin's chef" because his company Concord has catered for the Kremlin — accusing him of undermining peace in Libya by supporting the Wagner Group private military company. (Photo by ALEXEY DRUZHININ/SPUTNIK/AFP via Getty Images)
With Prigozhin seemingly gone, the group stands vulnerable before a military command that has found it equally troubling as it has been helpful in the Ukraine campaign.
Doxsee argued that the value of Prigozhin's relationships, which many mid-level leaders and operational personnel in the group have developed relationships, knowledge, experience – things that "can't be easily replicated" and losing them could "lead to potential weaknesses and power vacuums."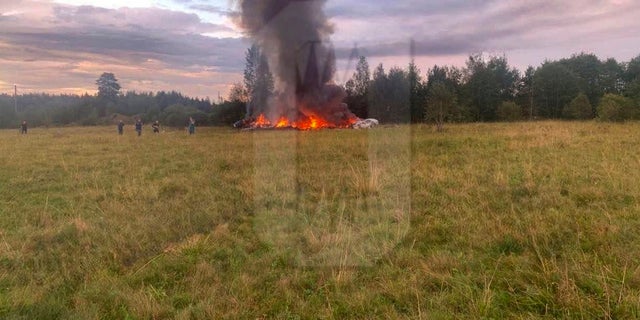 This image released by Ostorozhno Novosti on Wednesday, Aug. 23, 2023, shows the crash site of a private jet near the village of Kuzhenkino, Tver Region. Officials say a private jet has crashed over Russia, killing all 10 people on board. Mercenary chief Yevgeny Prigozhin was on the passenger list, but it wasn't immediately clear if he was on board. (Ostorozhno Novosti via AP) (AP)
"I think it's possible that some parts of this broader network connected to Prigozhin could come under government or military control," she explained. "Of course, when I say network, I mean not just the paramilitary arm … but also all of these resource exploitation companies, the information and influence operations that Wagner's been connected to, including the buying up of local media stations."
PRIGOZHIN'S SECOND-IN-COMMAND, LOGISTICS CHIEF AMONG PASSENGERS ON CRASHED PLANE, MANIFEST REVEALS
Doxsee suggested that it's very possible that the government or military tries to break up Wagner assets and sections, looking to put multiple people in charge rather than allow one person to take control of the group again – the very thing that led to Prigozhin's outsized influence.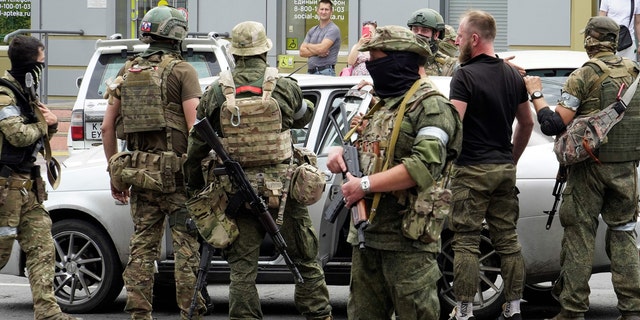 Members of Wagner group inspect a car in a street of Rostov-on-Don, on June 24, 2023. President Vladimir Putin on June 24, 2023 said an armed mutiny by Wagner mercenaries was a "stab in the back" and that the group's chief Yevgeny Prigozhin had betrayed Russia, as he vowed to punish the dissidents. Prigozhin said his fighters control key military sites in the southern city of Rostov-on-Don. (Photo by STRINGER/AFP via Getty Images)
"You could have one head of the paramilitary services, one taking the lead for the resource exploitation companies and so on … if you do have a fracturing of the network under different leaders, you'll want to still ensure that those different factions still have the ability and the willingness to coordinate with one another," Doxsee said.
"But then, of course, balancing that against the risk of establishing a new monopoly under one person: I think that, certainly, whatever leadership comes in, whether it's one person or multiple, one of the top priorities for the Kremlin will just be ensuring that it's someone who is deeply loyal to Putin and who will be kept on a much shorter leash than Prigozhin was," she added.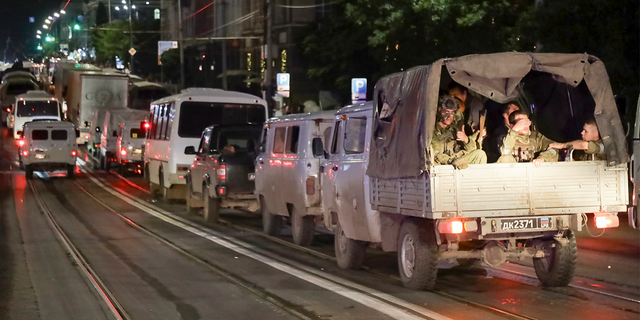 Servicemen of the Wagner Group military company sit in their military vehicles as they prepare to leave an area at the HQ of the Southern Military District in a street in Rostov-on-Don, Russia, Saturday, June 24, 2023. (AP)
Kateryna Stepanenko, Deputy Team Lead of the Russia team at the Institute for the Study of War, said that Wagner will not likely exist in the same capacity "ever again" – not even as a quasi-independent group.
"We know that the Russian Ministry of Defense has been conducting a pretty elaborate recruitment campaign targeting Wagner personnel and trying to recruit them into Russian MOD-affiliated private military companies … there are also reports about the Kremlin refusing to pay for Wagner forces that were stationed in Belarus," Stepanenko said.
"All in all, the removal of Prigozhin and all top three leaders of Wagner is placing the next layer of commanders in a very peculiar place," she argued. "Putin had clearly indicated that anyone who is trying to operate Wagner of this quasi-independent military structure is not doing as Putin would like to and are facing death."
CLICK HERE TO GET THE FOX NEWS APP
Most telling, according to Stepanenko, is that no current or potential leaders of Wagner have spoken out following Prigozhin's death – a sign that the group potentially has no idea how to proceed at this time, especially under the new restrictions they face following their mutiny.
"There are some private military companies currently operating in occupied Ukraine that are affiliated with pretty prominent Russian officials that don't seem to be integrated under the Russian Ministry of Defense at this time," she noted, but she stressed that Wagner is "not going to be the same."
THE Associated Press contributed to this report.
Peter Aitken is a Fox News Digital reporter with a focus on national and global news.