close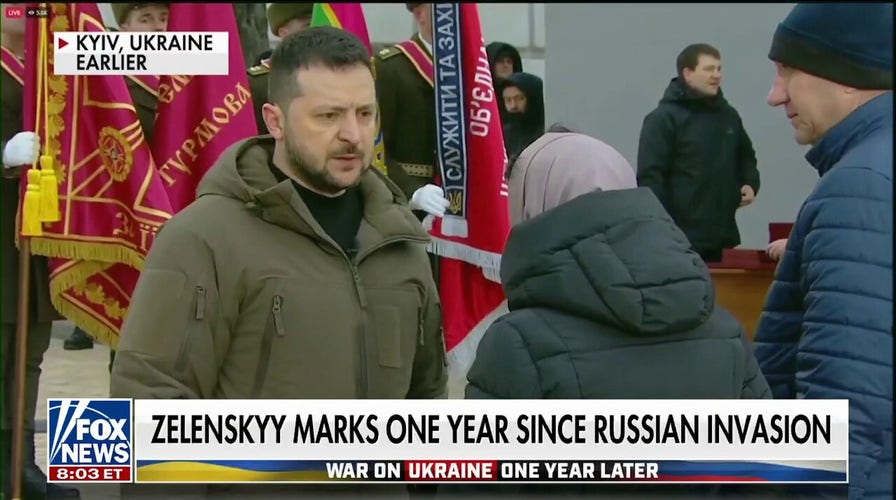 Video
Ukraine marks one year since Russia began invasion
Fox News' Steve Harrigan reports from Kyiv as Ukrainians brace for Russian forces ramping up attacks.
Fighting between top Russian military officials and the chief of mercenary group Wagner threatens to undermine the mission in Ukraine and other conflicts.
"Prigozhin basically forgot who was the top assassin in Russia," Rebekah Koffler, president of Doctrine & Strategy Consulting and a former DIA intelligence officer, told Fox News Digital. "(Russian President Vladimir) Putin does not want to be upstaged by one of his minions, so to speak.
"By criticizing the Russian military, he implicitly criticizes Putin as well, because Putin did not prepare this whole plan by himself," Koffler added. "So [Prigozhin] is exposing the incompetence, and Putin can't possibly like that."
Putin has increasingly relied on the Wagner Group, founded by Yevgeny Prigozhin, as the war in Ukraine has continued and his forces started to feel their losses. Prigozhin, who made his money through food services and contracts to cater the Kremlin, claimed he founded Wagner to support the 2014 mission in Donbas.
PUTIN ISSUES NUCLEAR WARNING AS RUSSIA'S ASSAULT ON UKRAINE HITS SECOND YEAR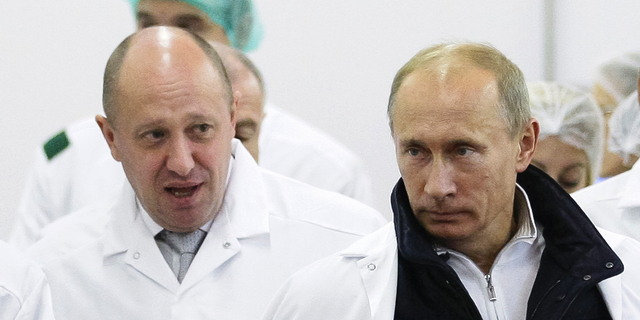 In this Sept. 20, 2010, photo, businessman Yevgeny Prigozhin, left, shows Russian President Vladimir Putin around his factory that produces school meals outside St. Petersburg, Russia.  (Alexei Druzhinin/Pool Photo via AP, File)
With the increasing reliance on his private forces, Prigozhin appeared to enjoy greater sway at home, but he may have too freely wielded his clout and alienated the Russian military command with whom he needed to collaborate.
And that carelessness may have caused a rift that has backfired on Prigozhin, putting him at odds with the newly appointed chief of Russia's general staff and defense minister, according to the Financial Times.
Prigozhin, known as Putin's chef, has recently resorted to increasingly angry rants, accusing the military command of "treason" for shorting his men of much-needed ammunition and ending his ability to endlessly recruit from prisons, a program that proved highly controversial with the Russian public.
One of Prigozhin's close associates compared the mercenary chief to "Icarus," who flew too close to the sun and got burned.
SENIOR RUSSIAN OFFICIAL THREATENS POLISH BORDERS AS MOSCOW MOUNTS AGGRESSION AGAINST OTHER EUROPEAN NATIONS
Prigozhin had gained his position by embracing the role as leader of a group that wasn't part of the military and, therefore, could foster anger against the country's military leadership for repeated failures in Ukraine. The inability to take Kyiv, as well as the "grinding" tactics in Donbas, proved immensely unpopular.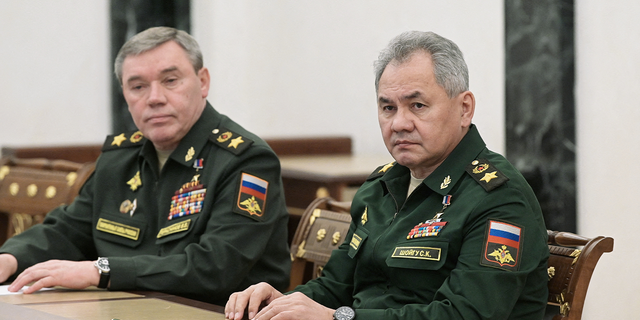 Russian Defense Minister Sergei Shoigu and Chief of the General Staff of Russian Armed Forces Valery Gerasimov attend a meeting with Russian President Vladimir Putin in Moscow, Russia.  (Sputnik/Aleksey Nikolskyi/Kremlin via REUTERS)
His forces also made gains at a time when Putin was desperate for wins, such as capturing the town of Soledar. Wagner spent more time at the front lines, giving Prigozhin more points with Putin. Other Putin allies even started to consider starting their own mercenary groups.
With his success and increasing influence, Prigozhin appeared to try and take power from Russian Defense Minister Sergei Shoigu, according to a close associate and two Western officials. The associate claimed that Prigozhin referred to Shoigu as "our biggest enemy, not the Ukrainians."
But with the appointment of Valery Gerasimov as the new chief of the general staff, the top official for Russia's military, Prigozhin has suddenly found himself on the outside. Gerasimov's tactics may not have found results, but he has used his position to greatly diminish Prigozhin's influence.
RUSSIAN TANK DESTROYED IN UKRAINE IS PUT ON DISPLAY OUTSIDE RUSSIAN EMBASSY IN GERMANY
The Financial Times reported that even the harshest of Gerasimov's critics, such as Mikhail Teplinsky, head of Russia's paratroopers, have come around to support him.
Teplinsky spoke out after seeing heavy losses at the start of Gerasimov's tenure, with one Ukrainian intelligence officer arguing that the new chief prefers to "throw paratroopers at the most dangerous flashpoints, and they really just get killed."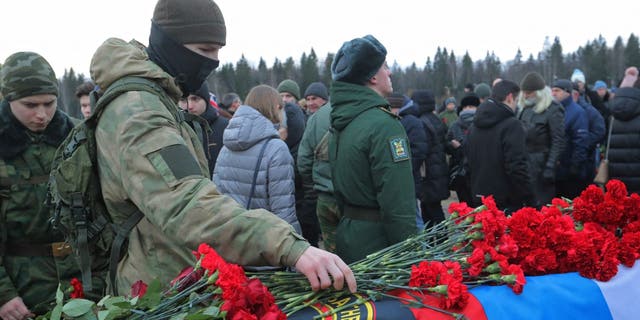 A man places flowers at the coffin during the funeral of Dmitry Menshikov at a cemetery in Saint Petersburg, Russia, Dec. 24, 2022. Menshikov was a mercenary for the private Russian military company Wagner Group who was killed during the military conflict in Ukraine. (REUTERS/Igor Russak)
The paratrooper commander disappeared for weeks then reappeared in a taped message that celebrated the military holiday with a portrait of Gerasimov behind him.
Prigozhin has continued to stand defiant, telling the governor of Russian city Svedlovsk, "During the 1941-45 war, … Stalin simply shot people like you," and "I'm sure that the time is not far off when people will reach boiling point and raise you and people like you up on pitchforks."
CLICK HERE TO GET THE FOX NEWS APP
Evgeny Kuyvashev, the Sverdlovsk governor, hit back on Friday by saying that Russia "won't get very far" if the country lets "every businessman who makes money on school meals tries to run the country."
Reuters contributed to this report.
Peter Aitken is a Fox News Digital reporter with a focus on national and global news.