close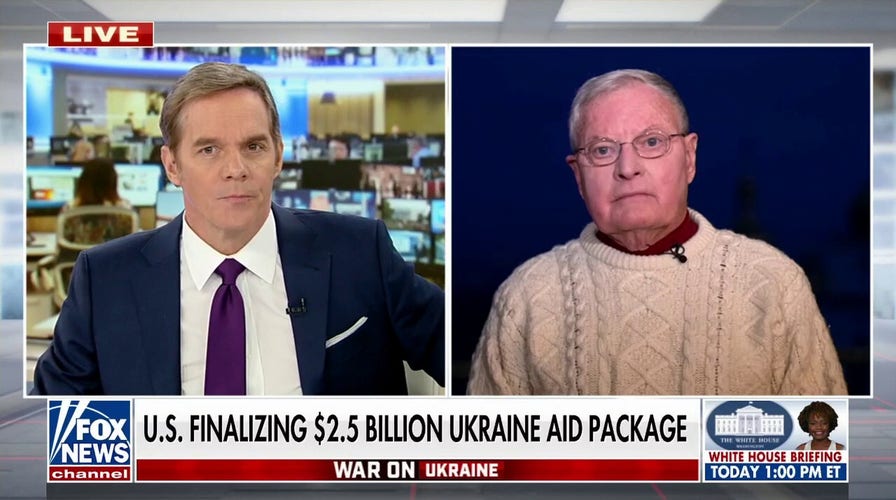 Video
Gen. Kellogg: Russia-Ukraine war will culminate in spring
Retired Lt. Gen Keith Kellogg on the need for U.S. to continue to support Ukraine as the U.S. finalizes a $2.5 billion aid package
The private Wagner mercenary group making headlines across the globe has proven vital to Russian President Vladimir Putin's war in Ukraine, but its successes have also revealed division in Moscow's war effort.
White House National Security Council communications coordinator John Kirby told reporters Friday the U.S. assesses there is mounting tension between the Russian Ministry of Defense and the Wagner chief Yevgeny Prigozhin, who has long held close links to Putin.
Russia claimed victory in the fiercely fought battle over the town of Soledar in eastern Ukraine earlier this month, showing blatant rifts between the defense ministry, which awarded the victory to its troops, and the Putin-aligned Prigozhin, who said the rare achievement was due to his hired men.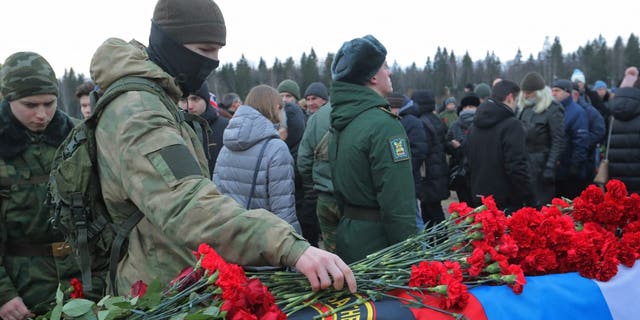 A man places flowers at the coffin during the funeral of Dmitry Menshikov, a mercenary for the private Russian military company Wagner Group killed during the military conflict in Ukraine, in the Alley of Heroes at a cemetery in Saint Petersburg, Russia, Dec. 24, 2022. 
(REUTERS/Igor Russak)
UKRAINE-RUSSIA WAR: ZELENSKYY SAYS HE CAN'T USE 'WORDS INSTEAD OF GUNS' AS DEFENSE CHIEFS FAIL ON TANK DEAL
The defense ministry, which has long distanced itself from the Wagner Group, then issued an unusual statement and said the town was taken in a "heterogeneous" effort to pinch Soledar from the north and south.
The direct assault on city blocks "was accomplished with the courageous and selfless actions of the Wagner PMC volunteer assault troops," the ministry added.
"We are seeing indications, including in intelligence, that tensions between Wagner and the Russian Ministry of Defense are increasing," Kirby told reporters Friday. "Wagner is becoming a rival power center to the Russian military and other Russian ministries."
For years, the Russian government has denied any connection with the private military company (PMC) despite reports ranging from firsthand accounts to U.N.-level records showing the shadow force has been used to pursue Kremlin-based interests from the Middle East and Africa to Ukraine, particularly the interests of Putin.
"Wagner PMC was formed as a military branch for hybrid operations outside of Russia under the auspices of the FSB [Federal Security Services]," Wagner expert Oleksander Kovalenko told Fox News Digital in reference to the intelligence agency that replaced the infamous KGB.
Kovalenko, a military supervisor of the Information Resistance group in Ukraine that began countering propaganda following Russia's 2014 invasion, explained that Russia's use of private miliary groups is nothing new.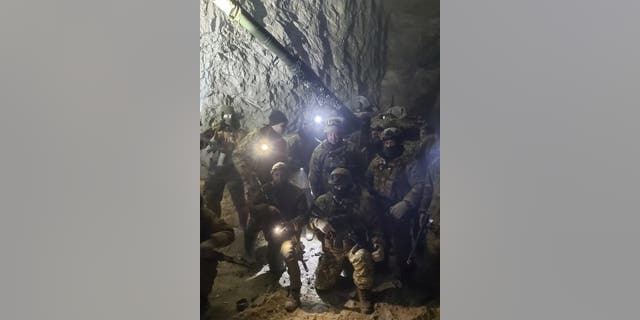 People in military uniform, claimed to be soldiers of the Russian mercenary group Wagner and its head Yevgeny Prigozhin, pose for a picture believed to be in a salt mine in Soledar in the Donetsk region, Ukraine, in this handout picture released Jan. 10, 2023. 
(Press service of "Concord"/Handout via REUTERS)
"It all started back in the days of the USSR," he said, noting that power struggles over foreign campaigns arose between the KGB and the Ministry of Defense.
"Priority for operational activities abroad has always been given to the military and military intelligence — the GRU," Kovalenko said, noting that the KGB pushed the GRU for greater access and budget.
"But everything changed with the arrival of Putin."
Putin, who served as a foreign intelligence officer in the KGB nearly two decades, favored the FSB and awarded it more freedoms than it was historically allotted.
"It was with his blessing that the first steps to form a PMC began," Kovalenko added.
US ADVISES UKRAINE TO HOLD OFF ON MAJOR OFFENSIVE UNTIL LATEST ARMS SHIPMENT: REPORT
The first signs of Putin's mercenary force arose during Russia's invasion of Ukraine in 2014. By 2015, the hired soldiers were doing Putin's bidding in Syria to support it's president, Bashar al-Assad, and to carry out objectives the Kremlin did not want its military linked to.
Wagner is now believed to operate not only in Ukraine and Syria, but across Africa in the Central African Republic, Mali, Sudan, Mozambique, Angola, Zimbabwe, Guinea-Bissau, Guinea, Madagascar and possibly Eritrea.
"At first glance, it may seem that PMC Wagner's presence in a particular African country is a business and nothing else," Kovalenko explained. "For example, in the Central African Republic, this is not just the service of the local dictator and his protection for hard cash.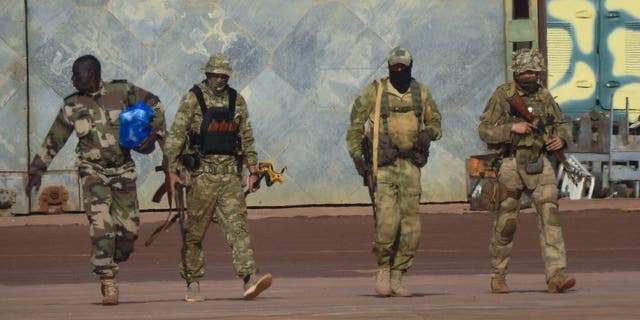 This undated photograph handed out by the French military shows three Russian mercenaries, right, in northern Mali.
(French Army via AP)
"It is also control over deposits of precious metals and stones," he added.
Kovalenko said that control over natural resources is just one of Russia's aims.
"Russia's goal is to spread its influence on the African continent, take control of the local government and, as the final goal, create a pool of African states loyal to [Moscow]," Kovalenko said, noting that these tactics are carried out through information warfare, interference in elections and the general destabilization of societies.
US DECLARES WAGNER GROUP 'TRANSNATIONAL CRIMINAL ORGANIZATION,' ORDERS FRESH SANCTIONS: NSC SPOKESMAN
While 10,000 Russian mercenaries are estimated to be spread across Africa, the Wagner enterprise has grown substantially since Putin invaded Ukraine.
Some 50,000 Wagner forces are estimated to be operating in Ukraine, Kirby confirmed Friday, a feat made possible only because of Prigozhin's ability to turn to Russia's penal system after the group saw massive losses early on in the war.
Of the 50,000 hired soldiers in Ukraine, roughly 10,000 are believed to be professional contractors while 40,000 are convicts, Kirby confirmed.
Following this shift in recruitment, Kovalenko explained, the group has been divided between professional mercenaries with combat experience that generally work in Africa and the Middle East or are training Russian troops in Belarus and the penal recruits that he said are used as "live meat," bodies to fill the front lines.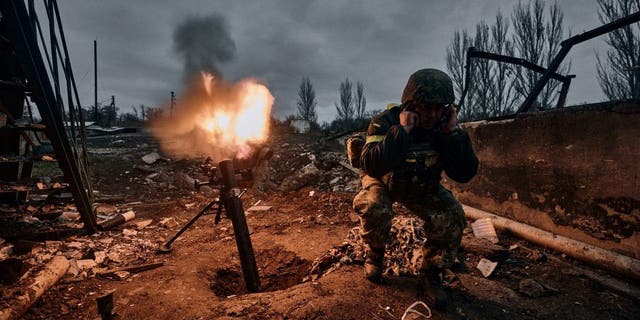 A Ukrainian soldier fires a mortar at Russian positions in Bakhmut, Donetsk region, Ukraine, Nov. 10, 2022.  
(AP Photo/Libkos, File)
Kovalenko said an estimated 20,000 Wagner mercenaries were sent to the Bakhmut axis in Donetsk alone, though he noted the situation remains "fluid" and is therefore difficult to know how many have been killed or backfilled.
Ukraine estimates that Russia has lost over 120,000 soldiers, though it is unclear if this also includes Wagner forces as mercenaries not generally considered among military casualties.
Wagner forces and Russian troops do not typically work together. Despite the statement from the defense ministry regarding the joint effort to capture Soledar, the Russian government maintains a level of detachment from the mercenary group.
"PMC Wagner is dangerous because it maintains contacts with many radical groups around the world," Kovalenko said, including groups in the Donbas. "Wagnerites do not comply with the Geneva Convention."
The Wagner expert said that Prigozhin extorts captured Ukrainian soldiers for money, often returning them "crippled, with terrible bodily injuries," though Fox News Digital could not independently verify these exchanges.
"Therefore, at the official level, a direct connection between PMC Wagner and the Russian government will never be recognized," he added. "This makes it easier to ignore the crimes … not only in Ukraine but throughout the world."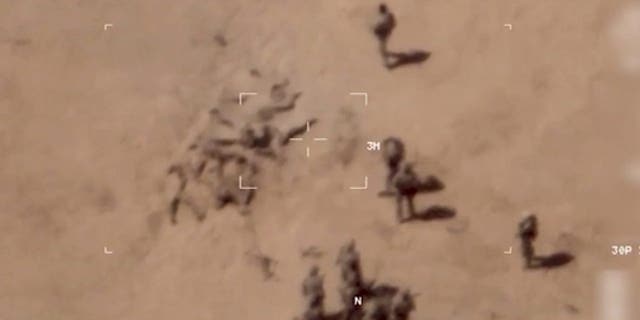 This image taken from a video shows soldiers burying bodies near an army base in northern Mali. The French military says it has videos of Russian mercenaries burying bodies near an army base in northern Mali.
(French Army via AP)
CLICK HERE TO GET THE FOX NEWS APP
Despite asserted separations between the Russian defense ministry and Wagner, they share an undeniable copacetic relationship.
"Therein lies the paradox. After all, mercilessly criticizing and attacking the Russian Defense Ministry, Prigozhin bites the hand that provides him with everything necessary for the war," Kovalenko said.
"After all, where did PMC Wagner get its tanks, armored personnel carriers, infantry fighting vehicles, helicopters and planes, artillery and ammunition in huge quantities?" he adked. "Is this FSB giving to Prigozhin? No. All this is provided by the Ministry of Defense."
Caitlin McFall is a Reporter at Fox News Digital covering Politics, U.S. and World news.