close
Video
Putin is running out of ammunition in Ukraine: Rep. Michael McCaul
House Foreign Affairs Committee Chairman Rep. Michael McCaul, R-Texas, says Putin is meeting with Xi Jinping because he needs military help to defeat Ukraine on 'Your World.'
Russian progression on the eastern and southern fronts in Ukraine have apparently once again been largely stalled as it continues to grapple with casualty rates, under-trained troops and low morale.
Over the weekend, Ukraine said it was "stabilizing" the Bakhmut sector which Russian forces have been ardently fighting over for months, and reports increasingly suggest Moscow is trying to eliminate its top fighting force in the region – the Wagner mercenary group.
Ukrainian and Western defense officials, including an assessment by the British defense ministry, have suggested that Russia's winter offensive appears to be running out of steam as attacks in eastern Ukraine are on the decline even as the brutal warfare continues to rage around areas like Bakhmut.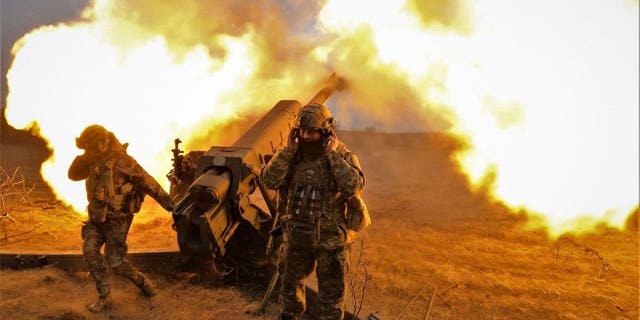 Ukrainian servicemen fire with a D-30 howitzer at Russian positions near Bakhmut, eastern Ukraine, on March 21, 2023, amid the Russian invasion of Ukraine. (Photo by SERGEY SHESTAK/AFP via Getty Images)
UKRAINE WAR THROWS WRENCH IN MASSIVE RUSSIAN ARMS DEAL AFTER THEY MISS DELIVERY, INDIA SAYS
The defense ministry said on Tuesday that in recent days, Russia had begun to "prioritize" its attempts to encircle another city in the Donetsk region known as Avdiivka – some 50 miles south of Bakhmut – but that it had made "only marginal progress at the cost of heavy losses in armored vehicles."
The ministry assessed that the 10th Tank Regiment, part of Russia's 3rd Army Corps, has likely lost a "large proportion of its tanks" while attempting to pinch the city from the south.
"Numerous open-source accounts suggested that 3rd Army Corps has been particularly dogged by problems with ill-discipline and poor morale," British defense officials said Tuesday. "Despite a likely period of training in Belarus, the formation still appears to display limited combat effectiveness."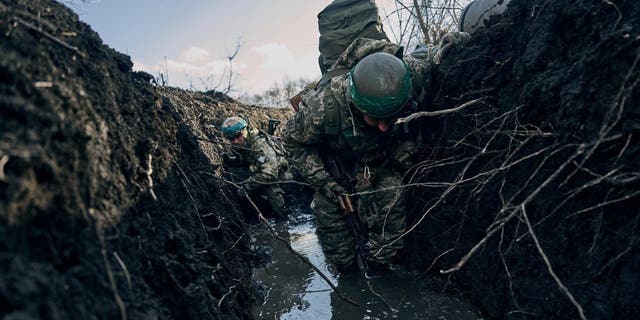 Ukrainian soldiers in a trench under Russian shelling on the frontline close to Bakhmut, Donetsk region, Ukraine, Sunday, March 5, 2023. The relentless Russian bombardment has reduced Bakhmut to smoldering wasteland with few buildings still standing intact as Russian and Ukrainian soldiers have fought ferocious house-to-house battles amid the ruins. (AP Photo/Libkos, File)
RUSSIA LOSING STEAM IN BAKHMUT SAYS KYIV, UKRAINE READIES FOR 'OPPORTUNE' TIMING
The regiment is believed to have suffered heavy losses due to "tactically flawed frontal assaults" around Avdiivka as well as other Donetsk fronts including another 50 miles to the south around the city of Vuhledar.
Ukraine's Southern Command spokesperson Natalia Humeniuk also said Tuesday that Russia's combat activity in the southern regions had declined as it struggles to resupply its troops following several attacks on warehouses and military facilities.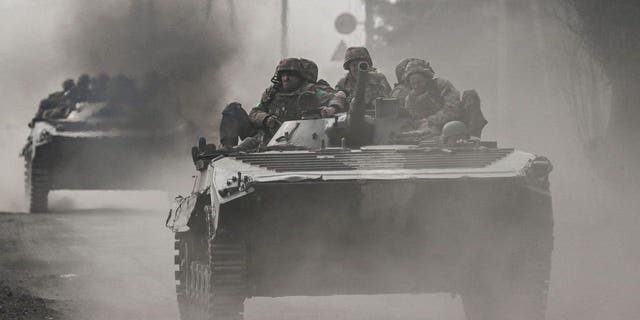 Ukrainian servicemen head toward Bakhmut in BMP infantry fighting vehicles, in eastern Ukraine on March 22, 2023. (Photo by ARIS MESSINIS/AFP via Getty Images)
CLICK HERE TO DOWNLOAD THE FOX NEWS APP
"The enemy can't bring in the equipment, even mortars, due to our units having successfully destroyed (Russia's) combat positions, and the storm (on the Black Sea) does not allow free movement," she said in a televised address according to a translation by Kyiv Independent.
Ukraine has also been able to advance in the southern region making it more difficult for Russia to install new artillery depots or military facilities.
Caitlin McFall is a Reporter at Fox News Digital covering Politics, U.S. and World news.