close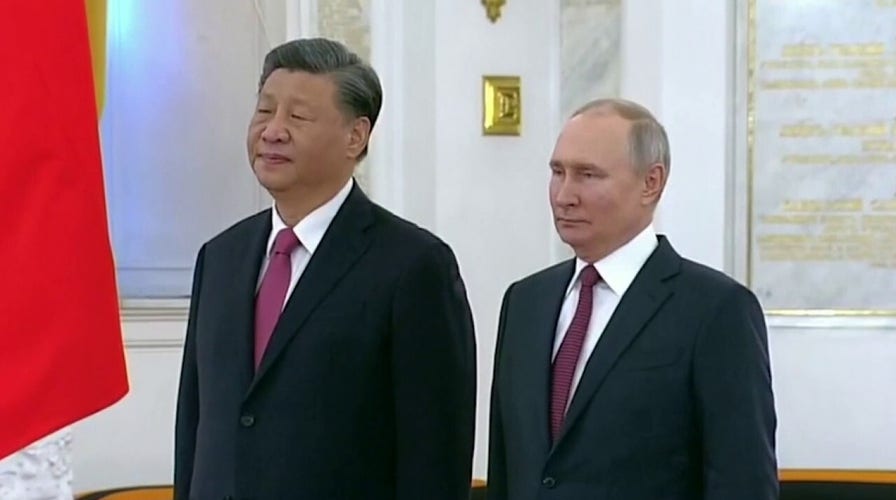 Video
Keith Kellogg: China's Xi trying to be 'the great negotiator' in wake of Putin meeting
Lt. Gen. Keith Kellogg and former CIA station chief Dan Hoffman discuss the the new China-Russia partnership and escalating tensions amid the ongoing war in Ukraine on 'Your World.' 
Russia on Wednesday is criticizing the West's reaction to Chinese President Xi Jinping visiting Moscow as being "deeply hostile."
Kremlin spokesman Dmitry Peskov made the remark as Xi ended his three-day state visit to the country, which included meetings with Russian President Vladimir Putin and the signing of an agreement to expand economic ties.
"Undoubtedly, the most important thing is not the West's reaction after all, but the results of these talks that have taken place. The main thing is the results of the state visit itself," Peskov said, according to the state-owned Tass news agency.
"As for the reaction of the Western countries, it is practically on all issues nothing but unfriendly and deeply hostile, this is not a secret to anyone," he added. "The coverage of this important visit is not an exception."
PUTIN SAYS RUSSIA WILL REACT 'ACCORDINGLY' IF WEST SENDS AMMUNITION WITH DEPLETED URANIUM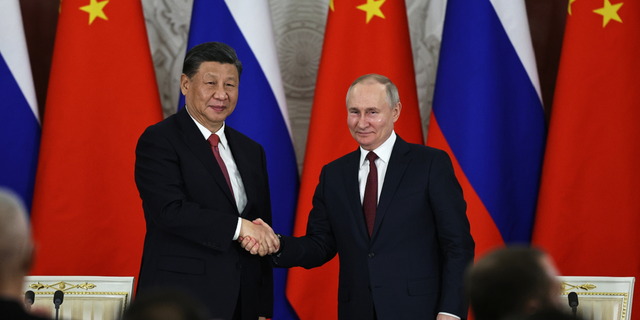 Russian President Vladimir Putin and Chinese President Xi Jinping shake hands in Moscow on Tuesday, March 21, 2023. (Mikhail Tereshchenko/Sputnik/Kremlin Pool Photo)
In their report, Tass also wrote, "Deputy Chairman of the Russian Security Council Dmitry Medvedev, who was part of the expanded circle of Russian delegates at the talks, pointed out that he was pleased that most Westerners were furious about Russia-China high-level talks."
It added that Xi met informally with Putin for nearly five hours on Monday, before meeting with Russian Prime Minister Mikhail Mishustin and participating in official talks with Putin at the Kremlin the following day.
"Of course, we did not ignore developments around Ukraine," Putin said Tuesday, mentioning one of the subjects that came up between him and Xi.
VLADIMIR PUTIN, XI JINPING SIGN ECONOMIC DEAL IN LATEST DEMONSTRATION OF 'FRIENDSHIP WITHOUT LIMITS'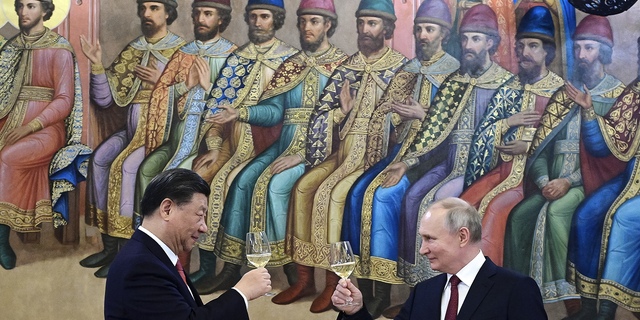 Russian President Vladimir Putin and Chinese President Xi Jinping toast during their dinner at The Palace of the Facets in Moscow on March 21. (Pavel Byrkin/Sputnik/Kremlin Pool Photo/AP)
"We believe that many of the provisions of the peace plan put forward by China are consonant with Russian approaches and can be taken as the basis for a peaceful settlement when the West and Kyiv are ready for it," Putin said. "However, so far, we have not seen such readiness on their part."
U.S. Secretary of State Antony Blinken this week panned Xi's visit as China providing "diplomatic cover" for the "atrocities" that Russia is committing in Ukraine.
CLICK HERE TO GET THE FOX NEWS APP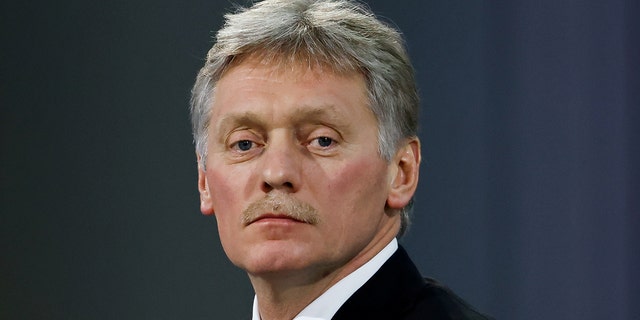 Kremlin spokesman Dmitry Peskov attends a news conference of Russian President Vladimir Putin, in Moscow in December 2021. (Reuters/Evgenia Novozhenina)
"Russia's purported annexation of sovereign Ukrainian territory, including vast areas it doesn't even control, and its ongoing brutal attacks on civilians, make clear that President Putin currently has no interest in such a peace," Blinken said Monday.
"That President Xi is traveling to Russia days after the International Criminal Court issued an arrest warrant for President Putin suggests that China feels no responsibility to hold the Kremlin accountable for the atrocities committed in Ukraine," he added. "And instead of even condemning them, it would rather provide diplomatic cover for Russia to continue to commit those very crimes."
Greg Norman is a reporter at Fox News Digital.