close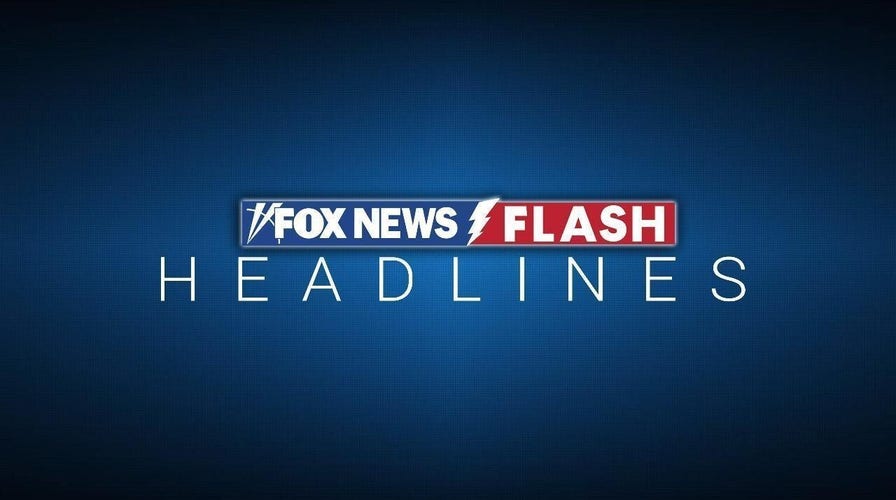 Video
Fox News Flash top headlines for March 22
Fox News Flash top headlines are here. Check out what's clicking on Foxnews.com.
"We have a deal," European Union foreign policy chief Joseph Borrell said on Saturday. Or so it seemed.
Serbia and Kosovo reached a verbal agreement on the normalization of relations during ongoing talks in the E.U. facilitated Belgrade-Pristina Dialogue. Serbian President Aleksander Vucic met with Kosovo's Prime Minister Albin Kurti on March 18 in North Macedonia and agreed on the implementation of normalizing relations.
The implementation annex of the agreement on the path to normalization of relations calls for Serbia and Kosovo to maintain "good neighborly relations" and recognize each other's national symbols.
SERBIA, CAUGHT BETWEEN EUROPE AND RUSSIA, COULD MOVE ONE STEP CLOSER TO NORMALIZING RELATIONS WITH KOSOVO
A major point in the annex agreement is that Kosovo seems to have agreed to start a conversation on establishing the Association of Serb Municipalities in Kosovo. This arrangement would essentially allow for a certain level of self-governance for the Serb community in Kosovo. It also requires that Serbia not block Kosovo from joining international organizations, which could mean Serbia accepting Kosovo as a peer nation and member of the United Nations.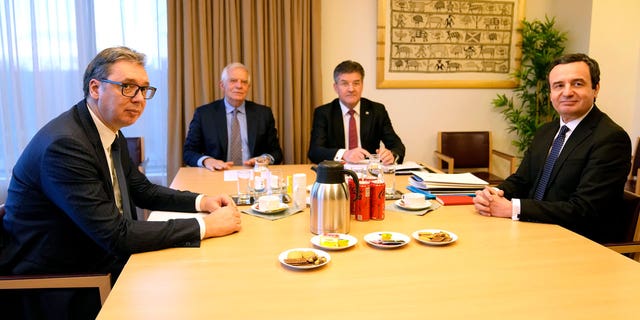 Serbian and Kosovar leadership appear to endorse a European Union-proposed peace plan. (AP Photo/Virginia Mayo)
The parties also agreed that the EU will chair a Joint Monitoring Committee as a verification mechanism. Both Serbia and Kosovo are EU aspirants and ending the feud is a core requirement for gaining membership. Any failure to honor their obligations under the annex or past agreements would have negative consequences for their EU accession processes and block any potential EU financial aid.
Secretary of State Antony Blinken made clear that the U.S. was on board with the proposed deal.
"Fulfilling Kosovan and Serbian obligations under the Basic Agreement, as part of sustained commitment to reconciliation, will secure significant opportunities for the people of both countries and accelerate their paths to European Union membership," Blinken said in a statement.
Although the progress is promising and President Vucic made clear he wants Serbia to have normal relations with Kosovo, no formal agreement has been signed and questions remain.
HISTORIC RUSSIAN ALLY SNUBS PUTIN IN GROWING SHIFT TO EUROPEAN UNION
"I don't want to sign any international legally binding documents with Kosovo because Serbia does not recognize its independence," Vucic said, according to Reuters.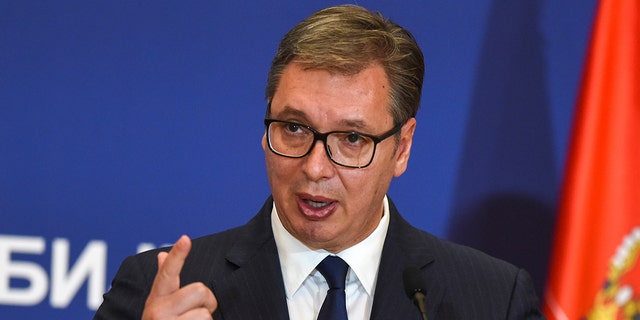 Serbian President Aleksandar Vucic speaks during a news conference in Belgrade, Serbia, Sept. 13, 2021. (Reuters/Zorana Jevtic)
Embracing Kosovo as a member of the international community and U.N. member state is Serbia's main objection and will be a difficult reality to accept if a comprehensive peace agreement is reached.
"The deals could be read as implicitly expecting Serbia to allow Kosovo to enter the U.N., but President Vucic has been rather clear that U.N. membership is the red line," Helena Ivanov, associate fellow at the Henry Jackson Society, told Fox News Digital.
Serbia isn't the only obstacle standing in the way of Kosovo's U.N. membership. While Russia has remained mostly on the sidelines during the EU talks on normalization and hasn't actively opposed any developments, Russia is a permanent member of the U.N. Security Council with veto power and can block Kosovo's membership.
RUSSIA'S ROLE AT UN UNDER SCRUTINY AS UKRAINE CALLS FOR SECURITY COUNCIL VOTE TO BE REMOVED
Prime Minister Kurti said the agreement is a de facto recognition of Kosovo by Serbia and signaled that he was willing to sign any agreement, although there are difficult requirements for Kosovo as well, mainly the self-governance provisions for Albania's Serb population.
The most recent agreement comes off the heels of an 11-point EU plan from February in hopes of putting the conflict to an end and continue the EU accession process. The painstaking Belgrade-Pristina Dialogue on normalizing relations have been ongoing since 2011.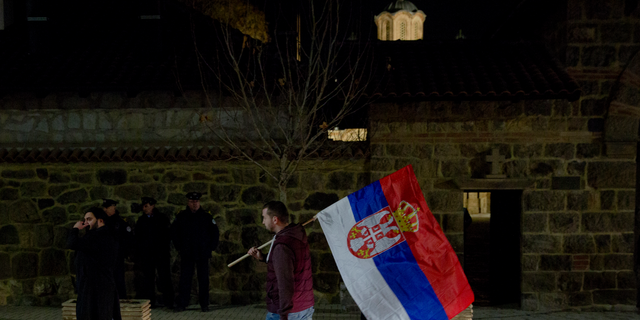 A protester carries a Serb flag and joins a demonstration against Serbian President Aleksandar Vucic in the town of Gracanica, Kosovo, on Feb. 9, 2019. (AP Photo/Visar Kryeziu)
CLICK HERE TO GET THE FOX NEWS APP
Normalizing relations would end decades of tensions following the 1999 NATO bombing campaign against Serbia. Kosovo, which is majority ethnic Albanian, was a former province of Serbia and was once integrated within the nation of Yugoslavia but later declared unilateral independence from Serbia in 2008. To this day, Serbia has yet to officially recognize Kosovo's declaration of independence.
NATO's intervention, which Russia opposed at the time, remains a bitter point of contention with the West and is often used by Vladimir Putin to justify fears about NATO encroachment into historic Russian territory. The lingering resentment over what Russia perceived as a flagrant violation of international law by NATO and the refusal to acknowledge Russia's interests continue to play a major role in the narrative over the war in Ukraine.