close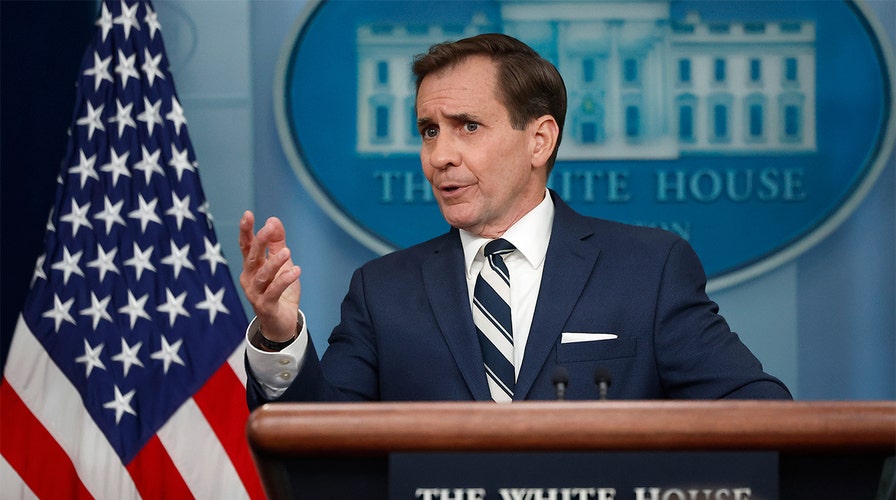 Video
White House compares 'chilling' Russian airport storming to anti-Jewish pogroms of 19th and 20th centuries
The White House on Monday compared the Israeli-targeted storming of a Dagestan, Russia airport over the weekend to the anti-Jewish pogroms perpetrated throughout Europe in the 19th and 20th centuries.
Russia this week declared that Israel has no right to self-defense and labeled its would-be ally an "occupying power" in a move that undermines years of work from Jerusalem to improve its relationship with Moscow.
"The only thing [the West] can muster is continued pronouncements about Israel's supposed right to self-defense. Although, as an occupying power, it does not have that power," Russian Amb. Vasily Nebenzya said during his speech at the United Nations General Assembly session on the conflict. Nebenzya clarified that Israel can "fight terror," but urged the country to "fight terrorists and not civilians."
Nebenzya also condemned Western "hypocrisy" over Palestinian deaths and compared it to the outcry over Russia's invasion of Ukraine, according to The Moscow Times.
"In other situations, [Western nations] call for the respect of humanitarian law, set up inquiry commissions and impose sanctions on those who use force as a last resort to stop years of violence," Nebenzya said, but that on the "destruction in Gaza … they play mum."
WHY DOES US ECONOMICALLY HELP NATIONS THAT WANT TO HARM THE WEST?
Russian President Vladimir Putin remained muted in the days immediately following the Hamas terrorist attack on Israel, which The New York Times suggested spoke "volumes" about the state of relations between the two countries. To underscore the seeming shift in policy, Moscow hosted representatives from Hamas and Iran's Deputy Foreign Minister Ali Bagheri Kani.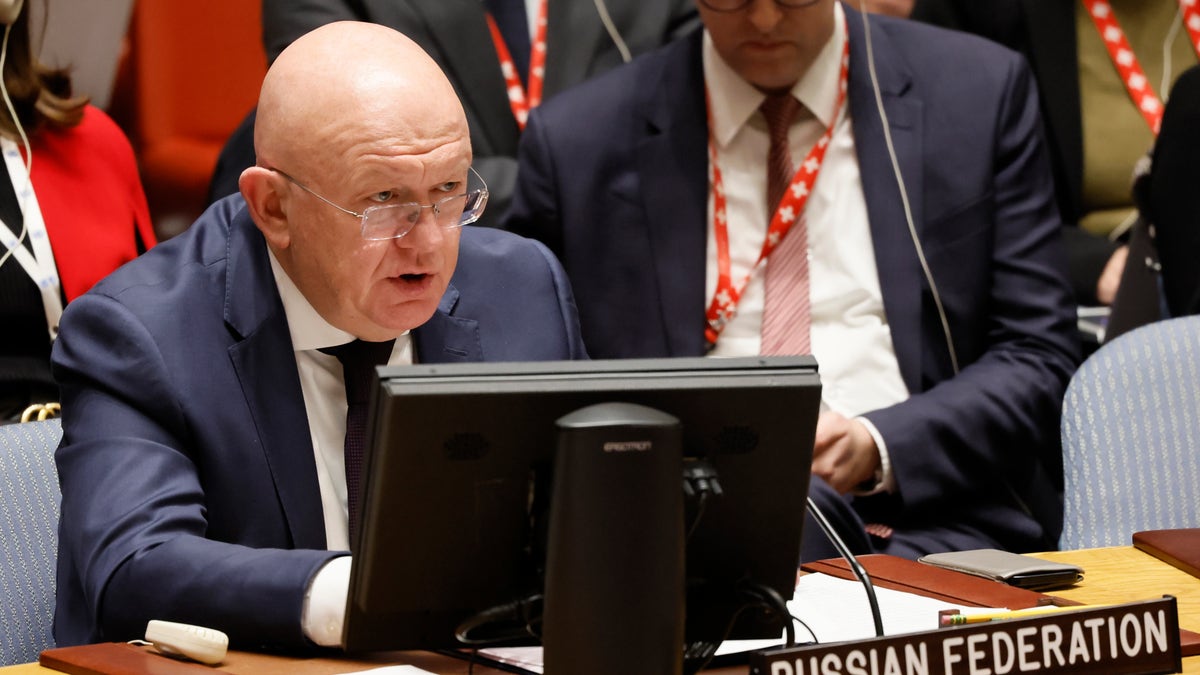 Permanent Representative of the Russian Federation to the United Nations Vassily Nebenzya speaks during a meeting on the Israel-Hamas war at United Nations headquarters on Oct. 30, 2023 in New York City. The Security Council held an emergency meeting requested by the United Arab Emirates seeking a binding resolution demanding that Israel accept a humanitarian pause to the fighting as it begins its ground operation in Gaza. (Michael M. Santiago/Getty Images)
The meeting aimed to determine ways to stop "Zionist crimes supported by the United States and the West," The Times of Israel reported.
With the Russian ambassador's statement at the United Nations this week, that policy appears to have flown out the window, according to Rebekah Koffler, a strategic military intelligence analyst and the author of Putin's Playbook.
HALEY: US 'ACTING LIKE IT'S SEPTEMBER 10′ AMID 'UNHOLY ALLIANCE' OF HAMAS, RUSSIA, IRAN AND OPEN BORDER
"Russia has unequivocally sided with the terrorists, which marks a reversal of Moscow's twenty-plus years of largely pro-Israel policy," Koffler told Fox News Digital.
Russian President Vladimir Putin, right, meets with Israeli Prime Minister Benjamin Netanyahu at the Kremlin in Moscow on Jan. 30, 2020. (Maxim Shemetov/POOL/AFP via Getty Images)
"Putin has been orienting Russia towards the East – China, India – and the Arab world, and will do anything to undermine the West or its allies, in this case Israel" and that Russia's actions this week could "score points" with the Arab world and served as "payback" for Israel's aid to Ukraine.
Koffler noted that Putin's decisions could work toward "undoing years of work suppressing radical Islamic extremism" and playing into the growing anti-Israel and antisemitic sentiments flooding the world.
UNITED NATIONS ALLOWING HAMAS TO 'LITERALLY GET AWAY WITH MURDER,' EXPERT SAYS
Russia, in particular, suffered a particularly embarrassing and horrifying incident last weekend as residents in the Russian region of Dagestan stormed an airport after hearing that a flight from Israel was inbound. Hundreds of men, some of them carrying banners with antisemitic slogans, even rushed the tarmac to find the plane.
This photograph shows Russian National Guard (Rosgvardiya) vans parked at the airport in Makhachkala on Oct. 30, 2023. Russian police on Oct. 30, 2023 said they had arrested 60 people suspected of storming an airport in the Muslim-majority Caucasus Republic of Dagestan seeking to attack Jewish passengers coming from Israel. (Stringer/AFP via Getty Images)
The men clashed with police officers as what may have started as a protest quickly devolved into a riot that injured 20 people – none of them Israeli – and resulted in 80 arrests. Russia opened a criminal probe into who organized the protest, but Putin attempted to blame Ukraine and Western spy agencies for inciting the incident.
U.S. National Security Council spokesman John Kirby called Putin's allegation that Western entities were behind the violence "classic Russian rhetoric," and Koffler underscored the concern that Russia may be "returning to the time of pogroms."
HEZBOLLAH CLAIMS TO STRIKE ISRAELI ARMY WITH TWO SUICIDE DRONES: REPORT
"The growing antisemitism in Russia harkens back to Soviet times," Koffler said. "If Russian officials encourage anti-Israel and anti-Jewish sentiment, this could be destabilizing for the Muslim-dominated regions in Russia and is very, very dangerous for the Jews," which she stressed "would not only be terrifying for the Jews, but it would not be good for Russia, its people or Putin personally."
Israel, under its current Prime Minister Benjamin Netanyahu, has worked toward closer ties with Moscow, finding Putin a potentially vital ally in helping stave off belligerence from Iran proxies in Syria.
CLICK HERE TO GET THE FOX NEWS APP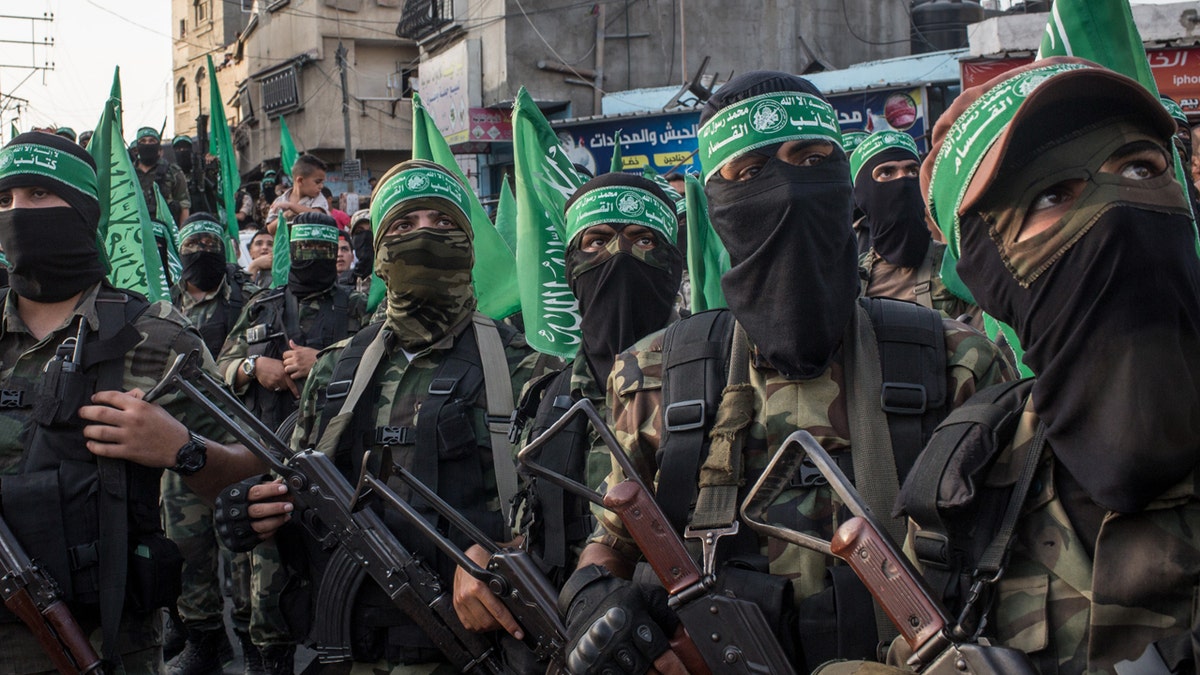 Palestinian Hamas terrorists are seen during a military show in the Bani Suheila district on July 20, 2017 in Gaza City, Gaza. (Chris McGrath/Getty Images)
Netanyahu provided a measured response to Russia's invasion of Ukraine in 2022, voting along with Western allies for a U.N. resolution that condemned the invasion but resisting calls to provide military assistance to Ukraine, which drew heavy criticism from those same allies, according to a review by the Washington Institute for Near East Policy.
Israel finally caved to Western pressure and authorized the sale of defensive military equipment to Ukraine, which included electronic systems to defend against drone attacks.
The Associated Press contributed to this report.
Peter Aitken is a Fox News Digital reporter with a focus on national and global news.