close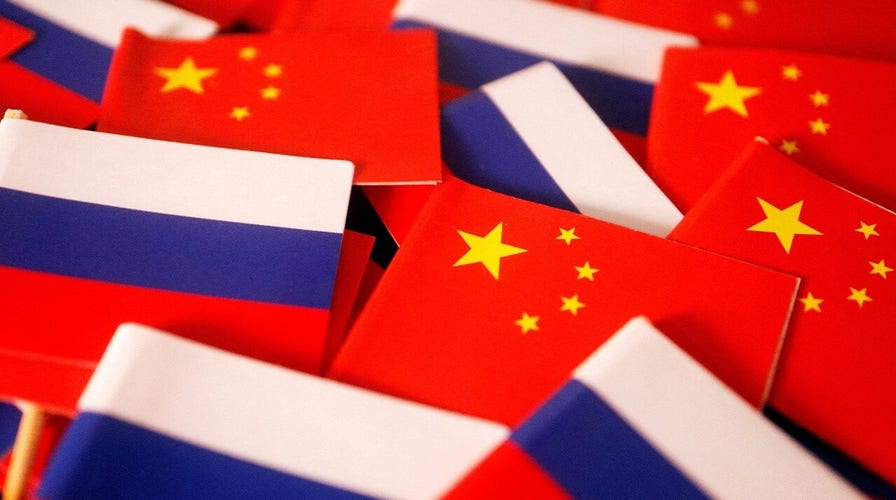 Video
China can't afford to have Russia lose in Ukraine: Jennifer Griffin
Fox News chief national security correspondent Jennifer Griffin discusses the war in Ukraine and the growing divide over the United States' role on 'Sunday Night In America.'
China and Russia are now competing against each other in an unofficial arms race to establish nuclear dominance following Russia's departure from the New START treaty, leaving the U.S. lagging behind in a new state of nuclear instability, experts say.
"What makes this so dangerous is that Xi and Putin are collaborating in new ways to threaten the U.S. alliance architectures, systems of trade and safe and secure commerce – all of which have allowed Americans to be safe, prosperous and free for decades," Rebeccah Heinrichs, a senior fellow with the Hudson Institute and an expert on strategic deterrence, told Fox News Digital.
Russian President Vladimir Putin announced last week the country would suspend participation in the nuclear treaty with the U.S., one day after President Biden's surprise visit to Ukraine. Chinese and Russian diplomats have met since the treaty announcement was made to reaffirm the countries' ties.
"Russia and China are strategic partners in the short term as they are joining forces to challenge the U.S., in order to deter us from interdicting their respective plans to establish dominance in their respective perceived spheres of influence in Eurasia," former Intelligence officer Rebekah Koffler told Fox News Digital. "In the long term, Moscow and Beijing are strategic opponents, hence they've been modernizing their nuclear arsenals and doctrines."
CHINA SENDS 25 WARPLANES, 3 SHIPS SENT TOWARD TAIWAN, ISLAND SAYS
Biden called Russia's retreat from the treaty move "a big mistake," with reports now surfacing that Russia may be planning to deploy new nuclear systems. Putin also announced shortly after the country backed out of the New START Treaty that he would be strengthening Russia's nuclear forces and that his military is prepared to deploy a new intercontinental ballistic missile system with hypersonic missiles and new nuclear submarines.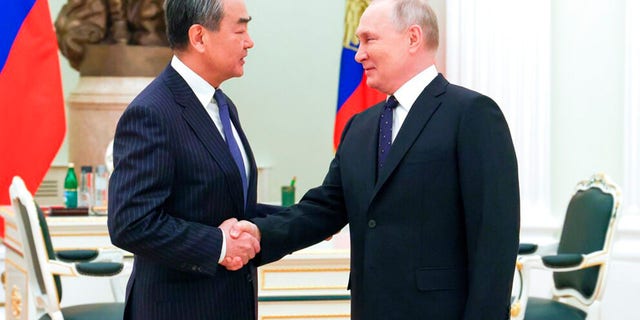 Russian President Vladimir Putin greets Chinese Communist Party's foreign policy chief Wang Yi during their meeting at the Kremlin in Moscow, Wednesday, Feb. 22, 2023. (Anton Novoderezhkin, Sputnik, Kremlin Pool Photo via AP)
"There should be an arms race because the Chinese are fast increasing the number of their nuclear warheads," China expert Gordon Chang told Fox News Digital. "The Biden administration doesn't want to increase the size of our arsenal. But unfortunately, right now we're in a position where it is extremely dangerous for us because the two sides, Russia and China, are forming a partnership and they're increasing their abilities to strike us with nuclear weapons. So we need to respond."
Koffler says Russia is currently the world's top nuclear threat, "having the world's largest nuclear stockpile, surpassing the U.S., if you count tactical nuclear weapons." Chang stated that while China will not disclose the size of its arsenal, he does not believe the U.S. is currently able to "deter Vladimir Putin's use of tactical nuclear weapons in Ukraine."
US CONDEMNS RUSSIAN WITHDRAWAL FROM NUCLEAR WEAPONS TREATY
"The United States security apparatus, especially under the Obama and Biden's leadership has been pursuing a naive policy of de-nuclearization, the so-called Global Zero," Koffler said.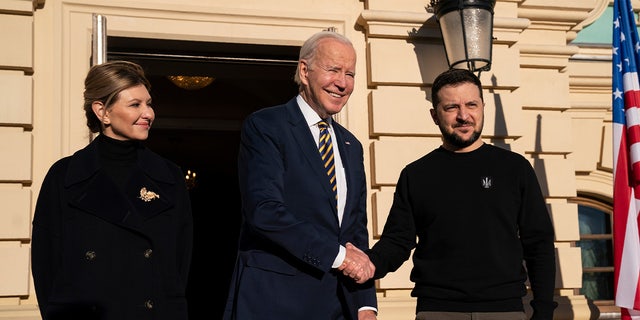 President Joe Biden shakes hands with President Volodymyr Zelenskyy as they pose with Ukraine's first lady Olena Zelenska at Mariinsky Palace in Kyiv, Feb. 20, 2023. (AP Photo/Evan Vucci, Pool)
Koffler stated that those policies have, if anything, allowed Russia to deter the U.S. from directly intervening in the war against Ukraine out of fear that Putin will authorize a nuclear strike on the Ukrainian battlefield.
RUSSIA DITCHES NUCLEAR SECURITY AMID CHINA VISIT, 'DANGEROUS DECADE' AHEAD, EXPERT WARNS
Heinrichs is now suggesting the U.S. invest in producing "large numbers of conventional weapons and defenses" as the country enters a new era of nuclear instability and both Russia and China continue to push back on transparency measures.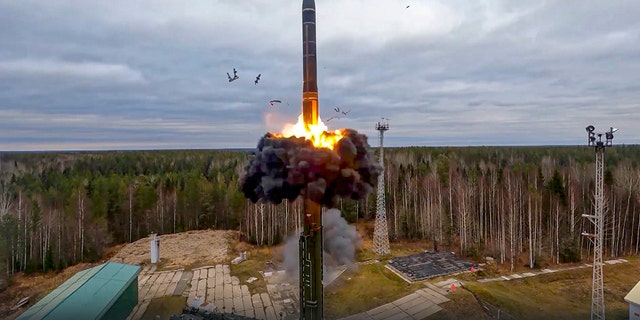 A Yars intercontinental ballistic missile is test-fired from a launch site in Plesetsk, northwestern Russia, on Oct. 26, 2022. (Russian Defense Ministry Press Service via AP)
"We divested of key systems and production capabilities since the Cold War and we must now move with a sense of urgency to regain our ability to produce and deploy the necessary weapons to deter both of those countries," Heinrichs said. "To return to a stable environment where both of those countries are interested in diplomacy and treaties, agreements, we should show them that they will not prevail by threatening us with nuclear weapons. It will not be worth it for them."
CLICK HERE TO GET THE FOX NEWS APP
Fox News' Caitlin McFall and Chris Pandolfo contributed to this report.
Haley Chi-Sing is a Fox News Digital production assistant. You can reach her at @haleychising on Twitter.