Olivia Hussey and Leonard Whiting, who played the titular roles in 1968's "Romeo and Juliet," have sued Paramount Pictures for more than $500 million over a nude scene in the film shot when they were teenagers, new court documents show.
Hussey, then 15 and now 71, and Whiting, then 16 now 72, filed the suit in Los Angeles County Superior Court Friday alleging sexual abuse, sexual harassment and fraud after the nude scene was included in the film, despite alleged reassurance from Director Franco Zeffirelli nudity would not be shown.
Zeffirelli, who died in 2019, allegedly told the two young actors that they would wear flesh-colored undergarments in the bedroom scene and would use camera angles to obscure the nudity, the suit alleges.
According to the suit, the scene was shot on the final days of filming and ignored those previous assurances.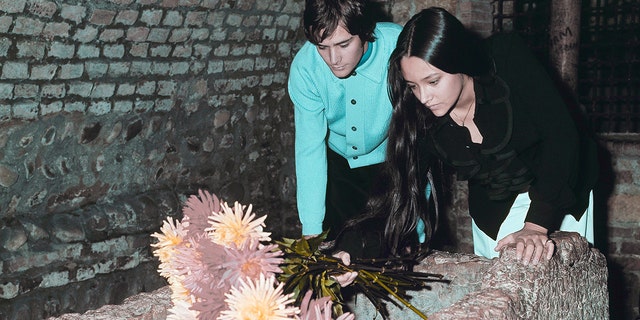 FILE – Olivia Hussey and Leonard Whiting, who are playing the title roles in Franco Zeffirelli's "Romeo and Juliet," place flowers on the "Tomba di Giulietta," or the Tomb of Juliet, in Verona, northern Italy, on Oct. 22, 1968. 
(AP Photo/File)
JEREMY RENNER SHARES PHOTO FROM HOSPITAL BED AFTER SNOWPLOW ACCIDENT: 'THANK YOU ALL FOR YOUR KIND WORDS'
Whiting, who played Romeo, and Hussey, who played Juliet, said they were filmed in the nude without their knowledge, in violation of California and federal laws against indecency and the exploitation of children, the suit says.
The two stars said Zeffirelli told them they must act in the nude "or the Picture would fail," the suit said. He also suggested their careers would be hurt, it added. So, the actors "believed they had no choice but to act in the nude in body makeup as demanded," the suit said.
The scene in question, which comes near the end of the film, briefly showed Whiting's bare buttocks and Hussey's bare breasts.
SALLY FIELD SPILLS WORST ON-SCREEN KISSER WAS LONGTIME BOYFRIEND BURT REYNOLDS: 'A LOT OF DROOLING'
"What they were told and what went on were two different things," said Tony Marinozzi, a business manager for both actors, according to Variety. "They trusted Franco. At 16, as actors, they took his lead that he would not violate that trust they had. Franco was their friend, and frankly, at 16, what do they do? There are no options. There was no #MeToo."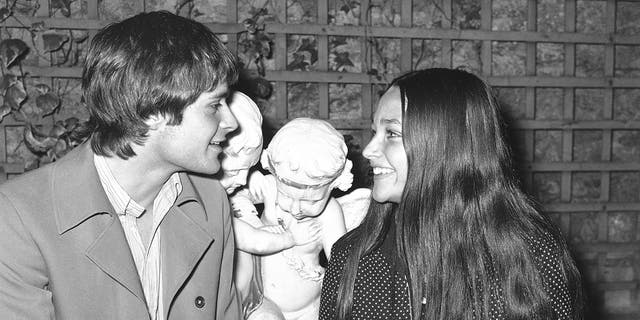 Olivia Hussey and Leonard Whiting, the two stars of 1968's "Romeo and Juliet," sued Paramount Pictures for more than $500 million on Friday, Dec. 30, 2022, over a nude scene in the film shot when they were teens. 
(AP Photo/Jean-Jacques Levy)
The film was an international sensation at the time and was nominated for four Academy Awards. In the 55 years since its release, it has been widely shown to high school students who study the Shakespeare play.
Hussey and Whiting said they suffered emotional damage and mental anguish for decades and their careers did not reflect the success of the movie, according to the suit.
REAL-LIFE CELEB COUPLES WHO SIZZLE ON-SCREEN: TOM HANKS AND RITA WILSON, GOLDIE HAWN AND KURT RUSSELL AND MORE
"Nude images of minors are unlawful and shouldn't be exhibited," said Solomon Gresen, the actors' attorney, Variety reported. "These were very young naive children in the '60s who had no understanding of what was about to hit them. All of a sudden they were famous at a level they never expected, and in addition they were violated in a way they didn't know how to deal with."
Fox News Digital reached out to representatives of Paramount, but a response was not immediately returned.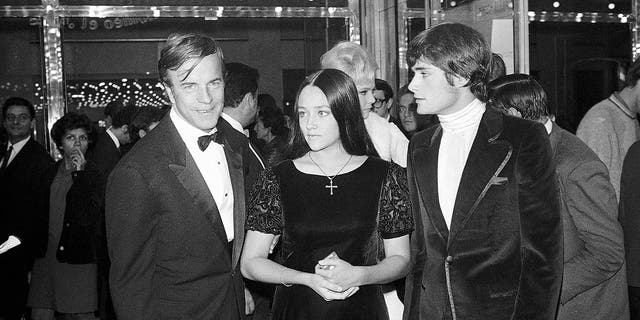 FILE – "Romeo and Juliette" movie director Franco Zeffirelli, left, actors Olivia Hussey, center, and Leonard Whiting are seen after the Parisian premiere of the film in Paris on Sept. 25, 1968. The two stars of 1968's "Romeo and Juliet" sued Paramount Pictures for more than $500 million on Tuesday, Jan. 3, 2023, over a nude scene in the film shot when they were teens.
(AP Photo/Eustache Cardenas)
The lawsuit was filed under a California law temporarily suspending the statute of limitations for child sex abuse, which has led to a host of new lawsuits and the revival of many others that were previously dismissed.
In 2018, Hussey described the controversial scene as "very taboo" in America but seemed to defend its use in the European-set film as it was "done very tastefully."
OLIVIA HUSSEY RECALLS CONTROVERSIAL 'ROMEO AND JULIET' ROLE AT 16, REVEALS PERSONAL TRAGEDIES
"I think because it was done very tastefully," she told Fox News. "And in Europe, it was very different. In America, it was very taboo. But in Europe a lot of the films had nudity. Nobody really thought much of it. But it was just the fact that I was 16 that got a lot of publicity… The large crew we worked with was whittled down to only the very basic people, a handful of people. It was done later in the day when it wasn't busy. It was a closed set."
Despite being unclothed, Hussey described being at ease on set.
CLICK HERE TO GET THE FOX NEWS APP
"If you see it, the reality is these two young kids married against their parents' wishes and have this one night together and then they die… And it wasn't really banned in any country… And we shot it at the very end of the film. So by that time… we've all become a big family… It wasn't that big of a deal. And Leonard wasn't shy at all! In the middle of shooting, I just completely forgot I didn't have clothes on," she said at the time.
According to the suit, the actors are seeking damages of more than $500 million.
The Associated Press contributed to this report.