One year after the US Supreme Court overturned Roe v Wade – a landmark ruling on abortion rights – some IVF patients are worried that potential new laws could jeopardise their fertility treatment. Some women are even considering moving their frozen embryos across state lines.
Julie Eshelman has had a long and difficult journey trying to build her family. "My husband and I were married in 2015," she tells me. "We naively decided that we wanted to wait a year before we started having kids. In 2016, we started trying and after six months, I was like: 'This isn't working, maybe there's something wrong.'"
And so began years of fertility tests, treatment, three miscarriages, and many tears. Finally, in June 2021 she had a baby girl. "We now have a beautiful, feisty spunky two-year-old daughter," she says, her voice lifting.
But when Julie and her husband decided to try for a second child, things got complicated. The US Supreme Court had just overturned the 1973 Roe v Wade ruling – this means women no longer have a national right to an abortion. Individual states can now ban or restrict access to terminations and in the process of rewriting the rules, some lawmakers drew up legislation defining life as beginning at fertilisation. This has thrown up crucial questions for fertility treatment.
"If they say that life starts at conception what does that mean for an IVF embryo?" asks Julie.
During IVF (in vitro fertilisation), eggs are typically collected from a woman's ovaries, fertilised in a laboratory, then screened. Some healthy embryos are transferred to the womb and others can be frozen for future use. Any that aren't considered viable or are not used may be destroyed.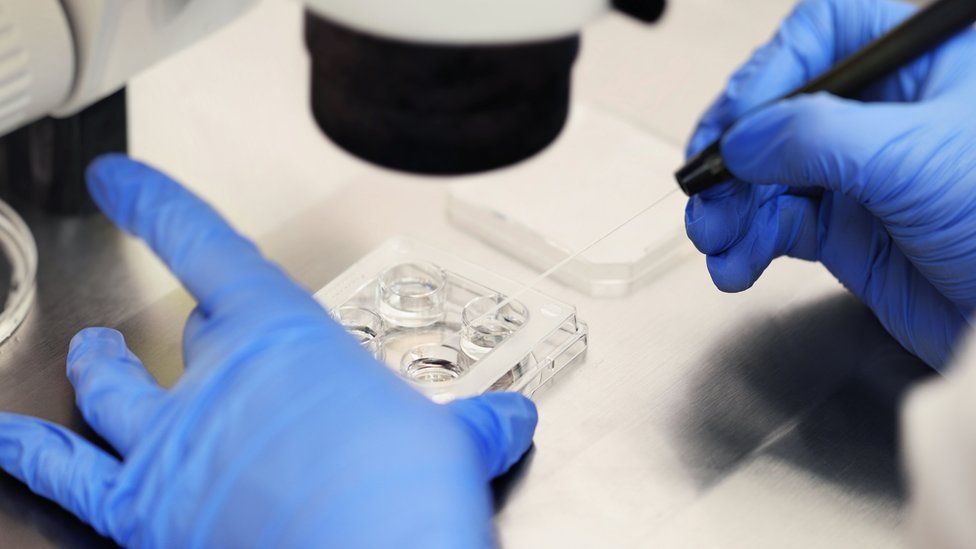 Image source, Getty ImagesImage caption, During IVF eggs are collected from a woman's ovaries and fertilised in a laboratory.
But if life is considered to start at the moment of fertilisation, doctors and patients like Julie fear this could have implications for the IVF process.
At the time of the Supreme Court decision, Julie was getting ready to move to Pennsylvania because of her husband's job in the military. She was worried about a proposed bill there that she feared could have had consequences for embryo storage and IVF.
She felt the risk was too great and decided to leave her embryos in the Democrat controlled state of Illinois, where she had had her last IVF cycle, until she knew the outcome of the Pennsylvania vote.
She says the decision to wait added at least six extra months to her IVF treatment, delaying what was already a lengthy, stressful and expensive process. Next year her family will have to move again when her husband is redeployed. Julie doesn't know where they will be asked to move to or what the laws will be there. She worries that delays could affect her chances of a successful pregnancy.
When does life begin?
Legislation defining life as beginning at conception or fertilisation is sometimes called a "personhood law", because it confers the rights of a person on a foetus or embryo. There were 20 personhood bills introduced in the US this year, according to The Center for Reproductive Rights. None were passed into law, but campaigners fear that similar legislation could pass in the future.
Two states – Georgia and Arizona – currently have language in their abortion bans which reproductive rights advocates say effectively establishes foetal personhood.
Dr Natalie Crawford is a fertility doctor in the state of Texas, which has a near-total abortion ban. She says that many of these bills are written by people who do not have a medical background, using words such as "fertilisation" and "implantation" which have a very specific meaning in a scientific context.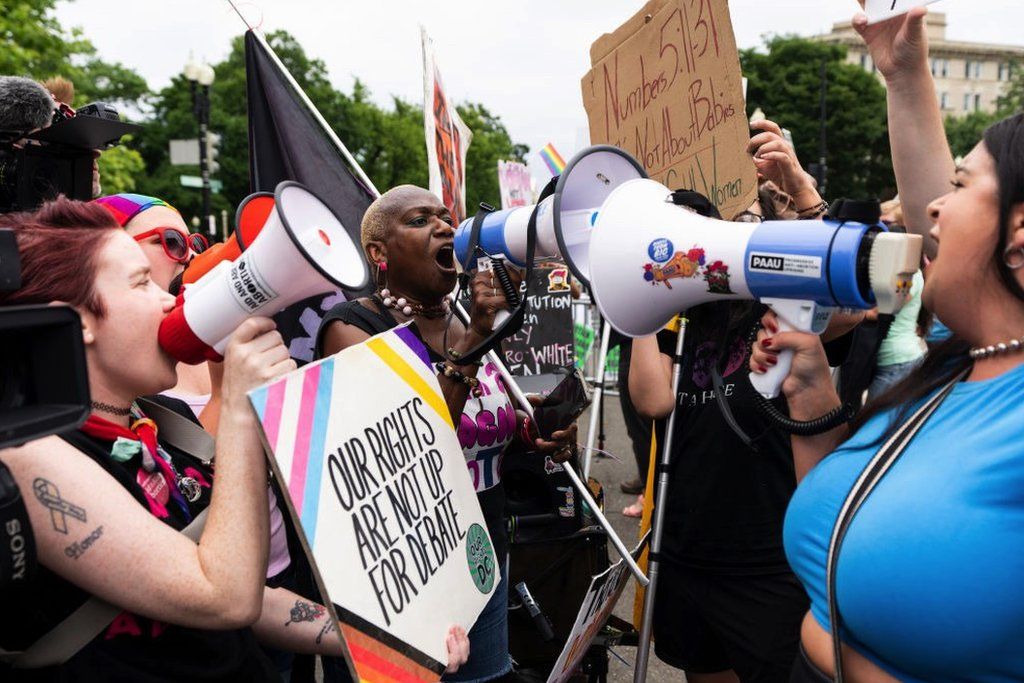 Image source, Getty ImagesImage caption, Americans protested both for and against the Supreme Court decision
"When somebody writes these words, with the mindset of trying to eliminate abortion, it starts to impact our ability to potentially do IVF in a safe manner," she says. "If you say life begins at fertilisation, then how can I grow an embryo in a lab, or biopsy it for genetic testing, or freeze it or thaw it, or implant it in somebody, or leave it frozen?"
She tells me that when Roe v Wade was overturned, the phone at her clinic "wouldn't stop ringing" as worried patients tried to find out what it might mean for their treatment.
The American Society of Reproductive Medicine says that currently there is no state where the legal position regarding IVF has changed, but it also says that personhood definitions "have the potential to implicate and even ban the use of ART [assisted reproductive technology], including in vitro fertilisation".
Not everyone who wants to restrict abortion wants to impact how IVF is practised, but there are some who are explicit about wanting to do so. Jim Baxa, the president of West Texas for Life, believes the medical practice of disposing of non-viable embryos is "murder, and ought to get punished as murder".
He tells me: "Life is created by God, not man. If God allows us to create a life through IVF, then that's to his glory. But creating life is not a human right.
"All laws are based upon faith. I'm just extending that 'Thou shalt not murder' argument to every single human being."
Jim wants Texas lawmakers to "close loopholes" when it comes to IVF. For example, he says, doctors should only create "one or a few embryos, and implant all of those embryos" at once.
But Dr Crawford argues against this approach: "In other countries that have [had] religious based laws when it comes to IVF procedures, IVF is much less successful, it can be more risky, and cost more money."
She says that in the best of circumstances the rate of a live birth is 65%, which means it often takes multiple attempts – and multiple embryos – to have a successful pregnancy. There are also safety concerns with implanting multiple embryos at once, both for the mother and the foetuses, because multiple births can lead to medical complications.
'Waiting to cross that finish line'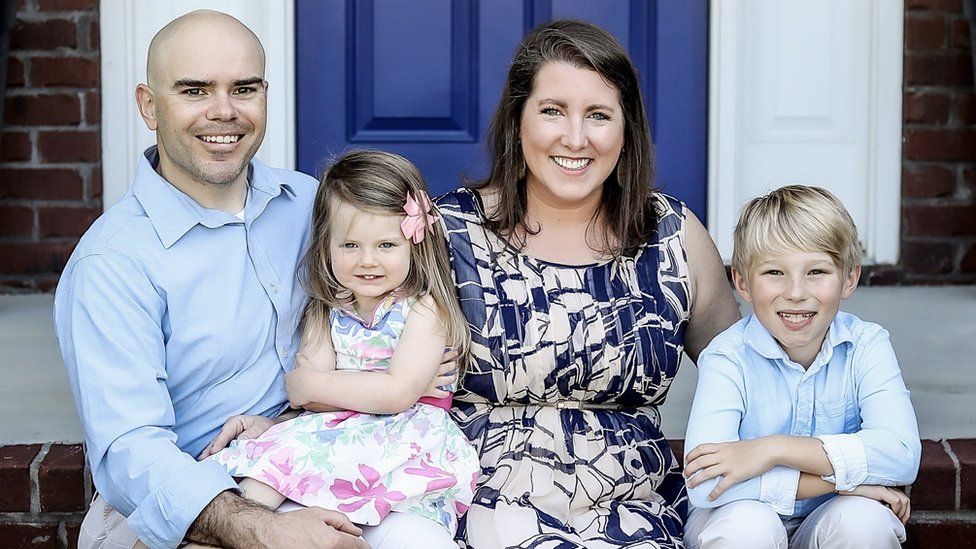 Image source, Kristin Dillensnyder Image caption, Kristin Dillensnyder uses her own experience of IVF to help other women
Kristin Dillensnyder uses her own experience of undergoing fertility treatment to coach other women through the emotional rollercoaster of IVF, a process that often takes much longer than people anticipate.
"It's like signing up for a 5km race, and then you realise you're on the course for a marathon," she says. "It's so much more than you thought. There's no rest, and you feel unprepared."
Some clients tell her they are considering transferring their embryos to another state "where they're protected".
While she hasn't seen anyone take that step yet, Kristin says women are "arming themselves with the information, so if, let's say, we go from a level of yellow to a level red of concern, they know exactly what to do and they're prepared".
For the national infertility association Resolve, the solution lies in changing the law at federal level. Its president Barbara Collura is now working with lawmakers to help advance a bill that would protect IVF nationwide.
"We have a bill that was introduced in the last Congress. It has been reworked and is going to be reintroduced soon."
She says it would protect people who need access to medical care associated with IVF: "They cannot be prosecuted, their access cannot be denied. It also protects the healthcare providers who give that care."
Crucially, she says, it would mean that "people have rights over their sperm, their eggs or embryos and are able to do what they want to do to build their family. That is the goal".