Robert K. Hur, who was appointed by Attorney General Merrick Garland as special counsel to investigate President Biden's handling of classified documents on Thursday, oversaw indictments of multiple top Baltimore officials for public corruption and fraud during his time as a United States Attorney.
Garland tapped Hur to handle the investigation amid pressure from Republican lawmakers after a second trove of classified documents dating back to the Obama presidency was found inside both the garage and an adjacent room of Biden's Wilmington, Delaware, home.
The first trove was found inside the Washington offices of the Penn Biden Center think tank, which has acted as a career springboard for nearly a dozen top Biden administration officials.
The alleged mishandling of classified documents follows revelations last year that former President Donald Trump had housed a trove of classified documents at his Mar-a-Lago home in Florida after leaving office. The FBI ultimately raided his residence to recover some 300 classified documents. Jack Smith has been appointed special counsel to oversee that investigation.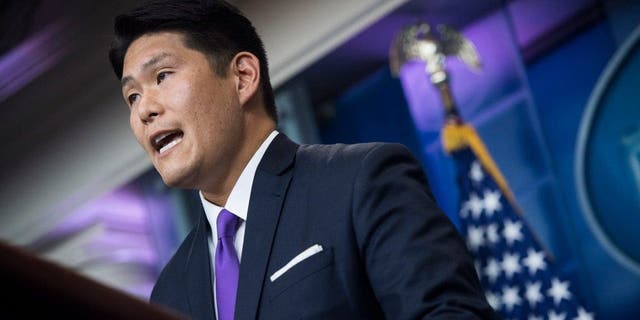 Principal Associate Deputy Attorney General Robert K Hur, speaks in the Brady Press Briefing room of the White House in Washington, DC on Thursday, July 27, 2017.
(Photo by Jabin Botsford/The Washington Post via Getty Images)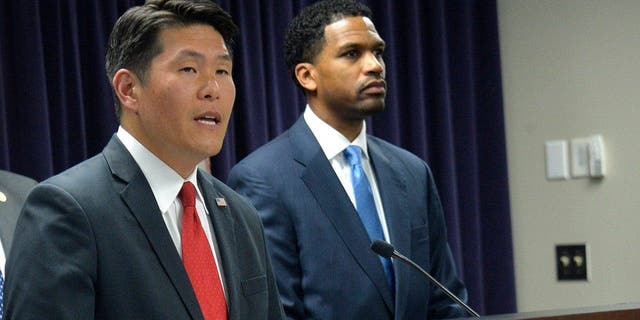 Robert K. Hur, United States Attorney Assistant Special Agent, speaks during a news conference on April 16, 2019, in Baltimore.
(Kevin Richardson/Baltimore Sun/Tribune News Service via Getty Images)
HUNTER BIDEN, CHINA, CLASSIFIED DOCUMENTS: MYSTERY SWIRLS AROUND PENN BIDEN CENTER
Hur, who will investigate Biden's case, was nominated by Trump to be United States Attorney for the District of Maryland in November 2021, and he was unanimously confirmed by the Senate in March 2018.
According to a February 2021 press release by the Department of Justice, Hur's office "brought and resolved charges for corruption and/or fraud against dozens of elected officials, public office holders, and public employees," including former Maryland state Sen. Nathaniel Oaks, former Baltimore Mayor Catherine Pugh, former Baltimore Police Commissioner Darryl DeSousa, and former Maryland delegates Cheryl Glenn and Tawanna Gaines.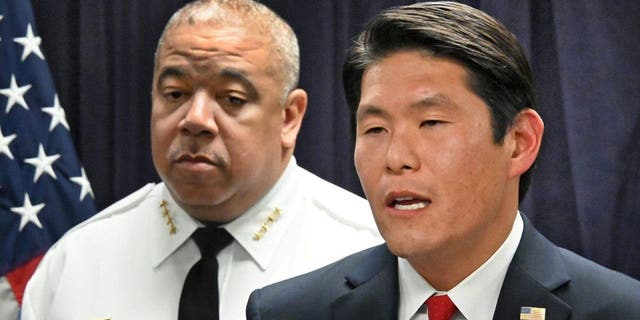 U.S. Attorney Robert K. Hur, right, with Baltimore Police Commissioner Michael Harrison, discusses Operation Relentless Pursuit, an effort to combat violent crime in seven of America's most violent cities, on Dec. 18, 2019 in Baltimore, Maryland.
(Amy Davis/Baltimore Sun/Tribune News Service via Getty Images)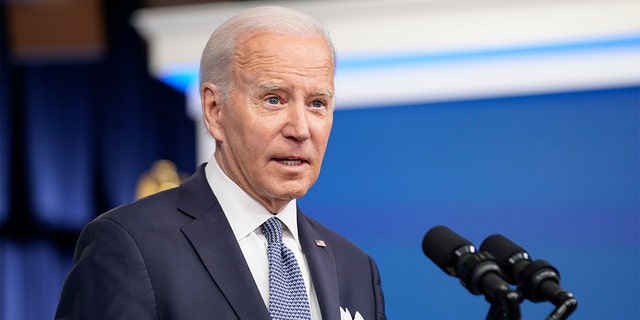 President Biden responds to reporters questions after speaking about the economy in the South Court Auditorium in the Eisenhower Executive Office Building on the White House Campus, Thursday, Jan. 12, 2023, in Washington.
(AP Photo/Andrew Harnik)
CLASSIFIED DOCUMENTS FOUND IN BIDEN'S GARAGE BRING NEW FOCUS ON WH REFUSAL TO RELEASE DELAWARE VISITOR LOGS
Hur resigned on February 15, 2021, to go back into private law practice, the press release said.
"I thank President Trump for appointing me as United States Attorney," Hur said at the time. "I will always be grateful to have served as U.S. Attorney and helped further the Office's proud legacy of pursuing justice with integrity, and without fear or favor."
In announcing his appointment as special counsel on Thursday, Garland described Hur as having a "long and distinguished career as a prosecutor."
CLICK HERE TO GET THE FOX NEWS APP
Fox News' Anders Hagstrom contributed to this report.