MILWAUKEE, WISCONSIN— Republican National Committee Chairwoman Ronna McDaniel said the first GOP debate Wednesday night is "the beginning of the general election," telling Fox News Digital that candidates are not onstage to "beat each other," but "to beat Joe Biden."
Fox News is hosting the first Republican presidential primary debate Wednesday night in Milwaukee, where the RNC will also host the 2024 Republican National Convention next summer.
ALL EYES ON THE GOP PRESIDENTIAL PRIMARY DEBATE! SIGN UP NOW TO STREAM LIVE
"I'm so excited to be in Milwaukee and to have the response we're getting from the city and the excitement around it—I think this is the beginning of the general election," McDaniel said. "So for me, this is one step closer to taking back the White House."
Florida Gov. Ron DeSantis will stand center stage, as he is the highest-polling candidate participating in the showdown. Alongside DeSantis, will stand biotech entrepreneur Vivek Ramaswamy. On either side of DeSantis and Ramaswamy will be former Vice President Mike Pence and former South Carolina Gov. Nikki Haley.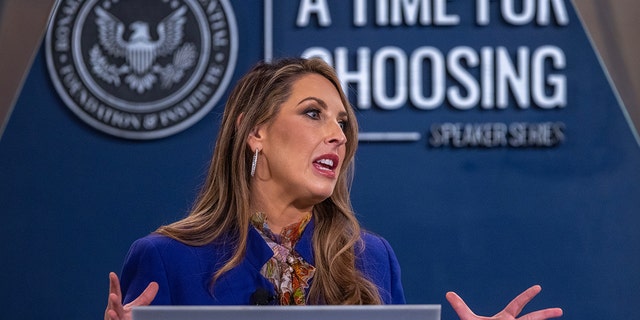 SIMI VALLEY, CA – APRIL 20: RNC Chairwoman Ronna McDaniel speaks at the Ronald Reagan Presidential Foundation.  (David McNew/Getty Images)
TIM SCOTT RELISHES DEBATE 'CONTRAST OPPORTUNITY' TO PRESENT CONSERVATIVE 'COMMONSENSE SOLUTIONS'
Former New Jersey Gov. Chris Christie and Sen. Tim Scott of South Carolina will stand in the number five and six positions, with former Arkansas Gov. Asa Hutchinson and North Dakota Gov. Doug Burgum standing on the wings of the debate stage.
McDaniel told Fox News Digital she hopes the candidates will talk about policies and "things that Americans care about right now."
"They're hurting. They want to hear—how are you going to lower inflation? How are you going to make sure our kids are going to get the education they deserve? How are we going to take care of our border and the fentanyl crisis and crime?" McDaniel said. "I think talking about those policies and obviously, taking the chance to introduce themselves, is going to be critical."
DESANTIS TO MAKE CASE AT DEBATE FOR HIS 'PROVEN CONSERVATIVE RECORD': TOP AIDE
Notably, though, GOP front-runner former President Trump, who has a commanding lead over the Republican primary field, will not participate in the first debate.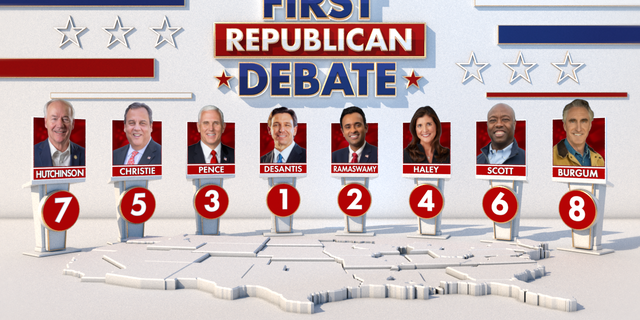 Republican presidential candidates will stand in this order at the GOP debate Wednesday night. (Fox News)
"Everybody knows, including him, because I've told him—I wish President Trump were on the stage tonight," McDaniel told Fox News Digital.
"That being said, we have to take back the White House in 2024, and that conversation will begin tonight—it will begin on this debate stage," she said. "Americans are looking at our party and saying— how are they going to put solutions in my life to make my life better, safer and stop the disaster that they're seeing in Joe Biden."
AMERICA'S IN A 'NATIONAL IDENTITY CRISIS,' RAMASWAMY WARNS, SAYS HE WILL BRING 'REVOLUTION'
As for the other GOP presidential hopefuls who did not qualify for Wednesday night's debate, McDaniel said: "I love those candidates, and I'm sorry that the criteria didn't work for them."
"You know, we set the rules, we applied the rules evenly without bias, and they have an opportunity to make the next debate stage," she said. "And I contend that all of them would also be better than Joe Biden. So we wish them the best."
CLICK TO GET THE FOX NEWS APP
Meanwhile, McDaniel said she hopes the candidates "contrast with each other," but her "real hope" is that they "really go after Biden and talk about what he's done to the American people who are paying more for gas or groceries or everything in their lives, who feel less safe in their communities, whose kids are dealing with deficits."
"Let's keep our eye on the prize," she said. "We are not here to beat each other. In the end, we are here to beat Joe Biden."
Fox News is hosting the first GOP presidential primary debate on Aug. 23 in Milwaukee. The debate begins at 9 p.m. ET. Rumble is the online live-streaming partner and Young America's Foundation is also a partner in the first debate.