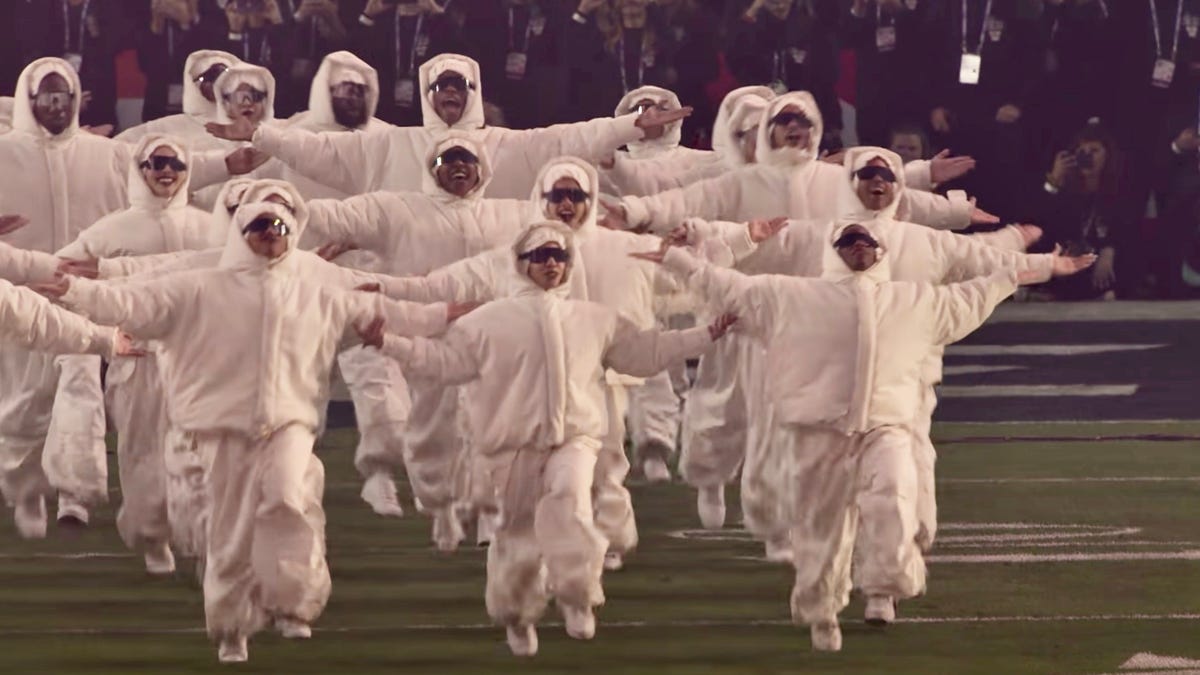 These dancers jogged in during Rihanna's performance of All of the Lights.
Video screenshot by Meara Isenberg/CNET
What's the Super Bowl without super-sized outfits?
On Sunday, viewers tuned in to see pop star Rihanna do her thing during the halftime show and left with some Super Bowl meme material — dancers dressed in enormous, powder-white getups.
The Diamonds singer performed snippets of her hits for 13 minutes. The snugly dressed backup dancers surrounded her as she belted out tracks like We Found Love and Rude Boy. To some Twitter users, the puffy fits evoked the Michelin Man, Stay Puft Marshmallow Man and even Oompa Loompas.
When it was time for Rihanna to sing All of the Lights, more of the conservatively dressed performers jogged onto the field with their arms outstretched. 
The internet quickly jumped on the clip, which you can watch at the 8:13 mark of this halftime show video. "Sheep getting herded," one Twitter user quipped. 
sheep getting herded: pic.twitter.com/wSlYcXiXK3

— َ (@ungodlywests) February 13, 2023
White blood cells showing up to help the body fight infection and other disease pic.twitter.com/04QMBUFmBA

— B.W. Carlin (@BaileyCarlin) February 13, 2023
*A kid doesn't follow directions*

The Oompa Loompas: pic.twitter.com/xxhuWLjHcp

— Kofie (@Kofie) February 13, 2023
Rihanna's performers, of course, aren't the first Super Bowl backup dancers to shimmy their way into meme fame. Who could forget "Left Shark," a dancer in a cartoon shark outfit who didn't seem to give a damn while dancing behind Katy Perry during Super Bowl halftime in 2015?  
But the 2023 halftime show had the internet buzzing for another reason besides the puffy dancers. It led to the confirmation that she's Rihanna's pregnant with her second child. The Super Bowl saw the The Kansas City Chiefs triumph over the over the Philadelphia Eagles and also entertained with commercials and movie trailers.