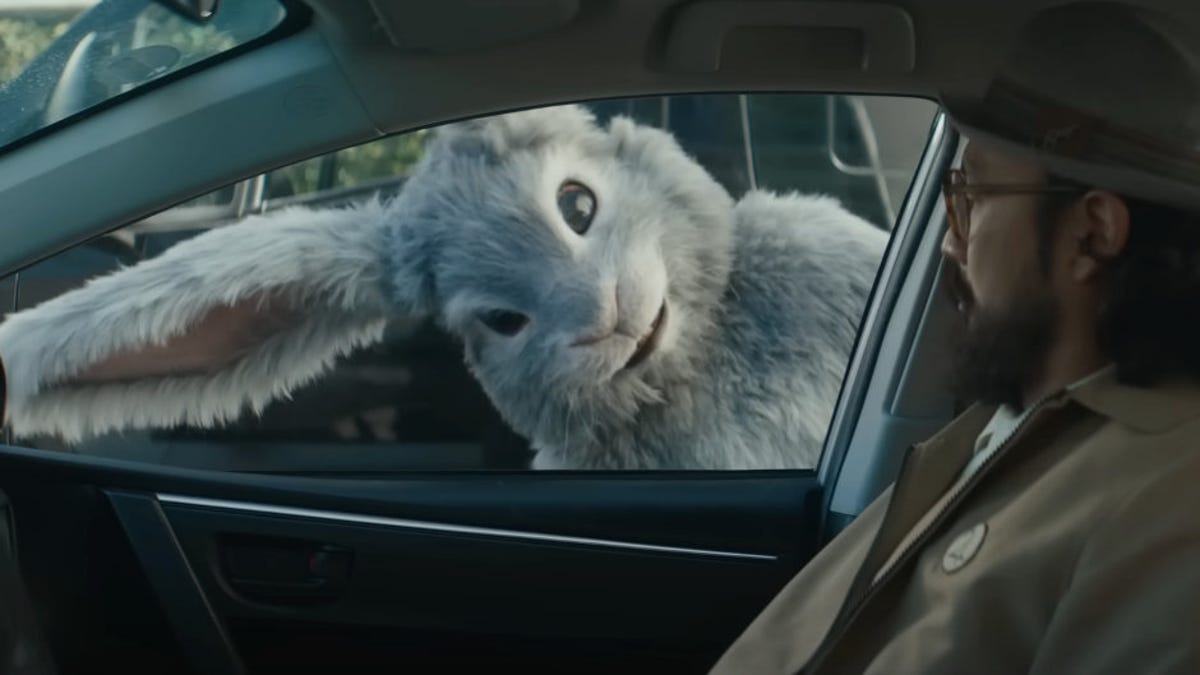 This isn't creepy at all.
Video screenshot by Amanda Kooser/CNET
Against the backdrop of the NFL's biggest game of the year, advertisers vie to be recognized amid all the pomp and circumstance of Super Bowl Sunday. Commercials aired during the game get almost as much scrutiny as the plays on the field. It's no Lombardi trophy, but streaming service Tubi won a Super Clio for its oddball "Rabbit Holes" ad.
The Clio Awards recognize the best in advertising. The Super Clio is a special award, decided by a jury of industry insiders, that honors the best of the Super Bowl commercials. This year, most advertisers called on celebrity spokespeople ranging from Serena Williams to Ben Affleck. Tubi called on a bunch of giant bunnies.
The minute-long ad shows people going about their days when large gray rabbits appear and snatch them up, sometimes in a violent fashion. The bunnies drag and carry the people away and toss them into mysterious large holes where they discover the range of free streaming movies and TV shows offered by Tubi. The flailing humans look delighted. The ad's tagline is "Find rabbit holes you didn't know you were looking for."
More Super Bowl 2023

Watch All the Big Ads From the Big Game
See All the Super Bowl Movie Trailers Here
How to Rewatch Rihanna's Stunning Halftime Show
There are some serious Donnie Darko vibes going on here, which is a departure from the fun, funny or heartwarming approaches taken by most Super Bowl advertisers. The bold bunny concept resonated with the Clio jury. "Those rabbits are burned in my mind and I'll never forget this ad," Super Clio juror Katherine O'Brien of VaynerMedia told news site Muse by Clio.
Whether you liked the bunnies, were creeped out by them, or hated them, it was a memorable ad. Check out all the best of the 2023 Super Bowl commercials in our roundup.