Nine states asked a federal judge in Texas Tuesday to shut down the Deferred Action for Childhood Arrivals (DACA) program, a controversial immigration policy that was first enacted by former President Barack Obama and was renewed last year by President Biden.
In the legal filing, the states — Texas, Alabama, Arkansas, Louisiana, Nebraska, South Carolina, West Virginia, Kansas, and Mississippi — argue that Biden overstepped his constitutional authorities in unilaterally renewing the immigration policy without approval from Congress.
"This lawsuit is about the scope of executive power, not the wisdom of any particular immigration policy. No President can unilaterally override Congress's duly enacted laws simply because he prefers different policy choices," the states said.
The states claim Biden's decision on DACA, which was announced on Aug. 30, 2022, and went into effect on Oct. 31 of that same year "suffers from the same substantive flaws" as Obama's previous decision "which have already found unlawful by this Court and the Fifth Circuit."
DACA COURT RULING THE LATEST TWIST FOR CONTROVERSIAL OBAMA-ERA IMMIGRATION POLICY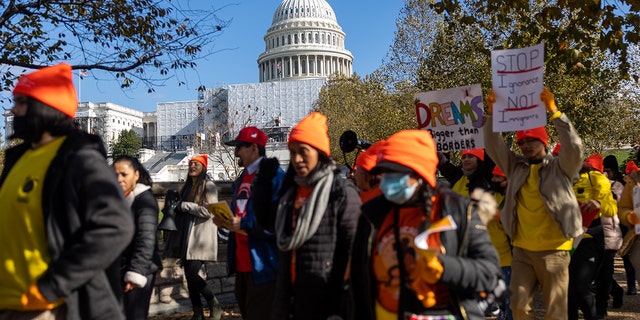 Pro-DACA protestors hold a march outside of the U.S. Capitol Building calling for a pathway to citizenship on November 17th, 2022 in Washington, D.C. 
(Nathan Posner/Anadolu Agency via Getty Images)
In the legal filing, the states also remind that the U.S. Supreme Court previously ruled against Obama's claim that DACA was executive discretion, or an instruction to immigration enforcement officers not to enforce that country's immigration laws.
Executive discretion is a policy that allows law enforcement officers not to enforce laws on the books, such as a police officer choosing not to write a traffic ticket to an individual suspected of driving over the speed limit.
BIDEN ADMIN MOVES TO STRENGTHEN OBAMA-ERA DACA PROGRAM AMID LEGAL CHALLENGES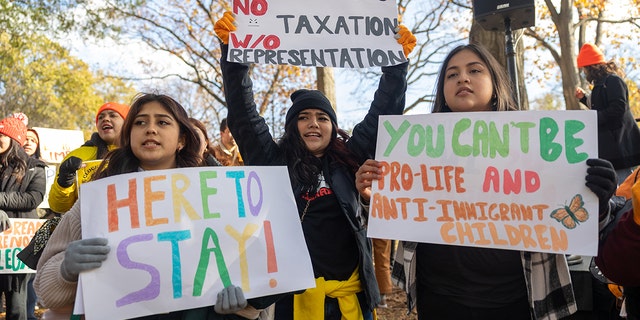 Protestors hold Pro-DACA signs during a protest in Washington, D.C.
(Nathan Posner/Anadolu Agency via Getty Images)
"If there were ever any doubt that DACA's central premise was false, it evaporated when the U.S. Supreme Court held that 'the DACA Memorandum does not announce a passive non-enforcement policy.' Rather, 'it created a program for conferring affirmative immigration relief.' That confirmed this Court's prior determination that DACA 'institute[d] a program that gives lawful presence, work authorization, and multiple other benefits to 1.5 million people," the states added, citing the 2020 decision in Department of Homeland Security v. Regents of the University of California.
The case was heard by the Supreme Court in 2019 and was decided the following year in a 5-4 vote, with the country's highest court arguing the Trump administration's decision to end DACA was "arbitrary and capricious."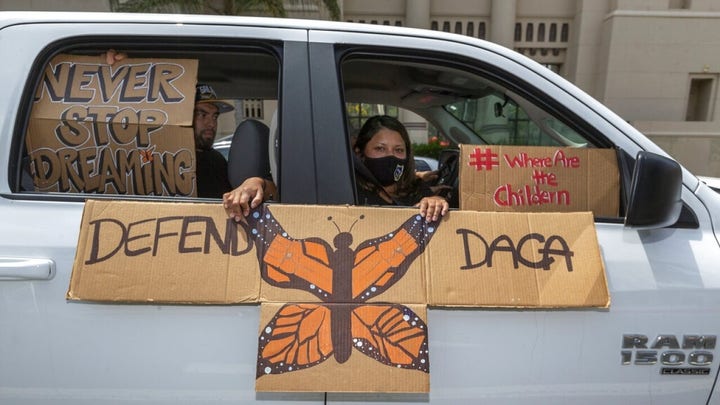 Video
Former President Donald Trump vowed to end the program. Biden has promised to defend it.
The states argued in 2021 that DACA was unlawful and U.S. District Court Andrew Hanen ultimately agreed. In his ruling, which was upheld by the 5th Circuit Court of Appeals last year, Hanen blocked first-time DACA applications but allowed current DACA recipients to continue renewing their status.
CLICK HERE TO GET THE FOX NEWS APP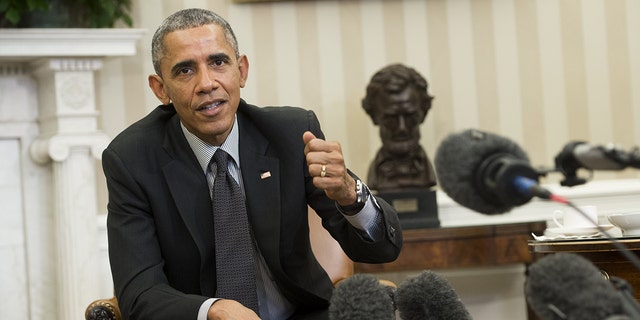 President Barack Obama in the Oval Office of the White House in Washington, DC, February 4, 2015.
(SAUL LOEB/AFP via Getty Images)
The states' new request presents the most pressing legal challenge to the Obama-era policy.
DACA has some bipartisan support on Capitol Hill, which remains divided following the 2022 midterm elections.