President Joe Biden and House Speaker Kevin McCarthy will meet at the White House on Wednesday to discuss a range of issues, including ways to reach an agreement to raise the debt ceiling while satisfying both sides of the aisle.
The meeting between the two is the first since McCarthy took the gavel as speaker of the House last month.
Ahead of the meeting, the White House released a memo — penned by Director of the Economic Council Brian Deese and Director of the Office of Management and Budget Shalanda Young — laying out Biden's plans for the conversation.
Deese and Young said Biden would "pose two questions to Speaker McCarthy."
SPEAKER MCCARTHY RESPONDS TO BIDEN'S DEBT CEILING JAB AHEAD OF THEIR MEETING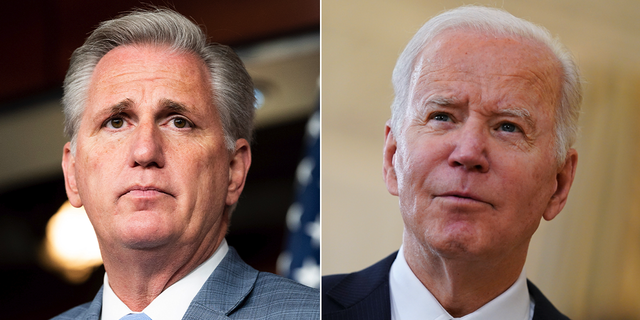 House Speaker Kevin McCarthy, left, and President Joe Biden
(AP / File)
"Will the Speaker commit to the bedrock principle that the United States will never default on its financial obligations?" they wrote. "And does he agree with former presidents, including President Trump and Reagan, that it is critical to avoid debt limit brinksmanship?"
Deese and Young also said that Biden will ask McCarthy when House Republicans will release their budget and what that will entail.
Deese and Young said Biden will release a budget by March 9 and added that it is "essential" that McCarthy also "commit to releasing a budget so that the American people can see how House Republicans plan to reduce the deficit."
The White House has slammed House Republicans, who insist on significant spending cuts before agreeing to raise the government's borrowing limit.
WHITE HOUSE ACCUSES HOUSE GOP OF 'EMPOWERING CHINA' FOR INSISTING ON SPENDING CUTS BEFORE RAISING DEBT CEILING
The debt ceiling, which sits at $31.381 trillion and was reached nearly two weeks ago, is the legal limit on the total amount of debt that the federal government can borrow to fund everything from Social Security and Medicare benefits to military salaries and tax refunds and more.
McCarthy and Republicans have said that now that the ceiling has been reached, it is a good time to discuss a more fiscally responsible plan that stops the rapid expansion of the national debt.
McCarthy on Tuesday confirmed receipt of the Deese-Young memo on Twitter.
"I'm not interested in playing political games," McCarthy said. "I'm coming to negotiate for the American people."
McCarthy this week expressed his plans to discuss a balanced budget in-person with the president, saying that "every family does it, every business, every state, every county."
"We need to sit down together, find common ground, find where we can eliminate the waste, and let's put our country back on a path where we can balance and get our future brighter than before," McCarthy said. "We're going to work very closely together, and I think you're going to find us more united than ever before."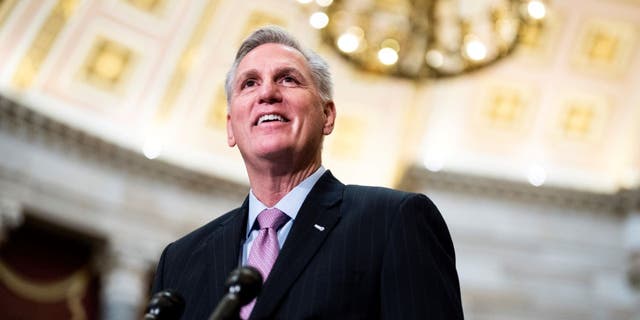 Speaker of the House Kevin McCarthy expressed his plans to discuss a balanced budget in-person with the president, saying that "every family does it, every business, every state, every county."
(Tom Williams / CQ-Roll Call Inc. via Getty Images / File)
The Biden administration has drawn a red line at cuts to Social Security and Medicare, with White House spokesperson Andrew Bates accusing Republicans of trying to cut "vital lifelines for the middle class that Americans pay into throughout their lives."
In an appearance on CBS News' "Face the Nation" on Sunday, McCarthy first revealed that he would meet with Biden, explaining his intention to come to some sort of "reasonable" agreement with the president.
KEVIN MCCARTHY AGREES TO BIDEN MEETING
"I want to find a reasonable and responsible way that we can lift the debt ceiling but take control of this runaway spending," McCarthy said, adding that the country "can't continue down this path."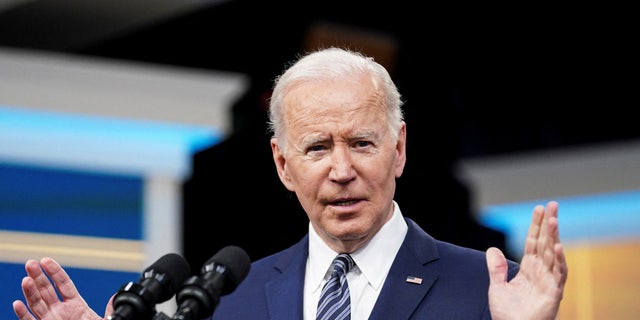 Joe Biden
(Reuters / Kevin Lamarque / File)
"I don't think there's anyone in America who doesn't agree that there's some wasteful Washington spending that we can eliminate," he said on the program. "I want to sit down together, work out an agreement that we can move forward to put us on a path to balance, at the same time not put any of our debt in jeopardy."
FLASHBACK: REPUBLICANS EYE USING DEBT LIMIT HIKE TO OVERHAUL ENTITLEMENT PROGRAMS IF ENTRUSTED WITH MAJORITY
McCarthy added, "I know there's a willingness on our side to find a reasonable and responsible way to get this done."
McCarthy also said the U.S. is "not going to default."
"The rational position here is sit down, eliminate the waste and put us on a path to balance," he said.
Congress last voted to raise the debt ceiling in December 2021. Treasury Secretary Janet Yellen projected that the government can pay its bills through early June.