close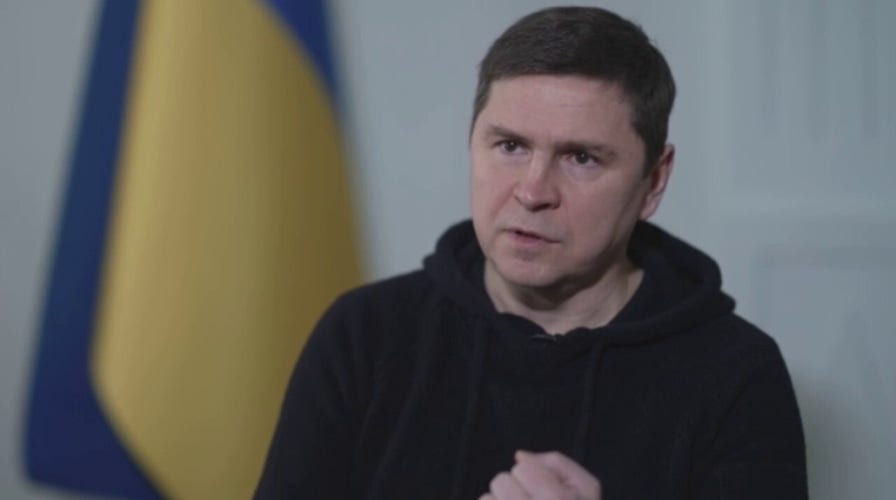 Video
The war in Ukraine 'cannot end somewhere in the middle': Mykhailo Podolyak
Fox News Correspondent Alex Hogan sat down with Mykhailo Podolyak, an adviser to Ukrainian President Volodymyr Zelenskyy
KYIV, Ukraine — As the war grinds into its 11th month, the Ukrainian government argues it's lost too much to meet somewhere in the middle.
"It must end with the defeat of the Russian Federation," Mykhailo Podolyak, an adviser to Ukrainian President Volodymyr Zelenskyy, told Fox News.
Sitting in his office in the presidential palace in Kyiv, Podolyak was calm and firm.
"We have to get to the end. We will do it for the people who died, who paid the ultimate price,".
ZELENSKYY DELIVERS GOLDEN GLOBES SPEECH AND VOWS TO STOP A THIRD WORLD WAR: 'THIS IS NOT A TRILOGY'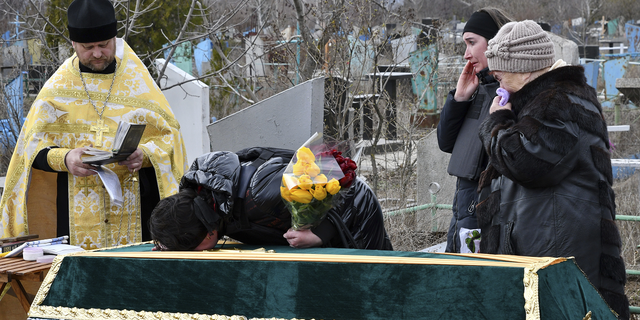 Relatives and friends stand near the coffin of Ukrainian serviceman Anatoly German during a funeral ceremony in Kramatorsk, Ukraine. 
(AP/Andriy Andriyenko)
According to Zelenskyy's adviser, the war has already claimed the lives of roughly 15,000 soldiers and tens of thousands of civilians, including 460 children.
The government points to modern tanks and additional artillery systems as the fastest means to accelerate Ukraine's advantage on the battlefield.
The United States has provided Kyiv with more than $24.2 billion in security assistance.
"I wouldn't say that the United States is denying us anything," Podolyak said. "We have the optimal negotiating platform in which we solve our current problems because it's clear if we win, it will be a victory for the United States,".
Roughly 100 Ukrainian soldiers will travel to Oklahoma's Fort Sill as soon as next week for training to use the new Patriot defense system.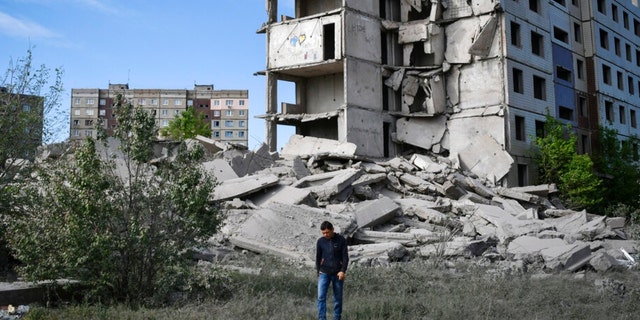 A resident walks next to a house destroyed in a Russian shelling in Kramatorsk, Ukraine. Two Americans were reportedly killed in the country. 
(AP Photo/Andriy Andriyenko)
VANCE DEMANDS BIDEN ADMIN TURN OVER 'FULL CROSSCUTTING' REPORT ON SECURITY ASSISTANCE PROVIDED TO UKRAINE
Germany recently followed the U.S. in supplying Ukraine a second Patriot missile system. The surface-to-air missiles are capable of shooting down incoming missiles, which Podolyak argues will quickly change the landscape of its defense tactics.
"As soon as it starts working in Ukraine, in addition to the NASAMS, IRIS, Hawk old systems or Cheetahs, more mobile air defense system, they will close the whole sky. And we will not care how many cruise missiles Russia has," says Podolyak.
Russia has accused Ukraine of attacks on its territory, including a December strike that killed 89 Russian soldiers. Kyiv has denied involvement.
"Everything that happens in the Russian Federation has nothing to do with the official actions of the Ukrainian side," Podolyak says. He instead called it acts of internal sabotage.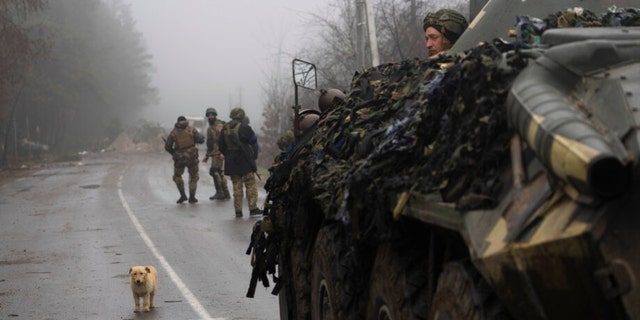 A dog is seen in the middle of a street as Ukrainian army soldiers take part in a military sweep to search for possible remnants of Russian troops after their withdrawal from villages in the outskirts of Kyiv, Ukraine, April 1, 2022. 
(AP Photo/Rodrigo Abd)
Russia has amassed more troops and equipment in Belarus. The defense ministry of Belarus announced it recently strengthened the Russia-Belarusian air defense force with the addition of new missile units.
Kyiv says it's closely monitoring the changes on Ukraine's northern border, although it argues Russia lacks the manpower to attack through Belarus.
Podolyak explains the Russian forces mobilizing there will instead first go to the Donetsk region.
Since the invasion began, 7.9 million Ukrainians have fled to other parts of Europe, according to the United Nations Refugee Agency. Of those, 4.9 million are registered for temporary protection.
UKRAINIAN TROOPS HEADED TO OKLAHOMA FOR MISSILE DEFENSE TRAINING
Ukrainian officials have advocated for global support since the first days of the invasion. President Zelenskyy has addressed international parliaments and even Hollywood award shows.
When asked what Ukraine did wrong in its first year at war, Podolyak says Ukraine should have sounded the alarm long before the invasion began Feb. 24.
"We should have been more aggressive about it," he said. "We should've better explained to the world that Russia was capable of this,".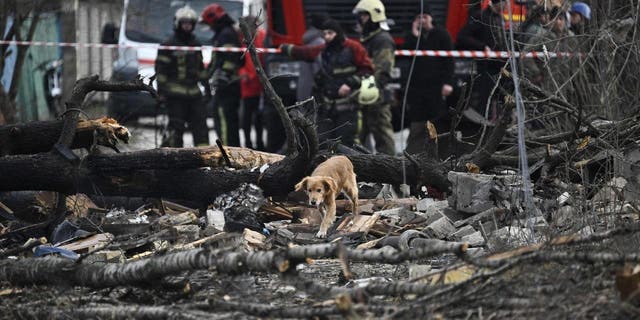 A dog walks among debris of homes destroyed by a missile attack in the outskirts of Kyiv Dec. 29, 2022, following a Russian missile strike on Ukraine. 
(Genya Savilov/AFP via Getty Images)
The Ukrainian government argues the cost of funding the war in Ukraine is minimal compared to the potential cost of the war spilling over into other territories.
CLICK HERE TO GET THE FOX NEWS APP
Although as inflation and the cost-of-living crises soar globally, critics in key allied countries have blasted the billions of dollars sent to Ukraine. When asked what would happen if other countries begin to reduce or even cut off new aid packages, Podolyak says his stance is simple.
"This is a rhetorical question because other countries will not say that," he said. "That's for sure because we have passed the point of no return. This is a fundamental question for everyone".

Alex Hogan currently serves as a London-based correspondent for FOX News Channel (FNC) and joined the network in January 2020 as a general assignment reporter.