close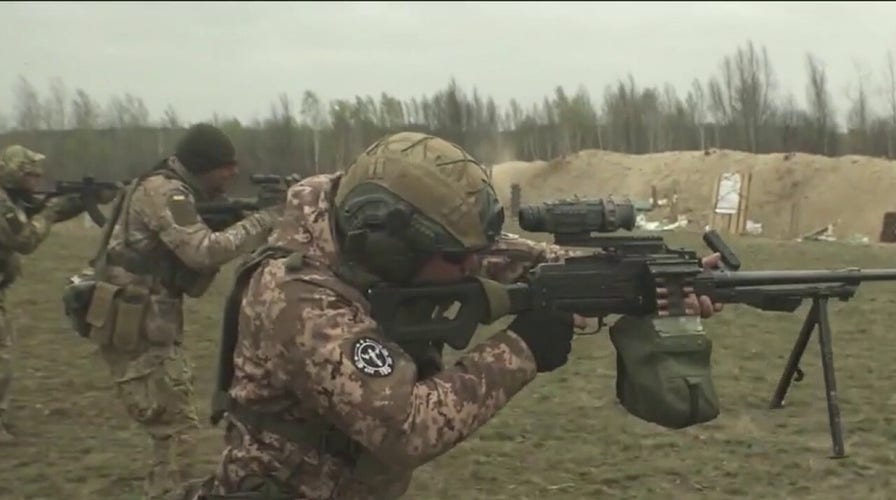 Video
Ukraine intensifies training for troops and citizen soldiers headed to Donbas
Fox News correspondent Alex Hogan has more on the state of the war in Ukraine as new warnings signal possible Russian air attacks on 'Special Report.'
KYIV OBLAST, Ukraine — The sharp sound of AK-47 fire pierces the silence in the farmland of Europe's breadbasket. Before the invasion, a furniture salesman, prominent businessman and a professional wrestler would've never found themselves together in this field. Fifteen months into the war, Ukraine's vast countryside is an all-too-common training ground for these civilians turned soldiers.
"I am very impressed with these guys because I know them a year ago and how they changed," said Artem, a soldier and spokesman for the unit within the 130th Territorial Defense Brigade. "They created their small unit into a really powerful tool in our battalion."
The brigade, formed shortly after the war started, was originally designed to protect the Kyiv Oblast. In the last year, they've protected the capital of Kyiv, defended Ukraine's second-largest city, Kharkiv, and most recently fought in Bakhmut.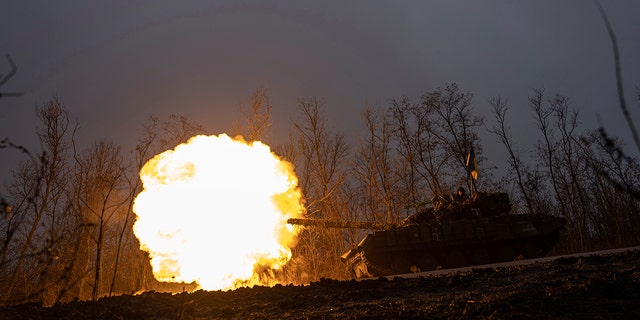 A Ukrainian tank fires towards Russian positions at the front line near Bakhmut, Ukraine, March 8, 2023. (AP Photo/Evgeniy Maloletka)
UKRAINE'S TOP PROSECUTOR SPEAKS OF 'EVIL' RUSSIAN ATROCITIES
Fox News joined the brigade unit during their recent leave. They say there's no time off when the stakes are this high. Training every day, these soldiers view the leave as an opportunity to sharpen their skills and increase their odds of survival.
At the undisclosed location in the Ukrainian countryside, special forces trained the members of Ukraine's territorial defense on assault tactics and marksmanship in close combat. Skills that the brigade commander, "Thor," said would be critical to retaking the territories.
"If we only had the experience and skills and mentality that we have today, we would have finished this war in the first two weeks. They p—– off a million people and now they'll see what happened to that million during this year."
The unit will return to the front lines, wherever reinforcements are most needed. Without a specialized purpose, the soldiers will assist in the trenches, aiding urban warfare, artillery movement, communications using Starlink, drone repairs, and evacuation of wounded troops and civilians.
UKRAINE RESCUE TEAM BRINGS BACK 31 CHILDREN FROM RUSSIA AMID WAR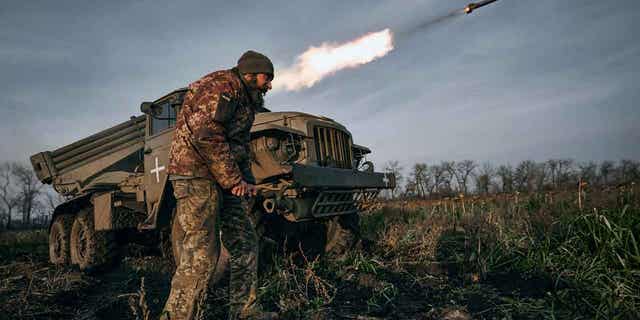 Ukrainian military fires rockets at Russian positions near Bakhmut, Donetsk region, Ukraine, Nov. 24, 2022. (AP Photo/LIBKOS, File)
"I was badly injured. My elbow was destroyed," said Sergiyy, one of the soldiers in the unit. "Morally, physically I'm ready to go back".
The men say they understand that this time "defense" is far from the only mission.
"We already know for sure that we will be part of a big spring or summer Ukrainian attack for Russians and we already know what to expect. This is why we're training so hard every day," said Artem through a translator.
There are growing signs that the counteroffensive is getting closer to a reality. The Institute for the Study of War (ISW) reported that outside the city of Kherson, Ukrainian troops, in small numbers, successfully crossed the Dnipro river to the eastern bank. The movement is just one possible indicator of operations and planning for the expected counteroffensive.
An influx of heavy armored and Western made tanks, including German Leopard and British Challenger 2 tanks, have been delivered in recent weeks.
On Friday, U.S. Secretary of Defense Lloyd Austin announced M1 Abrams tanks would arrive in Germany in May. Although no date has been set on when tanks would arrive in Ukraine, training is expected to last 10 weeks.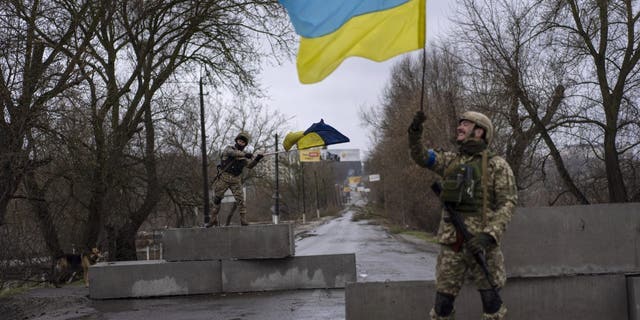 Ukrainian soldiers celebrate at a checkpoint in Bucha, on the outskirts of Kyiv, April 3, 2022. (AP Photo/Rodrigo Abd)
CLICK HERE TO GET THE FOX NEWS APP
The battle rages on across the east in Donestk, Luhansk and Kherson. Soldiers within this unit will reinforce operations in the Donbas. Thor says he's confident his battalion is adequately prepared, although the commander acknowledges he's realistic about the road ahead.
"I am very lucky, because I don't need to cheer up anyone, everyone is in a good moral state. I share the information that I have about the front line. I share the content with the data that we have, so if a group commander dies, other fighters are trained to know what to do."
James Levinson is a national field producer for Fox News based in Washington, D.C. Follow him on Twitter @james_levinson. Tips can be sent to [email protected]