Democratic Congresswoman Ilhan Omar reacted to now Republican House Speaker Kevin McCarthy's deal with fellow Republicans to secure the speakership by calling the Republican holdouts "far right insurrectionists."
"McCarthy just agreed to a deal with far right insurrectionists that would hold the entire US and global economy hostage to extreme cuts to everything from housing to education, healthcare, Social Security and Medicare," the Minnesota Democrat tweeted hours before McCarthy was elected Speaker of the House in one of the longest voting cycles in American history.
"Hard to overstate how dangerous this is," Omar added.
McCarthy was elected House Speaker of the 118th Congress late Friday night in the 15th vote by a narrow margin after negotiating a deal with a group of Republican holdouts that made changes to the way legislation is handled, the way the House is procedurally run, put safeguards on excessive spending, as well as other changes.
ILHAN OMAR DROPS TENS OF THOUSANDS ON PRIVATE SECURITY FOLLOWING CALLS TO DEFUND, DISMANTLE POLICE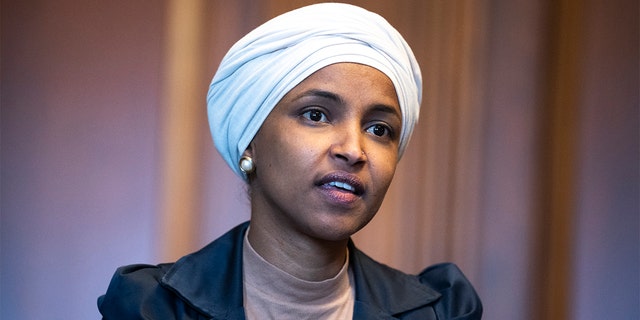 Rep. Ilhan Omar, D-Minn., is seen in the U.S. Capitols Rayburn Room during a group photo with the Congressional Black Caucus
(Tom Williams/CQ-Roll Call, Inc via Getty Images)
Omar's tweet was widely criticized by conservatives on social media who disagreed with her contention that the deal between Republicans was "dangerous."
"Only far-right insurrectionists want to cut spending?" Twitchy Managing Editor Samantha Janney tweeted. "LOL."
"Dangerous freedom > peaceful slavery," conservative commentators "The Hodge Twins" posted on Twitter.
REP. ILHAN OMAR ADDRESSES 'DANGEROUS PROPAGANDISTS' WHO DISRUPTED HER TOWN HALL: 'SERIOUSLY WTF'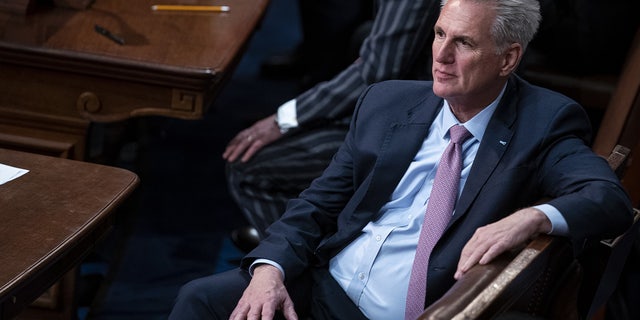 Kevin McCarthy, a Republican from California, during a meeting of the 118th Congress in the House Chamber at the US Capitol in Washington, DC, US, on Friday, Jan. 6, 2023. 
(Kent Nishimura / Los Angeles Times via Getty Images)
"Democrats just pushed through a $1.7 Trillion Omnibus Bill, and you're worried about spending more money already," former Florida Republican House Candidate Vic DeGrammont posted. "Sounds like that deal was needed!"
CLICK HERE TO GET THE FOX NEWS APP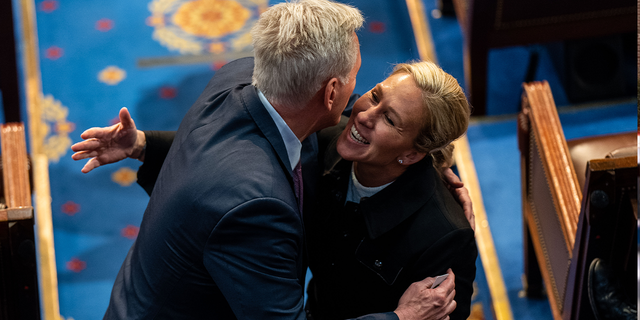 Rep. Kevin McCarthy (R-CA) hugs Rep. Marjorie Taylor Greene (R-GA) on the floor of the House Chamber of the U.S. Capitol Building on Friday, Jan. 6, 2023 in Washington, DC.
(Kent Nishimura / Los Angeles Times via Getty Images)
On Saturday afternoon, Omar posted another tweet addressing the contentious House speaker election process with the caption "The 118th Congress!" and pictures of Republican Rep. Mike Rogers being held back from confronting Republican Rep. Matt Gaetz. The tweet also had a picture of Republican Rep. Marjorie Taylor Greene holding a phone that showed a live conversation with former President Donald Trump.
Omar's office did not immediately respond to a request for comment from Fox News Digital.