Political newcomer Vivek Ramaswamy deemed Donald Trump the "best president of the 21st century," setting himself apart from other 2024 GOP contenders on the Milwaukee debate stage Wednesday who – whether they shied away from or directly attacked Trump – openly threw support behind how former Vice President Mike Pence handled the events of Jan. 6, 2021.
"Let's just speak the truth, OK? President Trump, I believe, was the best president of the 21st century. It's a fact," Ramaswamy said. "And Chris Christie. Honest to God, your claim that Donald Trump is motivated by vengeance and grievance would be a lot more credible if your entire campaign were not based on vengeance and grievance against one man."
"I am running for president of the United States," Ramaswamy added. "We're skating on thin ice. And we cannot set a precedent where the party in power uses police force to indict its political opponents. It is wrong. We have to end the weaponization of justice in this country."
Ramaswamy also challenged Pence to join him in committing to pardon Trump if elected president.
NIKKI HALEY SAYS PUTIN 'KILLED PRIGOZHIN,' BLASTS RAMASWAMY FOR 'CHOOSING A MURDERER' OVER PRO-AMERICA UKRAINE
"We'll give fair consideration to a pardon request," Pence said, deflecting. "President Trump is entitled to the presumption of innocence that every American is entitled to. And we will make sure and extend that to him. But the American people deserve to know that the president asked me in his request that I reject or return votes unilaterally – power that no vice president in American history had ever exercised or taken – he asked me to put him over the Constitution. And I chose the Constitution and I always will."
Fox News host Martha MaCallum asked candidates whether they believed Pence "did the right thing" in certifying an election victory for Joe Biden amid the Jan. 6 riot at the U.S. Capitol.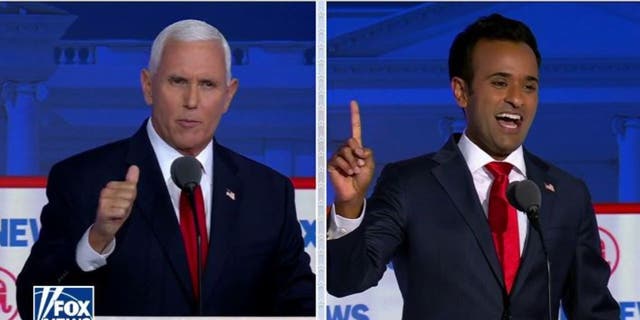 Former Vice President Mike Pence and biotech entrepreneur Vivek Ramaswamy square off at the debate, on Aug. 23, 2023, in Milwaukee. (Fox News)
Hesitant at first, Florida Gov. Ron DeSantis agreed that Pence "did his duty," offering that focusing on Trump was a distraction.
"This election is not about Jan. 6 of 2021. It's Jan. 20 of 2025 when the next president is going to take office," DeSantis said. "I know what the Democrats would like to do. They want to talk about all these other issues. But we've got to focus on your future. We've got to focus on reversing the decline of our country. I learned in the military – I was assigned with U.S. Navy SEALs in Iraq – that you focus on the mission above all else. You can't get distracted. So, Republicans, we've got to look forward, and we've got to make sure that we're bringing the message that can win in November 2024."
Pence pushed back, demanding DeSantis answer the question because "the American people deserve to know whether everyone on this stage agrees that I kept my oath."
"Mike did his duty. I've got no beef with him," DeSantis said. "But here's the thing. Is this what we're going to be focusing on going forward? The rehashing of this? I'll tell you, Democrats would love that, and they will win if we let them get away with that. I'm not letting Biden hang out in the basement this time. We're going to run him ragged around this country. We're going to hold him accountable."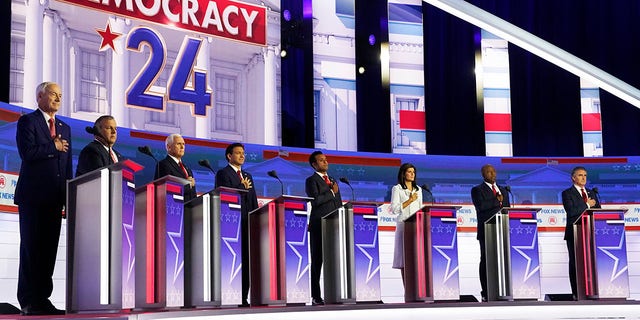 Republican presidential candidates during the debate hosted by Fox News in Milwaukee. (Al Drago/Bloomberg via Getty Images)
Sen. Tim Scott, R-S.C., former U.N. Ambassador Nikki Haley and North Dakota Gov. Doug Burgum all agreed that Pence "did the right thing."
BIGGEST WINNERS AND LOSERS OF 'AGGRESSIVE,' 'MESSY' FIRST REPUBLICAN DEBATE, ACCORDING TO TOP GOP STRATEGISTS
Scott's response focused on tackling the "bigger question about the weaponization of the Department of Justice," vowing that the first thing he'd do as president would be to fire Attorney General Merrick Garland and secondly, FBI Director Chris Wray.
"We keep seeing not only the weaponization of the Department of Justice against political opponents, but also against parents who show up at school board meetings," Scott said. "In addition to that, we see the SWAT team show up at pro-life activists' homes with guns drawn because this DOJ uses their power, uses their authority, not just against political opponents, but against conservatives and conservative causes. It is time for a change in America, and I will bring that change to the greatest nation on God's green Earth."
"I do think that we need to give [Pence] credit for that but what I will also tell you is, when it comes to whether President Trump should serve or not, I trust the American people," Haley said. "Let them vote. Let them decide. But what they will tell you is that it is time for a new generational conservative leader. We have to look at the fact that three-quarters of Americans don't want a rematch between Trump and Biden. And we have to face the fact that Trump is the most disliked politician in America. We can't win a general election that way."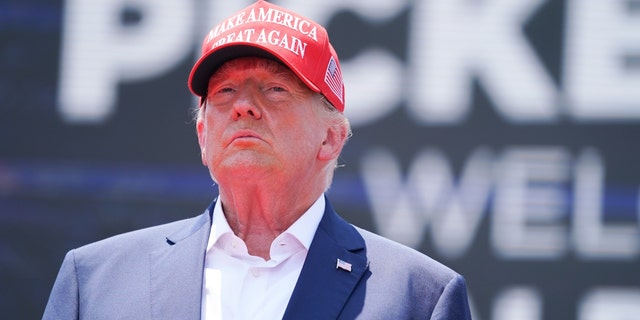 Former President Donald Trump sat out the first 2024 GOP primary debate. (Sean Rayford/Getty Images)
CLICK HERE TO GET THE FOX NEWS APP
Former New Jersey Gov. Chris Christie said Pence deserves thanks "for putting his oath of office and the Constitution of the United States before personal, political and unfair pressure." Former Arkansas Gov. Asa Hutchinson went the furthest, saying Trump was "morally disqualified" from being president again.