Contrary to the prevailing sentiments among Republican voters, the majority of GOP presidential candidates said they would support additional funding for Ukraine during the party's first debate Wednesday evening.
Fifty-six percent of Republican voters believe the U.S. should pull back on assistance, according to a Fox News survey released this month.
Meanwhile, 36% of overall registered voters think the federal government should be doing less to aid Ukraine, up 10 points since December.
But nearly all the Republican presidential candidates on the Milwaukee debate stage Wednesday evening said they would continue to support Ukraine, if elected. The U.S. has reportedly sent more than $77 billion to aid the Eastern European nation since Russia first invaded in February 2022.
When Fox News host Bret Baier asked candidates who would not support additional assistance to Ukraine, businessman Vivek Ramaswamy was the only candidate to raise his hand.
REPUBLICAN PRESIDENTIAL DEBATE HIGHLIGHT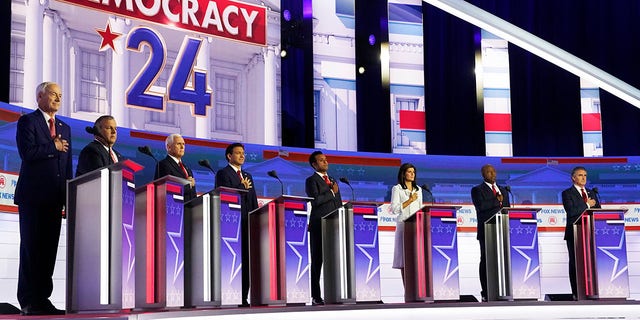 Republican presidential candidates, from left, Asa Hutchinson, Chris Christie, Mike Pence, Ron DeSantis, Vivek Ramaswamy, Nikki Haley, Tim Scott and Doug Burgum in Milwaukee, Wisconsin, on Wednesday, Aug. 23, 2023. (Al Drago/Bloomberg via Getty Images)
Florida Gov. Ron DeSantis trailed behind Ramaswamy, partially raising his hand, and emphasized that Europe must first "pull its weight" to help Ukraine.
"I think our support should be contingent on them doing it," DeSantis said.
The other six candidates – former Vice President Mike Pence, former New Jersey Gov. Chris Christie, former South Carolina Gov. Nikki Haley, Sen. Tim Scott of South Carolina, North Dakota Gov. Doug Burgum and former Arkansas Gov. Asa Hutchinson – did not raise their hands.
Ramaswamy called continued support "disastrous" and instead suggested pouring those resources to stop "the invasion of our own southern border here in the United States."
"I do not want to get to the point where we're sending our military resources abroad when we could be better using them here at home to protect our own borders, protect the homeland," he said.
DeSantis later added, "I'm not going to send troops to Ukraine, but I am going to send them to our southern border."
Pence punched back against Ramaswamy and suggested the federal government can both secure its border and also help abroad.
"Anybody that thinks that we can't solve the problems here in the United States, and be the leader of the free world, has a pretty small view of the greatest nation on Earth," he said.
PUNDITS NAME THEIR WINNERS AND LOSERS FROM THE GOP DEBATE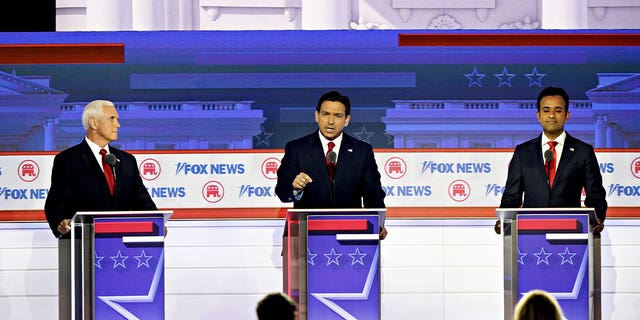 Former Vice President Mike Pence, Gov. Ron DeSantis and entrepreneur Vivek Ramaswamy during the Republican primary presidential debate hosted by Fox News in Milwaukee on Aug. 23, 2023. (Al Drago/Bloomberg via Getty)
Haley, previously U.S. ambassador to the United Nations under President Donald Trump, also sparred with Ramaswamy and said Ukraine is "the first line of defense" for the U.S. and suggested that a "win for Russia is a win for China."
"The problem that Vivek doesn't understand is he wants to hand Ukraine to Russia, he wants to let China eat Taiwan," she said. "Putin has said… once Russia takes Ukraine, Poland and the Baltics are next – that's a world war. We're trying to prevent war."
Meanwhile, Christie focused on his own experience when he visited Ukraine and met with President Volodymyr Zelenskyy in Kyiv this month.
"They have gouged out people's eyes, cut off their ears and shot people in the back of the head," he said. "And they've gone into those homes and raped the daughters and the wives who were left as widows and orphans."
CONSERVATIVES PRAISE RAMASWAMY'S MENTION OF FATHERLESS EPIDEMIC IN US: 'BEST ANSWER BY ANYONE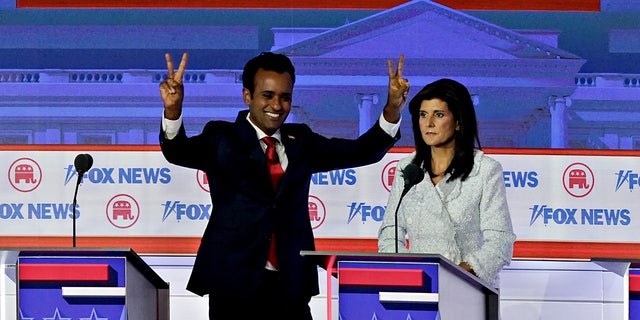 Vivek Ramaswamy, chairman of Strive Asset Management, and Nikki Haley, former ambassador to the United Nations, at the debate on Wednesday, Aug. 23, 2023, in Milwaukee. (Al Drago/Bloomberg via Getty Images)
Trump – absent from the debate and set to appear in Georgia to face charges regarding an alleged 2020 election plot – had proposed in July, during a Pennsylvania rally, a halt to Ukraine aid until federal agencies furnish evidence linked to alleged business improprieties involving President Biden and his son, Hunter Biden.
CLICK HERE TO GET THE FOX NEWS APP
"In light of this information, the U.S. Congress should refuse to authorize a single additional payment of our depleted stockpiles… until the FBI, [Justice Department] and [Internal Revenue Service] hand over every scrap of evidence they have on the Biden crime family's corrupt business dealings," Trump said, according to The Hill.
The second presidential primary debate is scheduled for Sept. 27 at the Ronald Reagan Presidential Library in Southern California.