close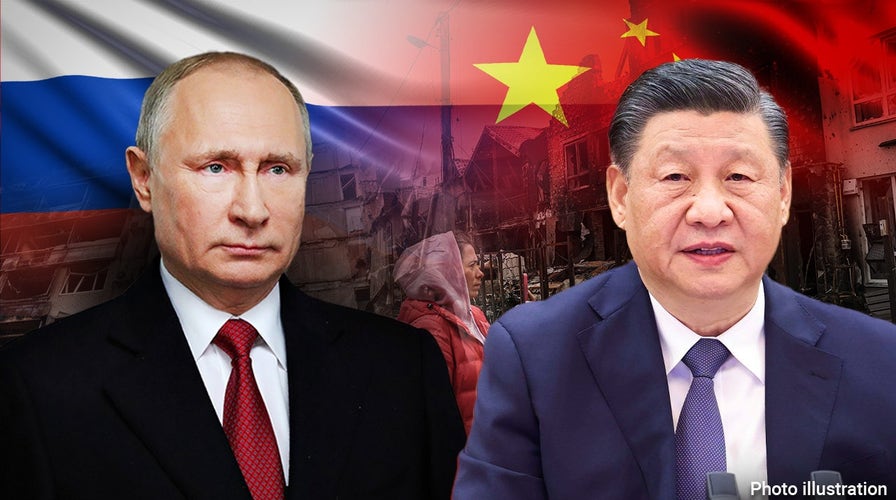 Video
WATCH LIVE: Putin meets with Xi in Moscow
Xi's visit is the latest sign of Beijing's emboldened diplomatic ambitions.
Russian President Vladimir Putin is accusing the West of trying to hold back Moscow and Beijing's "development" as Chinese leader Xi Jinping landed Monday for a three-day visit to the Kremlin.
Putin, in an article published late Sunday night in the China Communist Party's People's Daily newspaper, alleged the Western world is conspiring to stifle Russia and China by "persistently working to split the common Eurasian space into a network of 'exclusive clubs' and military blocs that would serve to contain our countries' development."
"This won't work," he said, according to The Wall Street Journal.
"The crisis in Ukraine, which was provoked and is being diligently fueled by the West, is the most striking, yet not the only, manifestation of its desire to retain its international dominance and preserve the unipolar world order," Putin reportedly added.
CHINA'S XI SET TO MEET PUTIN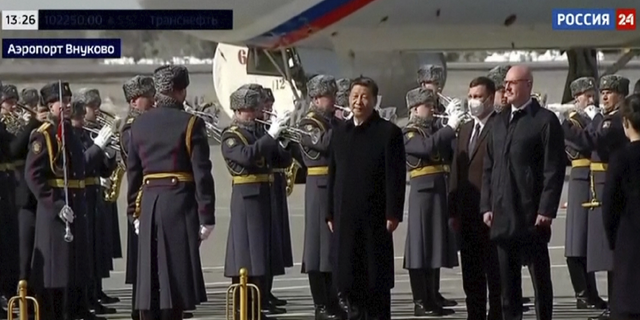 China's President Xi Jinping is seen Monday, March 20 during an official welcome ceremony at the Vnukovo-2 government airport outside Moscow, Russia. Xi is set to meet Russian President Vladimir Putin starting today. (AP/RU- 24)
The sharp remarks were published hours before Xi Jinping arrived in Moscow Monday to visit Putin, whom the International Criminal Court recently issued an arrest warrant for over his alleged involvement in the abduction of Ukrainian children.
China, on the one-year anniversary this year of Russia's invasion of Ukraine, called for a cease-fire and released a 12-point "peace plan."
"We welcome China's readiness to make a meaningful contribution to the settlement of the crisis," Putin wrote in the People's Daily article, according to The Wall Street Journal.
ZELENSKYY: PUTIN'S ARREST WARRANT MARKS 'TURNING POINT,' HE'LL BE HELD RESPONSIBLE FOR 'EVERY DESTROYED LIFE'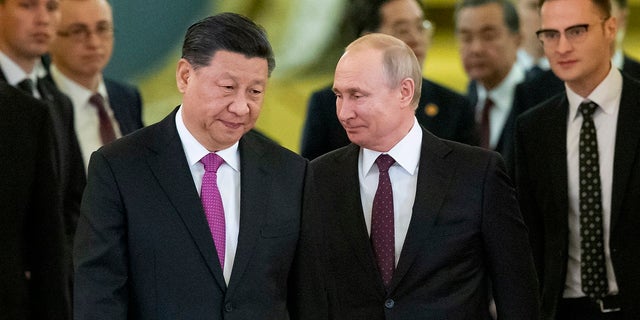 Xi Jinping and Vladimir Putin are seen during a previous meeting in Moscow, Russia, in June 2019. (AP/Alexander Zemlianichenko)
"The Russia-China relations have reached the highest level in their history and are gaining even more strength," Putin also said. "They surpass Cold War-time military-political alliances in their quality, with no one to constantly order and no one to constantly obey, without limitations or taboos."
Xi is set to have lunch with Putin on Monday followed by an informal one-on-one meeting, the BBC reports.
Xi, in his own article published in the Kremlin's Rossiyskaya Gazeta newspaper in the hours leading up to the visit, struck a softer tone.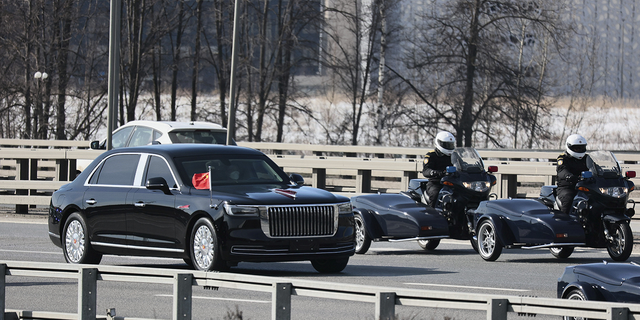 Chinese President Xi Jinping's motorcade drives from the Vnukovo-2 government airport outside Moscow, Russia, on Monday, March 20. (AP)
CLICK HERE TO GET THE FOX NEWS APP
"My upcoming visit to Russia will be a journey of friendship, cooperation and peace," The Wall Street Journal quoted Xi as saying.
"The two countries firmly support each other in following the path of development according to national realities," Xi also said, noting that the ties between Russia and China are based on principles of "nonalignment, nonconfrontation and nontargeting of third parties."
Greg Norman is a reporter at Fox News Digital.