Despite being a vocal GOP critic of former President Donald Trump, New Hampshire Gov. Chris Sununu – along with other state party officials – is staying away from a long-shot effort to keep Trump off the presidential ballot.
Bryant "Corky" Messner, an attorney and prominent Republican who won the 2020 Republican Senate nomination thanks in great part to Trump's support, is mulling a lawsuit if Trump later this year files to put his name on the New Hampshire primary ballot.
Messner is very publicly questioning the former president's eligibility to run for the White House, and cites Section 3 of the 14th Amendment of the U.S. Constitution. That section disqualifies those who've taken an oath to support the Constitution from holding office again if they've "engaged in insurrection or rebellion" against the United States "or given aid or comfort to the enemies thereof."
GET THE LATEST UPDATES FROM THE 2024 CAMPAIGN TRAIL, EXCLUSIVE INTERVIEWS AND MORE AT OUR FOX NEWS DIGITAL ELECTION HUB
Sununu has repeatedly argued the former president – the current commanding front-runner for the Republican nomination – can't win next year's general election. The governor has teamed up with many of Trump's rivals as they campaign in New Hampshire, which holds the first primary and second overall contest in the GOP nominating calendar. Sununu has repeatedly said he'll endorse a presidential candidate ahead of his state's primary.
But he appears to be staying away from Messner's efforts to boot Trump from the primary ballot.
SUNUNU ANNOUNCES DECISION ON 2024 GUBERNATORIAL RE-ELECTION
"The Governor first heard about this effort over the weekend. The Governor is not making any attempt or assisting any effort to keep anyone off the ballot. He has not spoken to and has nothing to do with Mr. Messner's actions," Sununu spokesman Ben Vihstadt told Fox News in a statement.
Vihstadt added that "providing he follows the same rules as all other candidates, the Governor doesn't expect ballot access will be a problem for the former president."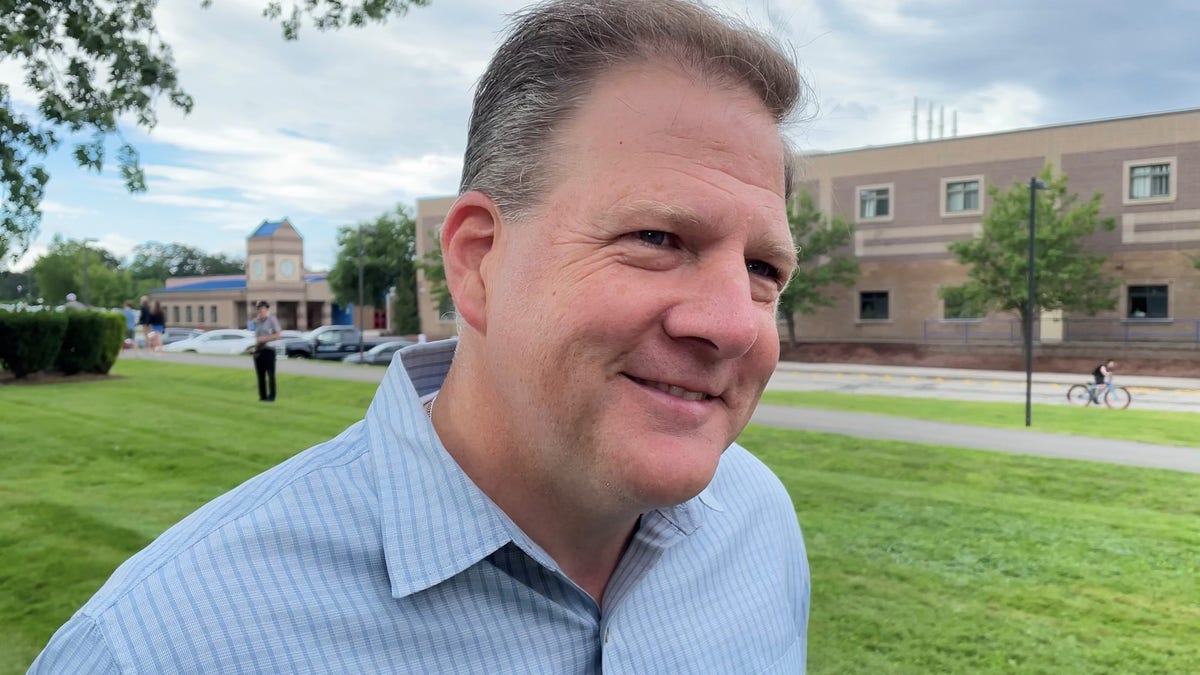 Republican Gov. Chris Sununu is interviewed by Fox News Digital, on Saturday, Aug. 19, 2023, in Londonderry, New Hampshire. (Fox News – Paul Steinhauser)
Ever since Trump launched his third straight White House bid last November, there's been talk of invoking the 14th Amendment to keep him off the ballot. But with his recent indictments in federal court and in Georgia on charges he attempted to overturn the results of his 2020 election loss to President Biden, the push has gained momentum.
TRUMP'S POST-MUG SHOT FUNDRAISING HAUL
A legal advocacy group that had previously targeted Republican Rep. Marjorie Taylor Greene of Georgia and then-Rep. Madison Cawthorne of North Carolina over ballot qualifications this summer sent letters to elections officials in nine states asking them to keep Trump from the ballot.
Some legal scholars have advanced the argument. Among them are William Baude and Michael Stokes Paulsen of the conservative Federalist Society, who made their case in the Pennsylvania Law Review.
Former President Donald Trump delivers remarks at Windham High School in New Hampshire on Aug. 8, 2023. (Erin Clark/The Boston Globe via Getty Images)
"This article presented a very, very, compelling analysis that in fact Donald Trump is disqualified from being on the ballot," Messner told Fox News Digital.
He said the article motivated him to take action, adding "the Constitution needs an advocate in this situation so that's why I decided to jump into the fray."
"My position is that it's in everybody's interest – including Donald Trump's interest – to get this thing into the court system as quickly as possible [to provide legal guidance] and hopefully in front of the Supreme Court on an expedited basis."
Messner met last Friday with New Hampshire Secretary of State Dave Scanlan, who oversees elections in the Granite State.
Scanlan is seeking legal input from the New Hampshire Attorney General's Office.
"The Attorney General's Office is now carefully reviewing the legal issues involved," read a joint statement on Tuesday from state Attorney General John Formella and Scanlan.
The statement also spotlighted "misinformation asserting or implying that the Secretary of State's Office has already taken a position on or is seeking to take certain action with respect to Donald Trump's candidacy."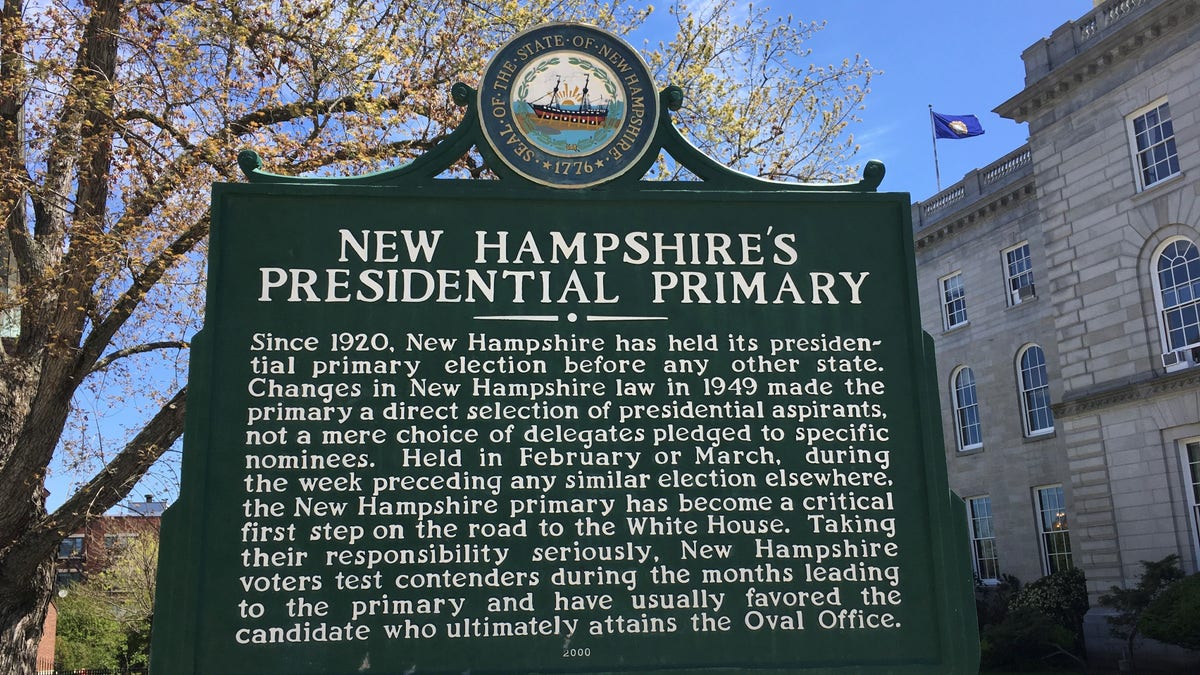 New Hampshire has held the first-in-the-nation presidential primary for a century. A sign outside the state Capitol in Concord marks the state's treasured primary status. (Fox News )
Scanlan and Formella issued their statement as the Secretary of State's Office was flooded with calls after Charlie Kirk – a Trump ally and conservative talk show host who runs the right-wing nonprofit Turning Point USA – incorrectly told listeners that New Hampshire was trying to keep Trump off the ballot.
"Neither the Secretary of State's Office nor the Attorney General's Office has taken any position regarding the potential applicability of Section Three of the Fourteenth Amendment to the United States Constitution to the upcoming presidential election cycle," the statement said.
Messner's move is getting pushback from the New Hampshire GOP.
State party Chairman Chris Ager told Fox News that "Corky is a friend and I respect his opinions and judgment, but I totally disagree with him on this issue."
"I have communicated with Secy. Scanlan and I'm confident that all the current people listed as presidential candidates – I'm very confident that all of them, should they apply – would be on our ballot," Ager added.
Ager said that "we will stay in contact with the secretary and if there is a lawsuit, I would expect that the party would do whatever it had to do to intervene on the side of allowing candidates to be on the ballot and not denying anyone."
Asked about the effort in New Hampshire and in other states to keep the former president off the ballot, Trump campaign spokesman Steven Cheung argued in a statement that "the people who are pushing this political attack on President Trump are stretching the law beyond recognition much like the political prosecutors in New York, Georgia, and DC. There is no legal basis for this effort except in the minds of those who are pushing it."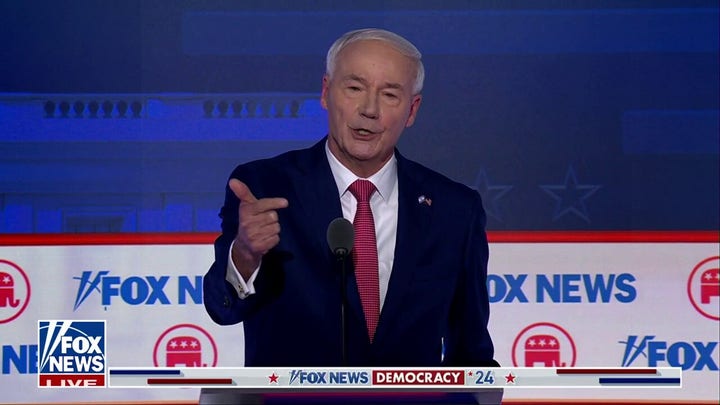 Video
But some of Trump's rivals for the nomination disagree.
CLICK HERE TO GET THE FOX NEWS APP
Former Arkansas Gov. Asa Hutchinson spotlighted at last week's first GOP presidential nomination debate that "over a year ago, I said that Donald Trump was morally disqualified from being president again as a result of what happened on Jan. 6. More people are understanding the importance of that, including conservative legal scholars,"
"I'm not going to support somebody who's been convicted of a serious felony, or who is disqualified under our Constitution," Hutchinson added, as he received both boos and cheers from the audience at the debate, a Fox News-hosted showdown in Milwaukee, Wisconsin.