A federal judge struck down a portion of New Jersey's so-called "sanctuary" law blocking private migrant detention contracts with the Biden administration's federal agencies.
In August 2021, Democrat Gov. Phil Murphy enacted Assembly Bill 5207, prohibiting New Jersey, its political subdivisions and private entities "from prospectively contracting to own or operate any facility that detains individuals for violating civil immigration laws."
At the time of the bill's passage, U.S. Immigration and Customs Enforcement (ICE) and the division of the Department of Homeland Security (DHS) responsible for detaining individuals for civil immigration violations was using four detention facilities in New Jersey, but as the legislation became law, three of those four facilities stopped housing detainees on ICE's behalf. Now, just one remains – the Elizabeth Detention Center (EDC). Its private operator CoreCivic, Inc.'s federal contract was set to expire on Aug. 31, and afterward, the New Jersey law would have prevented the private contractor from renewing it.
In a Tuesday ruling, U.S. District Court Judge Robert Kirsch sided with CoreCivic's lawsuit filed earlier this year, ruling the legislation unconstitutional.
"A state law that wholesale deprives the federal government of its chosen method of detaining individuals for violating federal law cannot survive Supremacy Clause scrutiny," the judge wrote. "[The law] would impose on the United States an intolerable choice between either releasing federal detainees or carrying out detention in an entirely novel way."
ADAMS SAYS HOCHUL 'WRONG' ON NYC MIGRANT CRISIS, URGES 'REAL LEADERSHIP' TO PUSH ASYLUM SEEKERS ACROSS STATE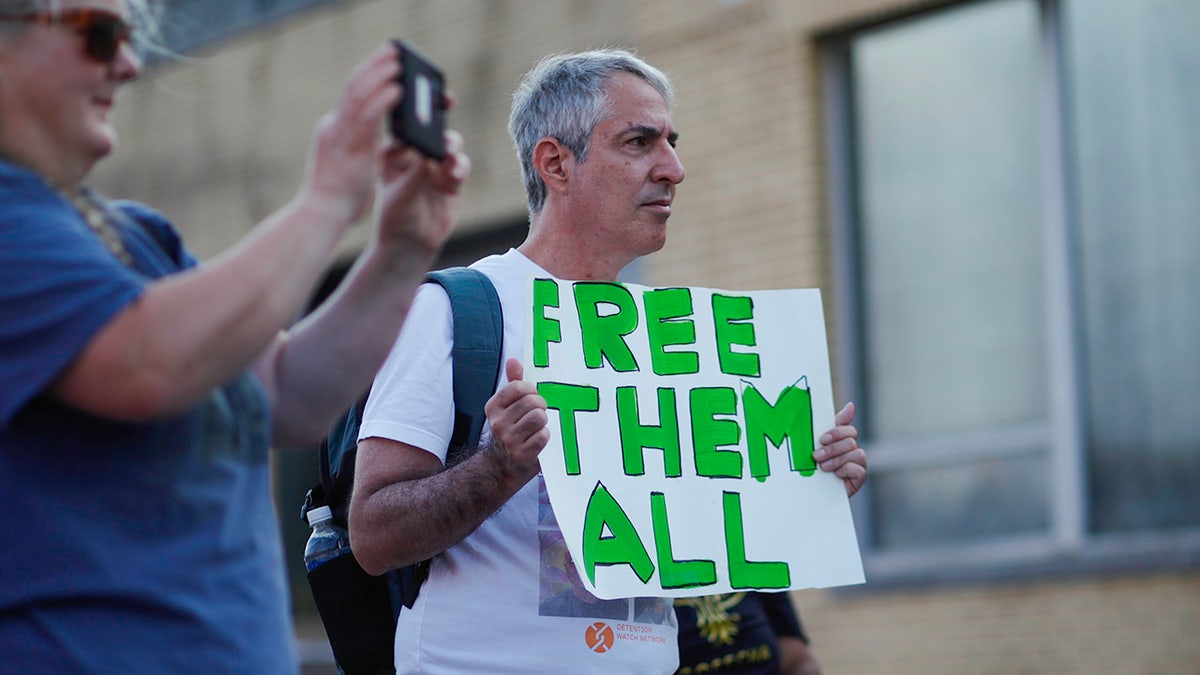 Activists attend a protest outside the Immigrant Detention Center on Aug. 20, 2023, in Elizabeth, New Jersey. (Kena Betancur/VIEWpress)
Biden administration attorneys argued that if New Jersey's neighboring states passed laws similar to AB 5207, "ICE will be unable to detain some (or perhaps many) noncitizens who are public safety or national security risks." The United States claimed "a drastic decrease in ICE'S ability to contract for detention facilities would also result in massively increased costs in terms of both transportation needs and the hiring of more officers to ensure that noncitizens are safely transported to distant facilities."
The administration also asserted that attempting to comply with AB 5207 by building and operating its own detention facility in New Jersey is "not a practical or legal possibility," because constructing and opening a new facility would be more expensive and time-consuming than entering into a contract with a private company or public entity for an existing facility.
The Elizabeth center is the only facility that houses ICE detainees within 60 miles of New York City. As of mid-June 2023, the EDC held approximately 285 detainees.
The federal government has been housing immigration detainees in New Jersey since at least 1986.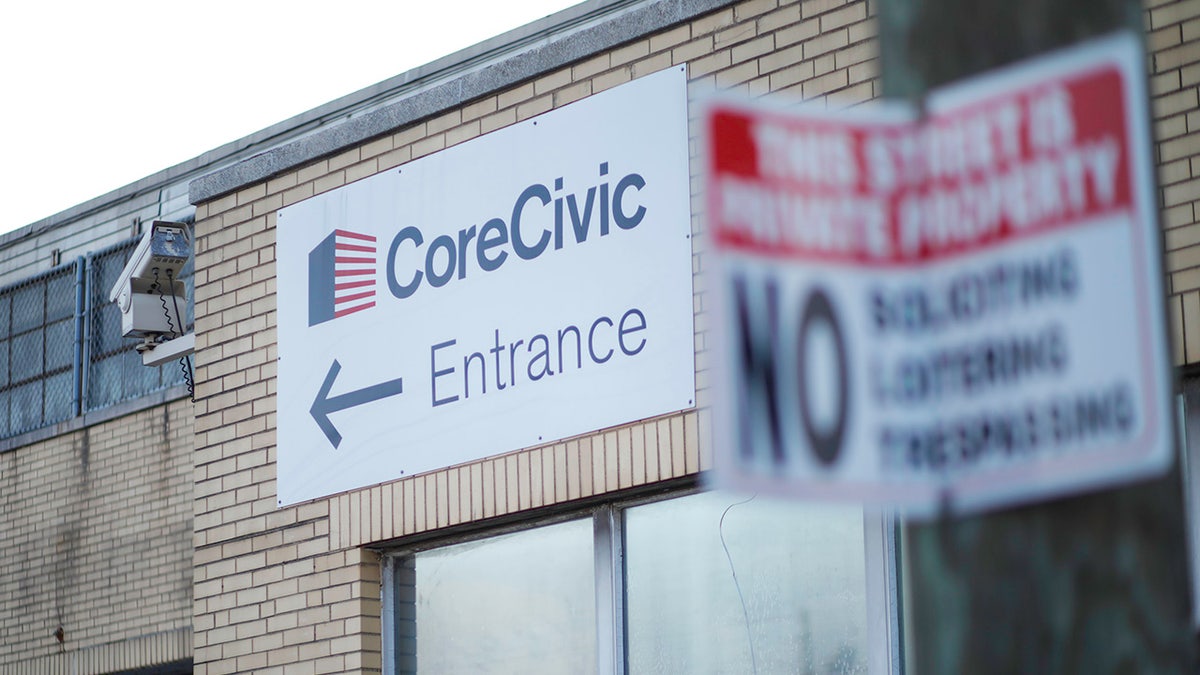 Exterior view from the Immigrant Detention Center on Aug. 20, 2023 in Elizabeth, New Jersey. Two years ago, an ICE detention ban become a law in New Jersey. (Kena Betancur/VIEWpress)
If the state law forces ICE to house detainees outside of New Jersey, ICE would likely need to initiate "a competitive solicitation process for new private contracts in other States to replace the lost capacity in New Jersey," which "wouldn't be available for some time," Kirsch's ruling says. Biden administration attorneys cite the EDC's proximity to two international airports — the Newark Liberty International Airport and the JFK International Airport — that make EDC crucial to ICE'S operations, as well as the operations of other federal agencies.
DHS CALLS FOR IMPROVEMENTS TO NYC'S MIGRANT CRISIS OPERATIONS AS ADAMS PUSHES BACK
"While ICE has discretion to release certain noncitizens pending their removal proceedings if they are not flight risks and do not pose a public-security threat, ICE is required to detain categories of noncitizens who are subject to mandatory detention under the immigration laws or those who pose risk to public safety," the opinion says. "Congress has likewise granted DHS discretion over the manner in which it detains individuals for civil immigration violations."
Protesters outside the Immigrant Detention Center on Aug. 20, 2023 in Elizabeth, New Jersey. (Kena Betancur/VIEWpress)
The Ninth Circuit Court of Appeals shot down a similar California law in September 2022.
Murphy's office told Politico that the New Jersey Attorney General's office will plan an appeal. The state maintains "private detention facilities threaten the public health and safety of New Jerseyans, including when used for immigration purposes."
CLICK TO GET THE FOX NEWS APP
Last week, all but one of New Jersey's Democrat congressional delegation penned a letter to U.S. Attorney General Merrick Garland demanding the Department of Justice rescind its statement of interest in the CoreCivic lawsuit opposing the state law. The letter cites reports from detainees and legal advocates about "inhuman conditions" at the Elizabeth facility, including lack of proper air quality, sanitation violations, overcrowding, inadequate media and mental health care and alleged "incidents of retaliation and abusive treatment by guards and staff." They also cited "extensive complaints, lawsuits, protests and calls for action" against the facility.