Navarone Garcia, son of Priscilla Presley and half-brother to the late Lisa Marie Presley, almost died in front of his mother after being "attacked" by a camel at a California animal sanctuary mere days before his big sister's untimely death, according to the musician.
Garcia, 35, was feeding the camel and when he ran out of food, the animal, which had been previously abused in a circus, became agitated and "pounced" on him, all while Priscilla watched on in horror, he said.
In an interview with People magazine, he recalled the camel, who he estimated weighed around 2,000 pounds, "bit me by the hand and lifted me up almost off my feet. It then dropped me on the ground and pounced. While it was pouncing on me, it literally got my whole head in its mouth and bit me."
While the attack was happening, he stated that his mother was "freaking out," and that "she was traumatized."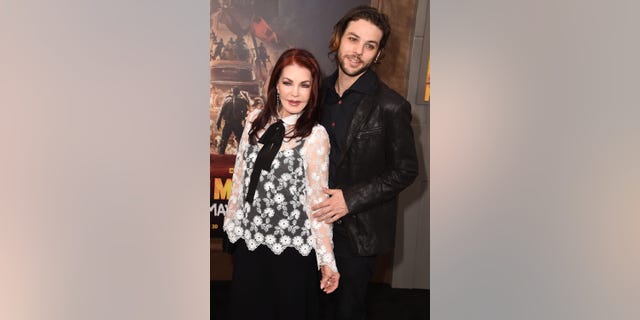 Priscilla Presley, left, poses with son Navarone Garcia at the premiere of "Mad Max: Fury Road."
(Getty Images)
PRISCILLA PRESLEY SPEAKS OUT ON WHAT WOULD HAVE BEEN LISA MARIE'S 55TH BIRTHDAY
To make matters worse, due to the camel's weight, sanctuary workers were not able to free Garcia – in the end, it was a dog roaming nearby that saved the day.
As he explained it, "The dog knew something was wrong and was freaking out and going at its face. That's what got the camel off."
PRISCILLA PRESLEY THANKS FANS FOR SUPPORT AFTER DEATH OF DAUGHTER LISA MARIE: 'A DARK, PAINSTAKING JOURNEY'
After the attack, Garcia elected to return home to Los Angeles to visit an emergency room there, where he received 34 staples in his head.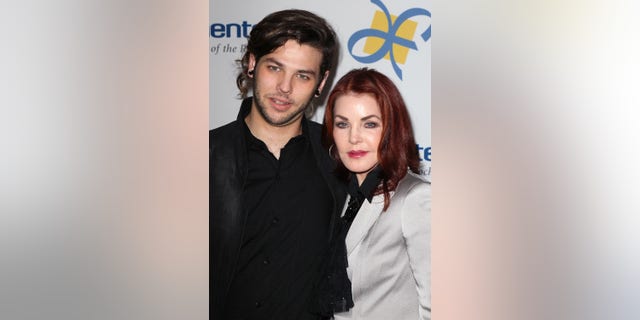 Priscilla Presley's son, Navarone Garcia, reveals that he almost died from a camel attack just days before big sister Lisa Marie Presley passed away.
(Getty Images)
While that day very easily could have ended up much worse, tragedy did strike the family days later on Jan. 12 when Lisa Marie passed away at the age of 54.
PRISCILLA PRESLEY DISPUTES LISA MARIE PRESLEY'S TRUST
"I mean, I was happy I survived before," Garcia said, "but now it's like, thank God I survived. My mom would've lost two kids in two weeks."
In a statement to Fox News Digital earlier this week, Priscilla stressed how important it is to her now to "keep our family together."
"From the first moment I held Lisa in my arms, I've protected, loved and guided her, as I have my son," she stated. "Our hearts are broken, and I am having to learn to live without my only daughter. We truly love all of you, and we feel your prayers. Thank you so much for caring so deeply for our family."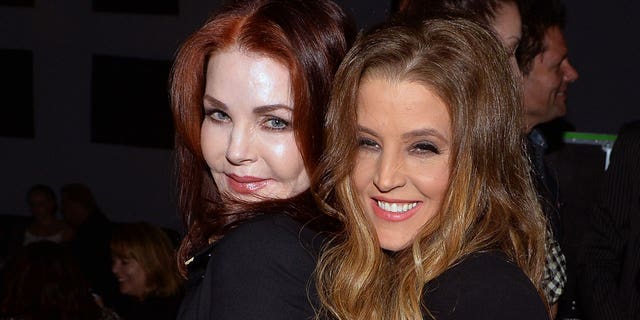 Elvis and Priscilla Presley's only daughter, Lisa Marie Presley, right, died on Jan. 12 at the age of 54.
(Getty Images)
CLICK HERE TO GET THE FOX NEWS APP
Despite some squabbles over the legitimacy of Lisa Marie's will, it appears that the family is putting on a united front.
CLICK HERE TO SIGN UP FOR THE ENTERTAINMENT NEWSLETTER
According to earlier statements from Garcia, Riley Keough, Lisa Marie's oldest daughter, "has been so good with" her younger siblings, 14-year-old twins Harper and Finley.
The whole family was also seen together mourning Lisa Marie at her public memorial service at Graceland, Elvis' famous estate, on Jan. 22.