close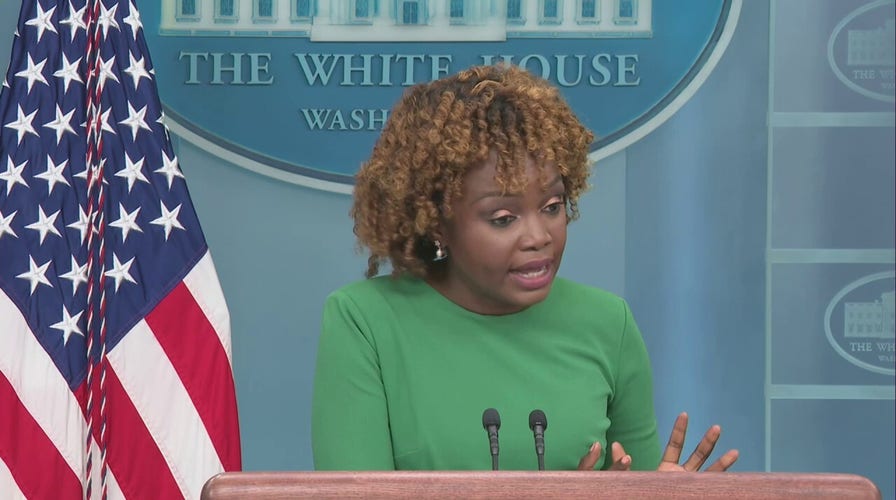 Video
White House says its 'increasingly confident' Wagner leader Prigozhin died in plane crash
Russia's Investigative Committee said Sunday that genetic testing had identified the bodies of those who were listed on the doomed flight
New images taken Friday show the gravesite of late Wagner Group mercenary leader Yevgeny Prigozhin following his burial at a cemetery in St. Petersburg, Russia.
The scenes showing Russian police standing guard at the Porokhovskoye cemetery come as it remains unexplained what caused the aircraft carrying Prigozhin to crash outside of Moscow last week.
"The farewell to Yevgeny Viktorovich took place in a closed format. Those who wish to say goodbye may visit Porokhovskoye cemetery," Prigozhin's press service wrote on Telegram, according to Reuters.
Russian President Vladimir Putin – whose rule Prigozhin challenged about two months ago – was not among those in attendance Tuesday.
WHITE HOUSE 'INCREASINGLY CONFIDENT' WAGNER LEADER PRIGOZHIN DIED IN PLANE CRASH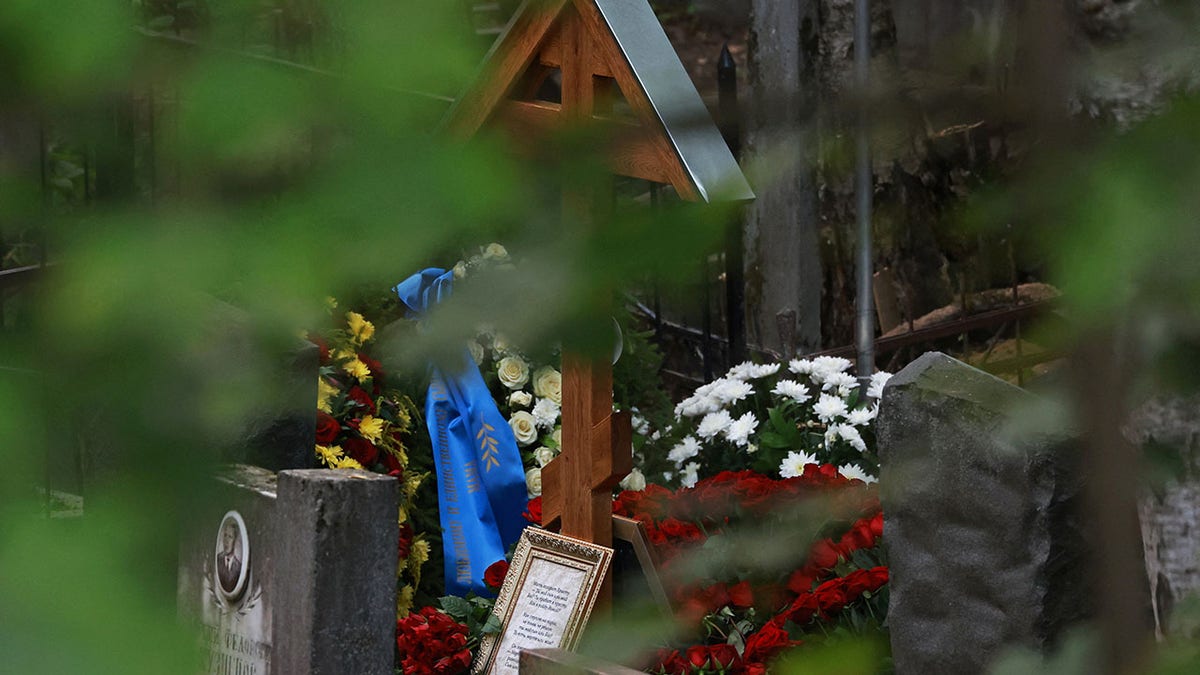 The grave of Russian mercenary chief Yevgeny Prigozhin, who was killed in a plane crash last week, at the Porokhovskoye cemetery in St. Petersburg, Russia, on Aug. 29. (Reuters)
"I knew Prigozhin for a very long time, since the early 1990s. He was a man with a complex destiny, and he made serious mistakes in life," Putin has said in the wake of Prigozhin's death. "He achieved the results he needed both for himself and, when I asked him, for the common cause, as in these last months. He was a talented person, a talented businessman."
On Monday, White House press secretary Karine Jean-Pierre said, "We are increasingly confident that Prigozhin died in the plane crash that took place on Aug. 23 this past Wednesday."
But when asked whether the White House was any closer to determining what brought down the aircraft, she said, "I don't have any new assessment on that for you, so I'll just leave it there."
RUSSIAN COURT RULES PROMINENT NATIONALIST WHO ACCUSED PUTIN OF WEAKNESS, INDECISION SHOULD REMAIN IN PRISON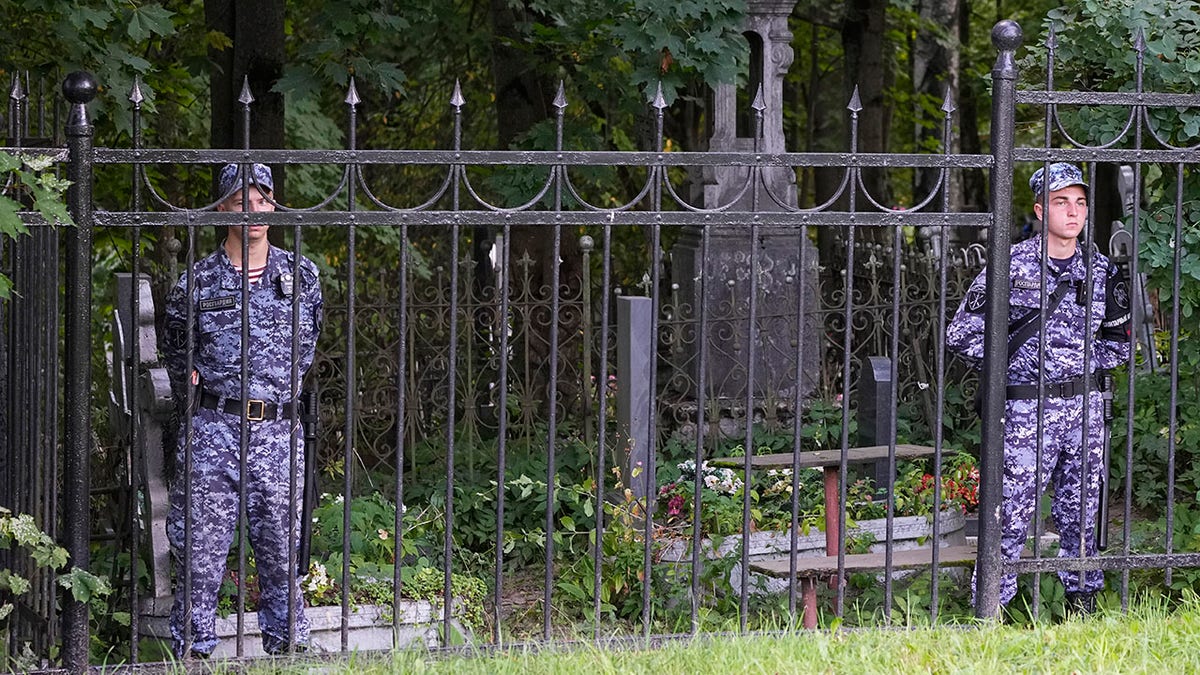 Russian police guard the Porokhovskoye cemetery after a memorial service for mercenary chief Yevgeny Prigozhin, on Tuesday, Aug. 29. (AP/Dmitri Lovetsky)
Jean-Pierre's comments came a day after the Russian Investigative Committee said genetic testing on the 10 bodies recovered at the crash site confirmed the identities of all of those listed on board the doomed flight – including Prigozhin and some of his top lieutenants.
The deadly crash came two months after Prigozhin, 62, spearheaded a daylong mutiny against Russia's military, leading his Wagner mercenary troops from Ukraine toward Moscow. Putin decried the actions as "treason" and vowed punishment for those involved.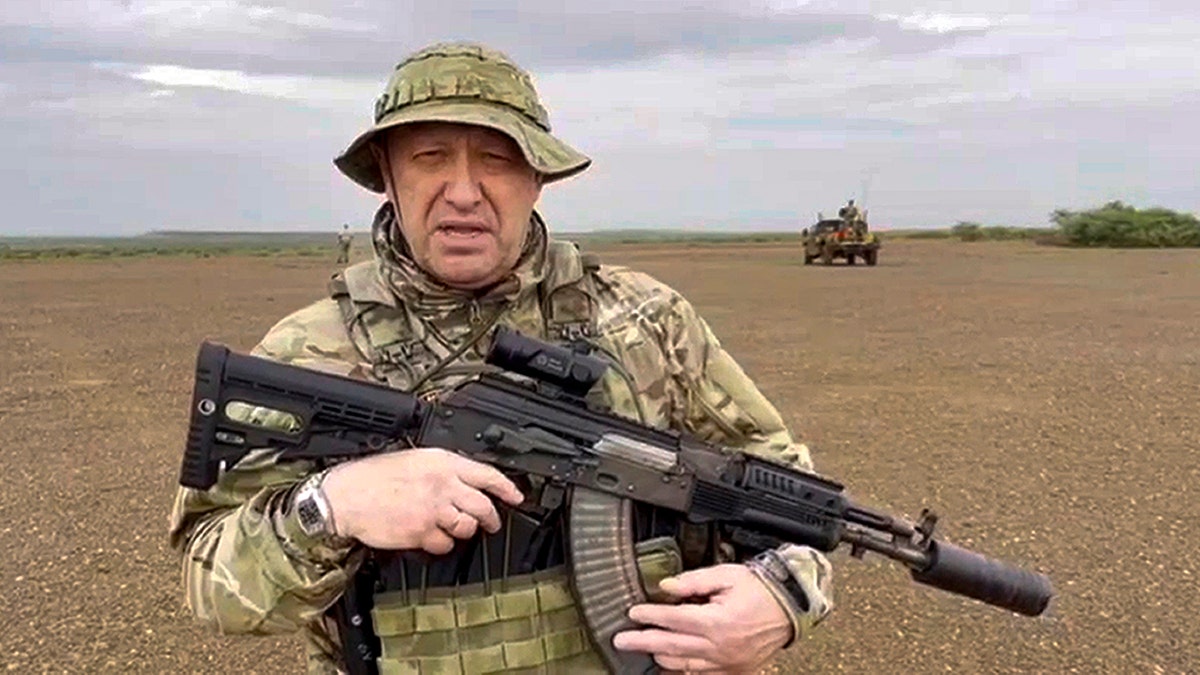 In this image taken from video posted on Telegram on Aug. 21, 2023, Yevgeny Prigozhin speaks to a camera at an unknown location. (Razgruzka_Vagnera telegram channel via AP)
CLICK HERE TO GET THE FOX NEWS APP
Instead, the Kremlin – much to the world's surprise – cut a deal with Prigozhin to end the armed revolt, saying he would be allowed to walk free without facing any charges and to resettle in Belarus. Questions remained about whether the former ally of Russia's leader would face a comeuppance for the brief uprising that posed the biggest challenge to Putin's authority during his 23-year rule.
Fox News' Bradford Betz, Timothy H.J. Nerozzi and The Associated Press contributed to this report.
Greg Norman is a reporter at Fox News Digital.