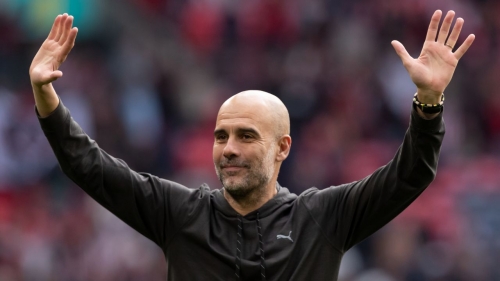 Pep Guardiola could lead Manchester City to only the second treble in English football history.
Federico Guerra Maranesi/MI News/NurPhoto/Getty Images

CNN
—
Winning the Treble is an achievement reserved only for football's most dominant teams.
It takes an elite level of skill, determination and concentration – and no shortage of luck – to claim the domestic league title, main continental tournament and primary domestic cup competition in the same season.
Such is the difficulty of the task, only one team in English football history – Manchester United in 1998/99 – has achieved it.
However, after a thrilling weekend of action in England, it now looks likelier than ever that a team will emulate United's historic accomplishment.
After booking its place in the Champions League semifinals with a 4-1 aggregate win over Bayern Munich, Manchester City then reached the FA Cup final on Saturday with a comfortable 3-0 victory over second-tier Sheffield United at Wembley Stadium.
That win came a day after Arsenal once again threw away points in the Premier League title race, drawing 3-3 at home to relegation-threatened Southampton to hand the initiative to City for the first time all season.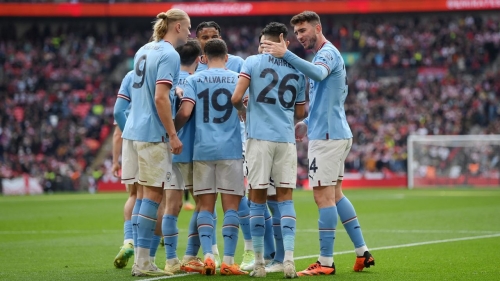 Manchester City comfortably beat Sheffield United 3-0 in the FA Cup semifinals.
Shaun Botterill/Getty Images
City trails Arsenal by five points at the top of the Premier League but crucially has two games in hand, with the two teams facing off in a huge title clash at the Etihad on Wednesday.
Entertaininment data company Gracenote now gives City a 79% chance of winning the Premier League and Arsenal just 21%.
Despite City now being a maximum of just 12 games away from a potential Treble, manager Pep Guardiola is refusing to get caught up in the possibility.
"I'll talk to you about it after we have won the FA Cup and Premier League," he told reporters after the FA Cup semifinal, per the BBC.
"Before the final of the Champions League we will start to talk of the Treble. Look how far away it is. We are far, far away. How many times in this amazing country have Trebles been done? How many years? How many teams?
"It is one. Once. Our neighbors did it in how many centuries? Am I excited about the Treble? Not at all."
There has been an inevitability about Manchester City in recent weeks as the team has gone on a rampaging 16-game unbeaten run in all competitions and improved with each passing game over that stretch.
Led by the relentless Erling Haaland, whose 32 Premier League goals equal the record for a 38-game season with eight matches of the current campaign still remaining for City, Guardiola's side has been scoring goals at will.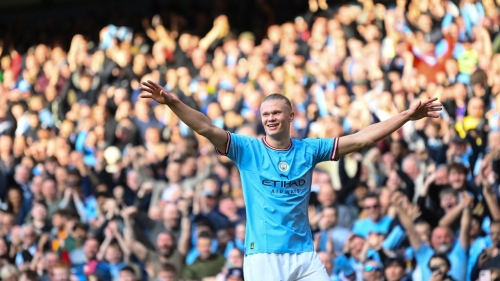 Erling Haaland has been unstoppable this season.
Michael Regan/Getty Images
One can only imagine the fear and nervousness those Arsenal players have been feeling while looking over their shoulders at the surging juggernaut behind them.
That pressure finally began to tell against Liverpool and West Ham as Arsenal threw away two-goal leads in both, before scraping a point against Southampton after trailing 3-1 late on.
The Gunners have also been hampered by the absence of William Saliba, who has missed the last five games after going off injured in the Europa League defeat to Sporting. With Rob Holding replacing the French defender, Arsenal has failed to keep a clean sheet in those five matches.
Should Manchester City beat Arsenal at the Etihad on Wednesday, as most people would likely now expect, then the Premier League title race would seem to be a foregone conclusion.
It's an ominous sign and a testament to City's strength in depth that Guardiola was able to make six changes to the side that drew at Bayern Munich for Saturday's FA Cup semifinal.
With the FA Cup final against Manchester United already in the calendar – a match City will be favorite to win on June 3 – the most difficult challenge Guardiola still faces this season is likely to be the Champions League semifinal against Real Madrid.
While few people would argue against City being the better of the two teams, there is an aura – or "magic," as defender Nacho described it last season – Real Madrid possesses when playing in the Champions League and a belief that this trophy belongs to the Spanish club.
Coupled with what many people believe is a tendency for Guardiola to overthink strategies and tactics in big European matches, the Champions League two-legged semifinal – on May 9 and 17 – is undoubtedly City's most difficult remaining hurdle.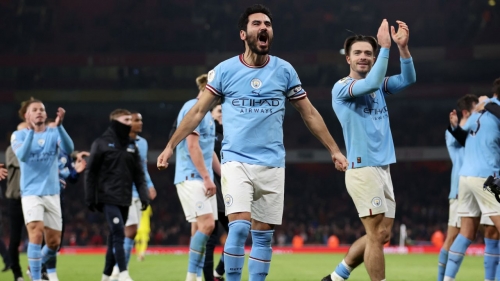 Can any team stop Manchester City this season?
Julian Finney/Getty Images
Whatever happens during the run-in, Guardiola says he was thankful his players had once again put the team in a position to win multiple trophies come the end of the season.
"I said yesterday we are far away from the Treble and this discussion for a funny moment is OK," Guardiola said, per the Guardian.
"The reality, I said many times, the most impressive thing for this club, from the hierarchy to the backroom staff is that after many years, six years, winning titles and titles, we are still there [competing]. I love to be here and work with this club.
"One year you can do it – I don't want to win one Champions League and after be in the bottom," he aded. "The Champions League [can] destroy projects when you win or lose [but] this club is quite stable.
"With seven weeks left, we are still fighting for titles – this is the most important trophy we can get. Thank you so much to the [players] – the last three years, the worst performances we have done in the FA Cup is the semis."