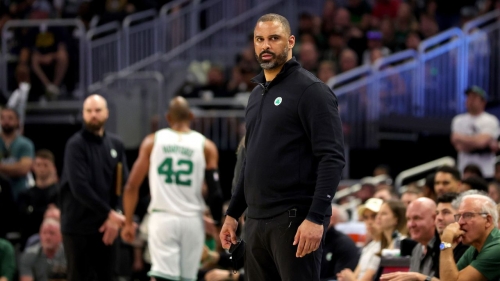 Head coach Ime Udoka during a Boston Celtics game on May 13, 2022.
Stacy Revere/Getty Images

CNN
—
The Houston Rockets have reached an agreement with Ime Udoka to become the franchise's next head coach, according to multiple reports, including ESPN's Adrian Wojnarowski and The Athletic's Shams Charania, citing league sources.
In September, the former Boston Celtics head coach was suspended for the entire season by the team for violations of team policies, following an investigation into his conduct by an independent law firm. He was eventually let go by the team in February.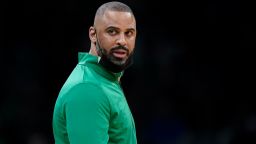 Boston Celtics head coach Ime Udoka joined the team before last season and his team made it to the NBA Finals.
Steven Senne/AP/FILE
Boston Celtics suspend head coach Ime Udoka for entire NBA season
According to ESPN, The Athletic and the Boston Globe, Udoka had a consensual relationship with a female member of the team's staff.
"I am sorry for putting the team in this difficult situation, and I accept the team's decision," Udoka said to ESPN in a statement at the time, in which he apologized to the players, fans, organization and his family.
During his tenure, Udoka took over as the team's head coach from Brad Stevens ahead of the 2021/22 NBA season and coached the Celtics to their first NBA Finals appearance since 2010, where they lost 4-2 to the Golden State Warriors.
Udoka replaces the ousted Stephen Silas, who was fired at the end of the regular season after amassing a 59-177 record during his three-year tenure.
The Rockets finished with a 22-60 record this season, tied with the San Antonio Spurs for the worst record in the Western Conference. Houston has a 14% chance at landing the No. 1 pick in the 2023 NBA Draft lottery.
CNN has reached out to the Rockets but did not immediately hear back.