The U.S. military is drafting plans to ensure House Speaker Kevin McCarthy's safety on a trip to Taiwan later this year.
McCarthy's office did not immediately respond to a request to confirm his plans to visit the island, which were first reported by Punchbowl News. Former Speaker Nancy Pelosi triggered China to launch weeks of military drills surrounding Taiwan when she visited the island last year. Given the hotly charged environment, the Defense Department must go to great lengths to ensure the speaker's safety.
McCarthy's trip would be the latest in a series of U.S. lawmakers who have traveled to Taiwan since Pelosi's trip in August. China has responded to each subsequent visit with a ramp-up in military drills.
China argues that visits from U.S. lawmakers are an infringement of the One China policy, which states that Beijing is the sole government of China. It also prevents the U.S. from holding formal diplomatic ties with Taiwan.
PELOSI DEFIES CHINA DURING MEETING WITH TAIWANESE PRESIDENT TSAI ING-WEN: 'WE WILL NOT ABANDON OUR COMMITMENT'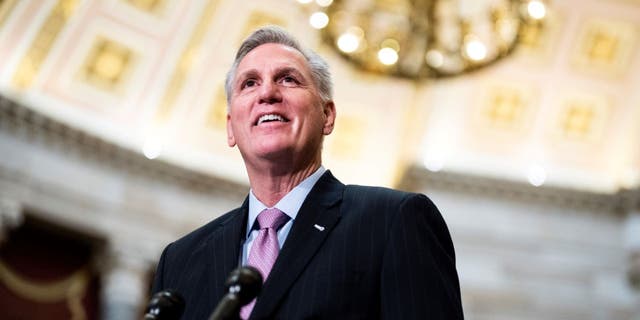 Speaker of the House Kevin McCarthy, R-Calif., conducts a news conference in the U.S. Capitols Statuary Hall on Thursday, January 12, 2023.
(Tom Williams/CQ-Roll Call, Inc via Getty Images)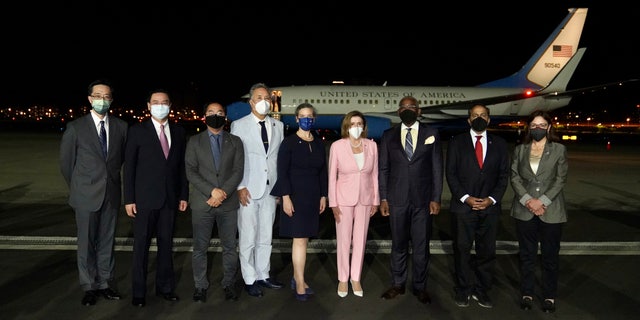 In this photo released by the Taiwan Ministry of Foreign Affairs, U.S. House Speaker Nancy Pelosi, center pose for photos after she arrives in Taipei, Taiwan, Tuesday, Aug. 2, 2022. Pelosi arrived in Taiwan on Tuesday night despite threats from Beijing of serious consequences, becoming the highest-ranking American official to visit the self-ruled island claimed by China in 25 years.
(Taiwan Ministry of Foreign Affairs via AP)
CHINA FIRES 'PRECISION MISSILE STRIKES' IN TAIWAN STRAIT DAY AFTER NANCY PELOSI CONCLUDES CONTROVERSIAL VISIT
Pelosi was the highest-level U.S. official to visit the island since House Speaker Newt Gingrich in 1997. Her trip set off nearly two weeks of Chinese military drills around Taiwan in a simulation of a potential invasion.
China has long claimed Taiwan as its own territory, despite the island having its own democratic government. While the U.S. has agreed not to hold formal diplomatic relations with Taiwan, it has supplied the government with means of defense and other support.
Taiwan first split from mainland China after pro-democracy forces lost a civil war to the Chinese Communist Party in 1949.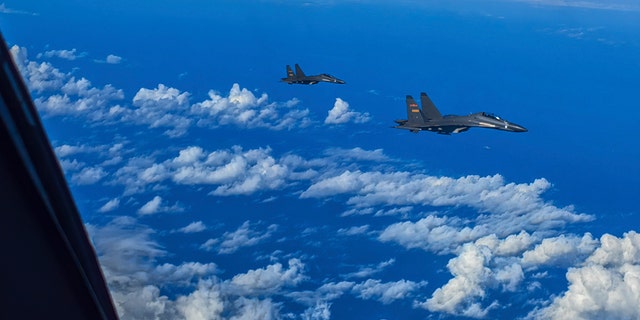 In this photo released by Xinhua News Agency, fighter jets of the Eastern Theater Command of the Chinese People's Liberation Army (PLA) conduct a joint combat training exercises around the Taiwan Island on Aug. 7, 2022.
(Gong Yulong/Xinhua via AP)
CLICK HERE TO GET THE FOX NEWS APP
President Biden's administration has vowed to continue supporting Taiwan amid rising tensions with China. The U.S. has already delivered significant defense aid and is strengthening military alliances with Japan and other regional partners.