For the first time since 2016, legislation will come to the House floor this week and any member with an idea on how to amend it will have a chance to offer it and get a vote.
It is a change that many House Republicans have been seeking for the last several years. The last two years in particular have seen Democrat leaders put forward giant bills deemed as "must-pass" legislation – like last month's $1.7 trillion spending bill and others – that are quickly brought to the floor before anyone can read it, with no opportunity to amend it.
Under House Speaker Kevin McCarthy, Republicans are bringing back the process in a bid to address complaints that party leaders have shut out rank-and-file members from the process of legislating.
HOUSE SPEAKER KEVIN MCCARTHY OFFICIALLY ENDS PROXY VOTING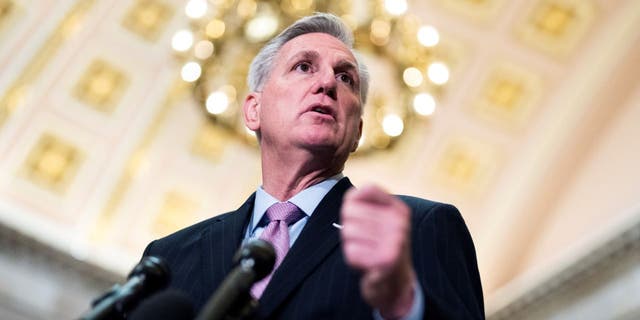 Speaker of the House Kevin McCarthy, R-Calif., agreed to a more open process for considering legislation, and that process kicks off this week.
(Tom Williams/CQ-Roll Call, Inc via Getty Images)
"The House Republican majority is committed to allowing all members to participate in the legislative process," House Majority Leader Steve Scalise, R-La., wrote to members of the House late last week.
Scalise's letter outlined the process for allowing what is known as a "modified-open amendment process" for a bill up this week that would require the government to develop a plan for oil and gas development on federal land before any withdrawals from the Strategic Petroleum Reserve are made.
Under this process, the House will allow consideration of any amendment offered by a House lawmaker from either party that is submitted and printed in the Congressional Record by Tuesday. When the bill comes up for debate on Wednesday, lawmakers will debate and vote on any of those amendments that are offered.
CONSERVATIVES SHARPEN THEIR SPEARS FOR HISTORIC DEBT CEILING FIGHT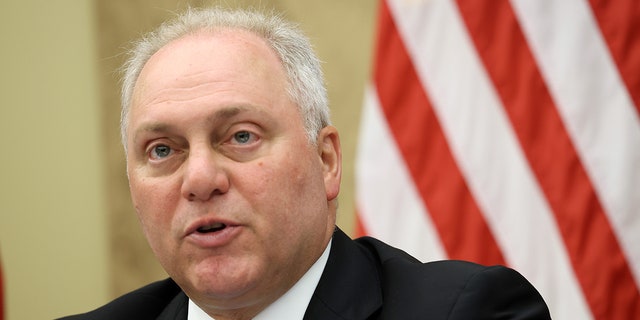 House Majority Leader Steve Scalise, R-La., said Republicans are committed to giving rank-and-file members more say over the bills that pass in the House.
(Kevin Dietsch/Getty Images)
The last time this kind of open process was used was in May 2016, when the House was controlled by Republicans and amendment votes were allowed on an appropriations bill. The last time these amendments were allowed for a bill that did not appropriate money was in 2013, again when the House was controlled by the GOP.
The modified-open amendment process for the bill up this week was agreed to by House GOP leaders in the rules package that was approved at the start of the new Congress. That rules package reflects an effort made by some of the most conservative members of the House to give rank-and-file members more say in bills that come to the floor.
One of those conservative members is Rep. Chip Roy, R-Texas, who has talked often about the need to open up the legislative process to all members.
MORE MCCARTHY HOLDOUTS ADDED TO HOUSE OVERSIGHT, JUDICIARY COMMITTEES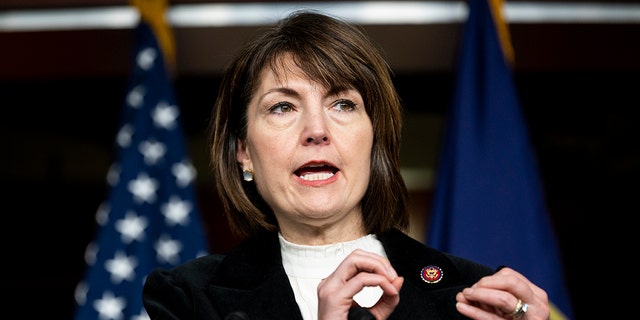 A bill aimed at boosting U.S. energy security from Rep. Cathy McMorris Rodgers, R-Wash., will be open to amendment this week.
(Bill Clark/CQ-Roll Call, Inc via Getty Images)
"I believe by offering amendments in the appropriations process on the floor of this body we will be better," Roy said on the House floor this month.
In a Sunday op-ed in the Daily Caller, Scalise indicated that more open amendment votes would take place under GOP leadership.
CLICK HERE TO GET THE FOX NEWS APP
"Republicans want to empower our committee chairs to take back control of the legislative process and make it easier for our rank-and-file members to offer amendments," he wrote. "That way, all lawmakers can better represent the people who elected them to solve the massive problems facing hardworking families."