House Oversight Committee Chairman James Comer, R-Ky., said Tuesday that former Vice President Mike Pence's "transparency" in handing over classified documents "stands in stark contrast" to how President Biden and White House staff have dealt with the mishandling of confidential materials.
"Former Vice President Mike Pence reached out today about classified documents found at his home in Indiana. He has agreed to fully cooperate with congressional oversight and any questions we have about the matter," Comer said in a statement.
"Former Vice President Pence's transparency stands in stark contrast to Biden White House staff who continue to withhold information from Congress and the American people," he added.
Comer's remarks on the matter came after it was revealed Tuesday that documents bearing classified markings had been found in Pence's Carmel, Indiana, home on Jan. 16. The documents were from his tenure as vice president.
VICE PRESIDENT MIKE PENCE DISCOVERED CLASSIFIED DOCUMENTS IN INDIANA HOME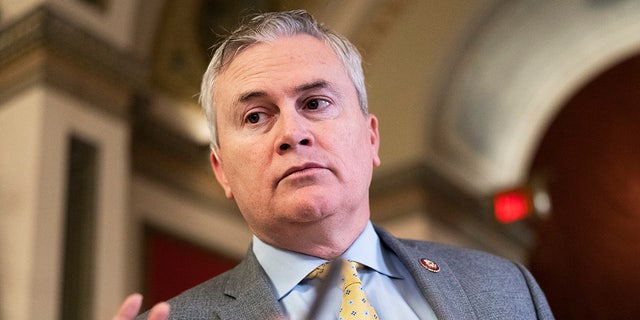 Rep. James Comer at the U.S. Capitol on Thursday, Jan. 12, 2023.
(Tom Williams/CQ-Roll Call, Inc via Getty Images)
The discovery of classified documents in Pence's possession was made after his team conducted searches of his Indiana home and the office of his political advocacy group, Advancing American Freedom. According to his team, Pence informed the National Archives on Jan. 18 of a small number of potential classified documents found in two small boxes. Another two boxes contained copies of vice presidential papers. The National Archives then informed the FBI per standard procedure.
After the documents with classified markings were discovered, they were immediately put into a safe, according to the Pence team. The documents were later collected by the FBI at Pence's Indiana home on Thursday evening, Jan. 19.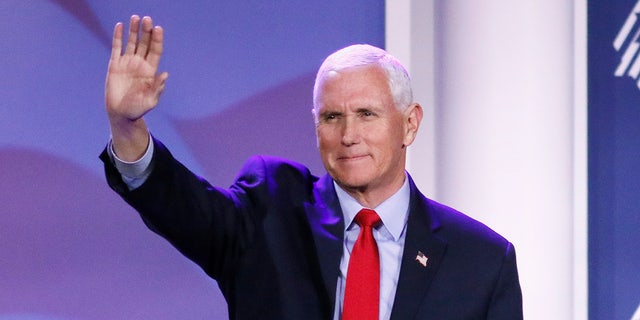 Former Vice President Mike Pence waves during the Republican Jewish Coalition Annual Leadership Meeting in Las Vegas, Nevada, on Nov. 18, 2022.
(Ronda Churchill/Bloomberg via Getty Images)
In addition to Comer, Sen. Lindsey Graham, R-S.C., also offered some defense for Pence's handling of classified materials, saying during a press conference at the Capitol that he doesn't believe the handling of classified documents by Pence, former President Donald Trump or President Biden was meant to "compromise national security."
"Let's find out how that happened. You got Trump, you got Pence, you got Biden. The only thing you'll find at my house is a bunch of Chick-fil-A bags on the floor," Graham said. "The bottom line is I don't know how this happened. We need to get to the bottom of it. I don't believe for a minute that Mike Pence is trying to intentionally compromise national security – think that about Biden and Trump – but clearly we've got a problem here.… Maybe we're over-classifying things, that may be part of the problem. But count me in on getting this fixed."
In a separate tweet, Graham said he does not believe there were "sinister motives" regarding the handling of classified information by Biden, Pence or Trump.
WHITE HOUSE STONEWALLS FOX NEWS' PETER DOOCY ON BIDEN CLASSIFIED DOCUMENTS: 'WHY DID HE DO IT?'
Senate Minority Leader Mitch McConnell, R-Ky., also offered his thoughts on the matter at a Tuesday press conference from within the Capitol, telling reporters he believes the DOJ should "treat everybody the same."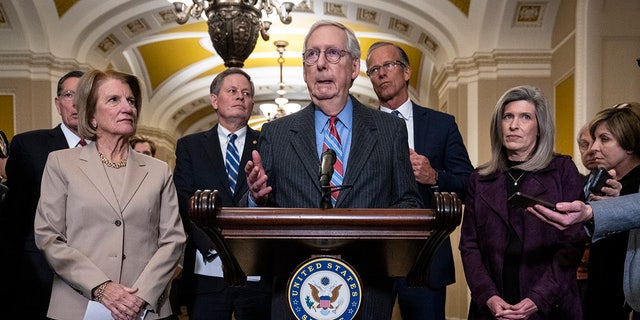 Senate Minority Leader Mitch McConnell speaks during a news conference at the Capitol on Jan. 24, 2023.
(Drew Angerer/Getty Images)
"Well, it's according to how the Justice Department handles it," McConnell said when he was asked about his level of concern and what Congress can do to prevent classified documents from ending up at the personal residences of politicians. "I think they ought to treat everybody the same who has misplaced classified documents, and it seems so far as if the attorney general is making an effort to do that and, beyond treating everybody the same, I don't really have any additional advice."
Asked about Pence's handling of classified materials and whether he is looking to appoint a special counsel to investigate the matter further, Attorney General Merrick Garland told reporters Tuesday evening that he is "unable to comment" on the situation.
White House press secretary Karine Jean-Pierre was also asked whether a special counsel should be appointed by the Justice Department to investigate Pence's handling of the documents. "That's for the Department of Justice to decide," she said.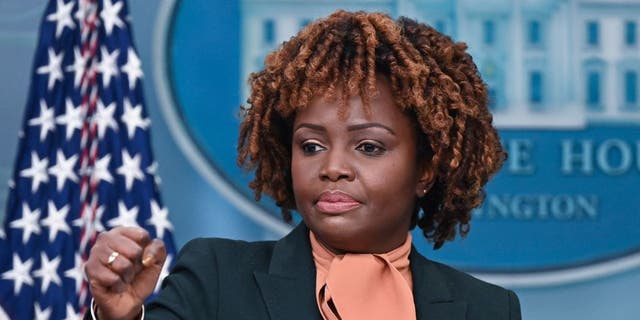 Press secretary Karine Jean-Pierre speaks during the daily briefing at the White House on Jan. 24, 2023.
(Andrew Caballero-Reynolds/AFP via Getty Images)
CLICK HERE TO GET THE FOX NEWS APP
Jean-Pierre also noted that the White House would "not politically interfere" with the Justice Department's handling of the situation surrounding Pence's handling of the documents.
Earlier this month, it was revealed that classified documents from President Biden's tenure as vice president were found at the Penn Biden Center think tank and his home in Wilmington, Delaware. Before that, classified documents were found during an FBI-executed raid of Trump's Mar-a-Lago home in Florida last summer.
Fox News' Kelly Laco contributed to this article.