close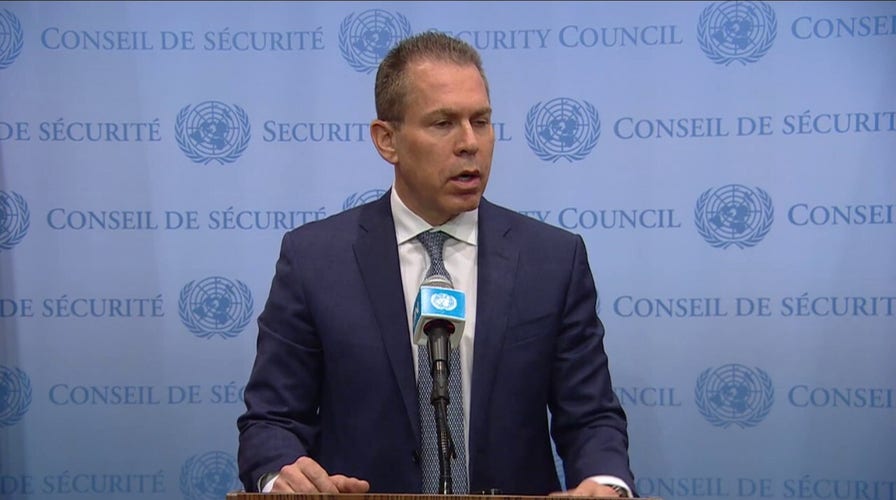 Video
Israeli Ambassador Gilad Erdan calls out the leadership of the Palestinian Authority
Israeli Ambassador Gilad Erdan addressed the media following the UN Security Council meeting and said the Palestinians have not acted to reduce terrorism, proving an obstacle in establishing peace in the region. (UNTV)
Two Israeli brothers were shot and killed by a Palestinian gunman on Sunday near Har Bracha, a West Bank settlement about one mile south of Nablus, where nearly a dozen Palestinians were killed in an Israeli military raid earlier this week.
Israeli settlers rioted on Sunday evening in response to the shooting, setting dozens of cars and homes on fire in the northern West Bank. Palestinian officials said one man was killed and four others were wounded.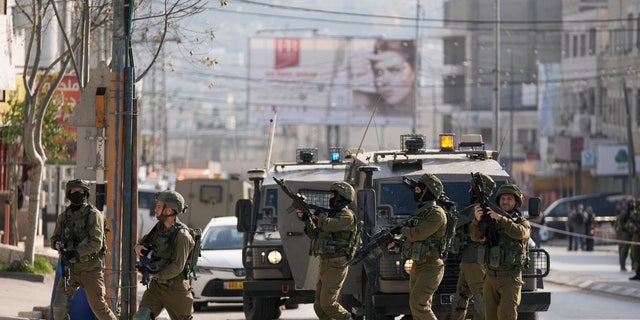 Israeli soldiers take up positions at the scene of a Palestinian shooting attack at the Hawara checkpoint, near the West Bank city of Nablus, Sunday, Feb. 26, 2023.  (AP Photo/Majdi Mohammed)
The violence on Sunday cast a shadow over peace talks that took place this weekend in Aqaba, Jordan.
UN RIPS ISRAEL OVER WEST BANK SETTLEMENT CONSTRUCTION
Jordanian, Egyptian, and U.S. officials joined Israeli and Palestinian representatives for "comprehensive and frank discussions," which was described as the first of its kind in years.
"The two sides (Palestinian and Israeli sides) affirmed their commitment to all previous agreements between them, and to work towards a just and lasting peace," officials said in a joint statement on Sunday. "They reaffirmed the necessity of committing to de-escalation on the ground and to prevent further violence."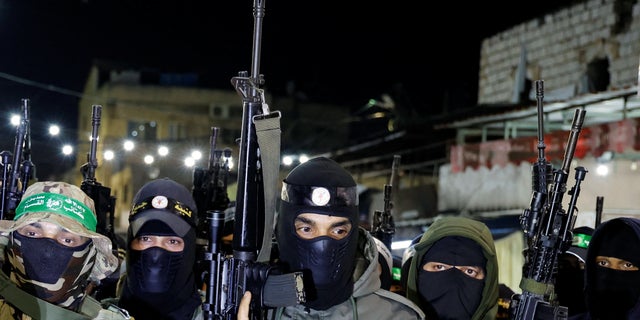 Palestinian gunmen attend a news conference to condemn an Israeli-Palestinian meeting hosted by Jordan in Aqaba. (REUTERS/Raneen Sawafta)
The joint statement added that Israel committed to "stop discussion of any new settlement units for 4 months and to stop authorization of any outposts for 6 months," but Israeli Prime Minister Benjamin Netanyahu appeared to shoot that down on Sunday.
ISRAELI OFFICIALS DOUBLE DOWN ON SETTLEMENT CONSTRUCTION, REBUKE US CRITICISM
"Construction and regulation in Judea and Samaria will continue according to the original planning and construction schedule, without any changes," Netanyahu tweeted. "There is and will not be any freeze."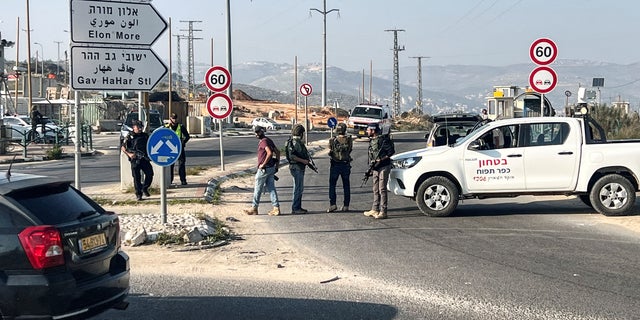 Israeli security personnel stand as they guard a main junction, close to where Israeli police said two Israelis were killed, near Nablus, February 26, 2023.  (REUTERS/Rami Amichay)
CLICK HERE TO GET THE FOX NEWS APP
The violence on Sunday comes on the heels of an Israeli Defense Forces raid on Wednesday in Nablus targeting three members of the Lion's Den terrorist group.
Israeli forces exchanged heavy gunfire with Palestinian militants during that raid, leaving 11 Palestinians dead.
The Associated Press contributed to this report.
Paul Best is a breaking news reporter for Fox News Digital and Fox Business. Story tips and ideas can be sent to [email protected] and on Twitter: @KincaidBest.