close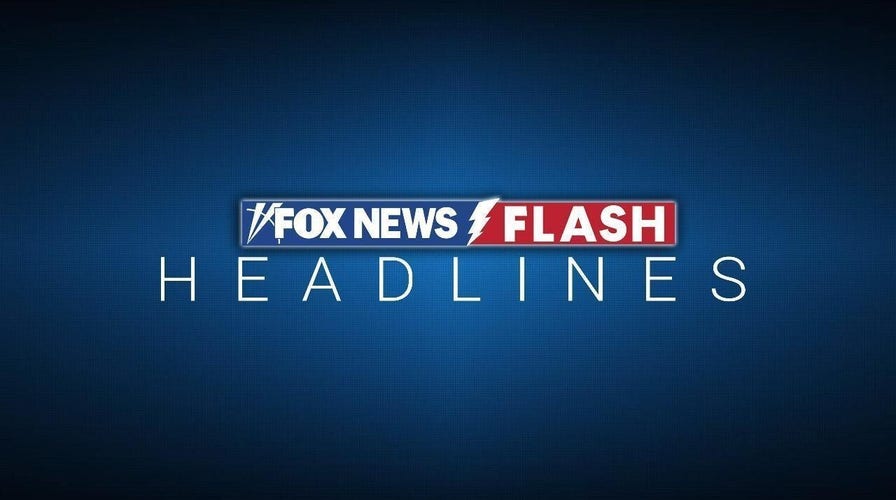 Video
Fox News Flash top headlines for March 16
Fox News Flash top headlines are here. Check out what's clicking on Foxnews.com.
A Pakistani court on Thursday extended a pause in the effort to arrest former premier Imran Khan in a graft case, a sign of easing tension in the country's cultural capital after clashes erupted this week when police tried to detain him.
The decision is a reprieve for Khan, who was due to be arrested a few hours earlier. The Lahore High Court ordered police to suspend the plan to arrest the 70-year-old opposition leader until Friday. It also asked Khan's legal team for talks to resolve the issue.
The court also barred Khan's Pakistan Tehree-e-Insaf opposition party from holding a rally that was to be led by Khan on Sunday ahead of the elections for a regional assembly, according to lawyers from the two sides.
Thursday's order sent a wave of relief through Khan's stick-wielding supporters, who were prepared to prevent police from reaching Khan's house in Lahore, the capital of Punjab province. Despite the order, however, police and paramilitary rangers deployed for Khan's arrest were not immediately withdrawn.
8 INSURGENTS, 2 KIDS DEAD IN PAKISTANI MILITARY RAID NEAR AFGHAN BORDER
Usman Anwar, the police chief in the Punjab province, said the violence in Lahore began Tuesday when officers went to comply with the court order and arrest Khan. But, he said, Khan's supporters started throwing stones at officers, who were unarmed and only carrying batons.
"We will comply with the court order, and we will do it," he told a local Geo TV station.
Lahore police have registered two new cases against Khan and his supporters on charges of damaging public property and attacking police when they went to his house Tuesday to arrest him.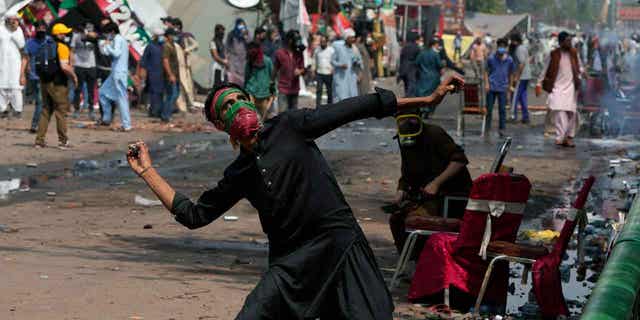 A supporter of former Prime Minister Imran Khan throws a stone towards riot police officers in Lahore, Pakistan, on March 15, 2023. Pakistani police have paused efforts to arrest former Prime Minister Imran Khan after clashes continued for a second day outside his home in Lahore. (AP Photo/K.M. Chaudary)
In Islamabad, Khan's legal team on Thursday asked judge Zafar Iqbal to suspend the arrest warrants he had issued last week for Khan, who is accused of illegally selling state gifts and concealing his assets.
Iqbal gave no indication of whether he will suspend the arrest warrants for Khan. Instead, he asked why Khan resisted when officers went to his house to arrest him. The judge said if Khan surrenders to the court now, he will stop police from arresting him.
PAKISTANI POLICE SIEGE OF OPPOSITION LEADER'S HOME POSTPONED OVER SPORTS MATCH
During Thursday's court hearing in Islamabad, Saad Hassan, a lawyer for the election tribunal, opposed Khan's request for the cancellation of his arrest warrants, saying the former premier had been avoiding court hearings since January.
Violence erupted in Lahore on Tuesday when about 1,000 supporters of Khan clashed with police when they tried to arrest the former premier at his house in the upscale area of Zaman Park. Khan's supporters hurled petrol bombs, rocks and bricks at police. Officers responded by swinging batons, firing tear gas and using water cannons. They failed to arrest Khan.
On Wednesday, Khan said in a video message that he was ready to travel to Islamabad on March 18 to appear before the court, if he is not arrested. Khan also posed for cameras seated at a long table, showing off piles of spent tear gas shells he said had been collected from around his home.
"What crime did I commit that my house has been attacked like this," he tweeted the previous day.
CLICK HERE TO GET THE FOX NEWS APP
Khan, who was ousted in a no-confidence vote in Parliament in April, was ordered to appear before a judge in Islamabad on Saturday to answer charges of illegally selling state gifts he had received during his term as premier and concealing his assets.
He was also disqualified from holding any public office in October on the charges.