close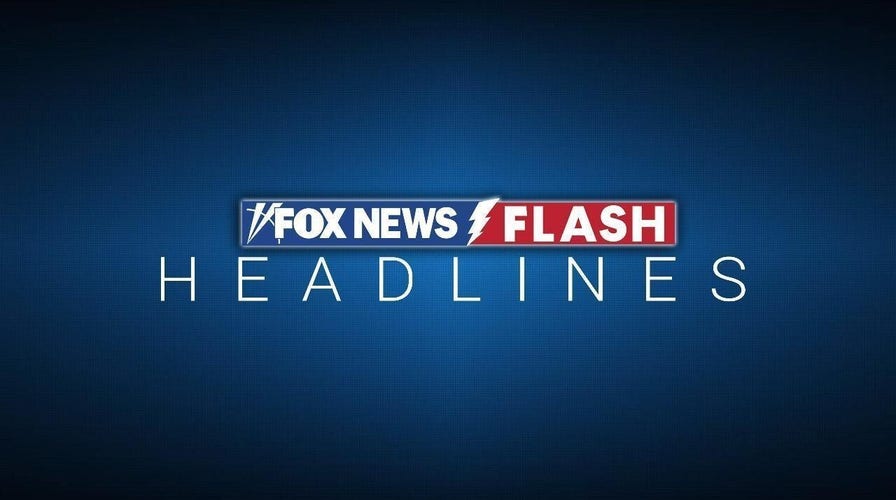 Video
Fox News Flash top headlines for March 16
Fox News Flash top headlines are here. Check out what's clicking on Foxnews.com.
An Indonesian court on Thursday acquitted two police officials charged with negligence leading to the deaths of 135 people in October when police fired tear gas inside a stadium, setting off a panicked run for the exits. A third official was sentenced to 18 months in prison.
The disaster in Kanjuruhan stadium in East Java's Malang city was among the world's worst sporting tragedies. Some 43 children were among the deaths and about 580 spectators were injured.
A panel of three judges at Surabaya District Court, which was under heavy police guard, absolved police officers Pranoto and Achmadi of charges because they found no direct causal link between the defendants' actions and the deadly crowd crush. The two were released Thursday.
Presiding judge Abu Achmad Sidqi Amsya said the court found that defendant Wahyu Setyo Pranoto, the Malang police head of operations, never ordered the use of tear gas at the match and knew that international soccer governing body FIFA had advised against its use in stadiums.
INDONESIA'S MOUNT MERAPI VOLCANO CONTINUES TO ERUPT
Amsya said the tear gas ordered by defendant Bambang Sidik Achmadi, head of crowd control, was aimed at the center of the pitch and dissipated in the wind without hitting any spectators.
"The defendant has not been proven legally and convincingly guilty," Amsya said.
He ordered that the two defendants be released from detention immediately after the decision.
However, the tear gas fired into the stands under Hasdarmawan's instruction caused a rush to six exits where many fans were crushed or suffocated and died, Amsya said.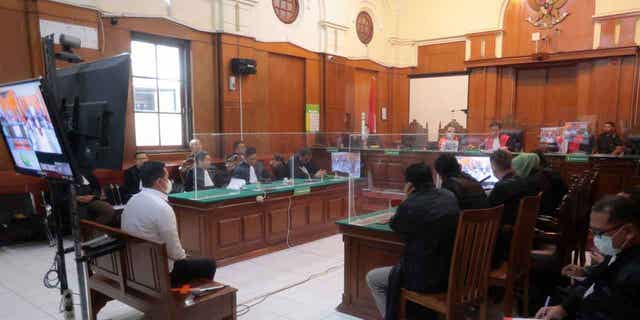 Police officer Hasdarmawan, left, sits on the defendant's chair during his sentencing hearing at a district court in Surabaya, Indonesia, on March 16, 2023. The Indonesian court sentenced Hasdarmawan to 18 months in prison for negligence leading to the deaths of 135 people in October. Other officers who played less of a role in the incident were acquitted in court. (AP Photo/Trisnadi)
Like many Indonesians, Hasdarmawan uses only one name.
The court convicted Hasdarmawan, who was head of East Java police's mobile brigade unit at the time of the tragedy, of criminal negligence causing death and bodily harm, concluding a two-month trial in which about 140 witnesses testified. Hasdarmawan was sentenced to 18 months — far below the three years sought by prosecutors. He said he is considering appealing the decision.
Prosecutors said they are considering whether to appeal all three defendants' cases. An appeal must be filed within seven days.
INDONESIA LANDSLIDE KILLS 30, MANY LIKELY TRAPPED IN HOUSES BURIED BENEATH
Authorities in Surabaya, the capital of East Java province, deployed 350 police to secure the court for its ruling Thursday. Arema fans, known widely as "Aremania," were prohibited from coming to Surabaya during the trial to avoid any clashes.
Abdul Haris, who chairs the organizing committee for Arema FC — the team that hosted the match — was sentenced on March 9 to 18 months in prison. The club's security chief, Suko Sutrisno, got 12 months. Surabaya District Court judges said the two defendants had not verified the safety of the stadium since 2020 and did not prepare an emergency plan to handle special cases per the Football Association of Indonesia's 2021 security and safety regulations.
The trial for another suspect, Akhmad Hadian Lukita, is still pending. He heads PT Liga Indonesia Baru, which administers the country's top professional soccer division.
Police had described the pitch invasion as a riot and said two officers were killed, but witnesses accused them of overreacting. Videos showed officers kicking and hitting fans with batons and forcibly pushing spectators back into the stands.
CLICK HERE TO GET THE FOX NEWS APP
National Police Chief Listyo Sigit Prabowo removed the police chiefs of East Java province and Malang district and suspended 20 other officers after the tragedy over violations of professional ethics.
An investigation set up by Indonesian President Joko Widodo in response to a national outcry over the deaths concluded that the tear gas was the main cause of the crowd surge. It said police on duty had no knowledge that the use of tear gas is prohibited at soccer stadiums and used it "indiscriminately" on the field, in the stands and outside the stadium, causing the more than 42,000 spectators inside the 36,000-seat stadium to rush to the exits — several of which were locked.
Widodo's fact-finding team also concluded that national soccer association PSSI had been negligent and ignored safety and security regulations. Its chair and executive committee were replaced last month and it is now led by Erick Thohir, the former owner and chairman of Italian soccer giant Inter Milan and U.S. soccer club D.C. United, who has served as Indonesia's minister of State-Owned Enterprises since 2019.