close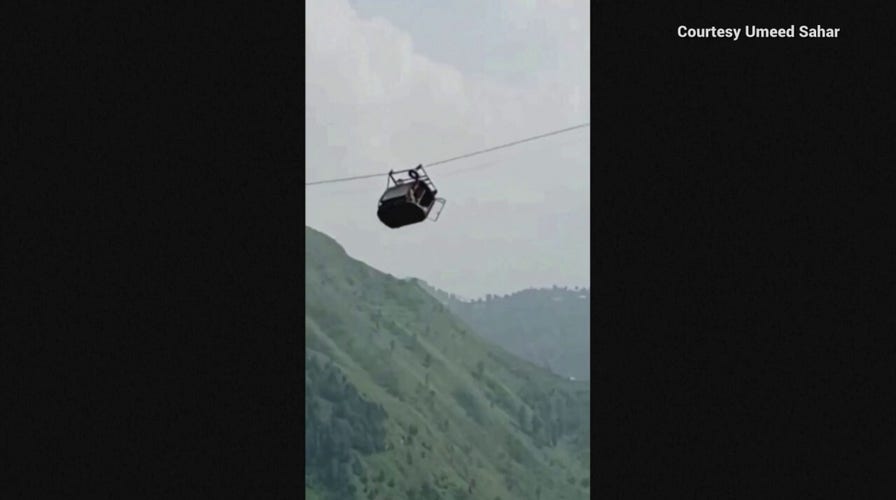 Video
Pakistan children, teachers trapped after gondola becomes stuck
A gondola in Pakistan is stuck nearly 1,000 feet above the ground Tuesday, officials say. (Credit: Reuters/Umeed Sahar)
One of the six Pakistani boys who was rescued Tuesday after the gondola he was traveling in became stuck nearly 1,000 feet in the air said Wednesday, "We thought all of us are going to die."
Osama Sharif, 15, made the comment to The Associated Press following the daring rescue operation that unfolded in Battagram, located about 125 miles north of the capital of Islamabad. The six children and two adults onboard reportedly were heading to a school when one of the cables connected to the gondola snapped, leaving them dangling over a ravine.
"We suddenly felt a jolt, and it all happened so suddenly that we thought all of us are going to die," Osama told the AP. "We cried, and tears were in our eyes, as we feared the cable car will go down."
Osama said he was traveling to a school to receive the result of a final exam when the incident happened.
"I had heard stories about miracles, but I saw a miraculous rescue happening with my own eyes," he added,
PAKISTAN SEMINARY STUDENT SHARES FIRSTHAND ACCOUNT OF EXTREMIST VIOLENCE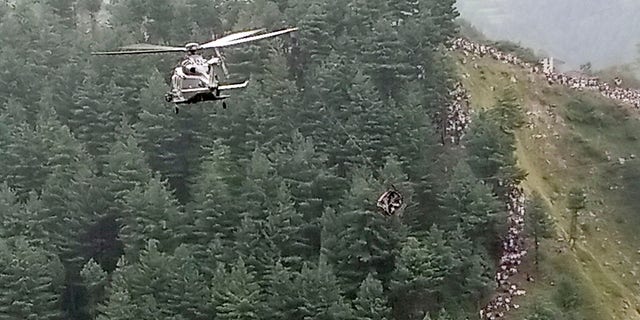 An army helicopter takes part in a rescue operation to save people trapped in a broken gondola in the Battagram district in Pakistan's Khyber Pakhtunkhwa province on Tuesday. (AP)
The eight passengers were pulled from the cable car in several rescue attempts Tuesday. One of the youngest children was grabbed by a commando attached to a helicopter by rope. A video of the rescue shows the rope swaying wildly as the child, secured by a harness, is pulled into the helicopter.
Because helicopters could not fly after sunset, rescuers constructed a makeshift chairlift from a wooden bed frame and ropes and approached the cable car using the one cable that was still intact, local police chief Nazir Ahmed said. In the final stage of the risky operation, just before midnight Tuesday, rescuers and volunteers pulled a rope to lower the chairlift to the ground. Joyful shouts of "God is great" erupted as the chairlift came into view, carrying two boys in traditional white robes.
PAKISTAN GIVES CASH TO NEARLY 100 HOMELESS CHRISTIAN FAMILIES FOLLOWING DESTRUCTIVE MUSLIM-LED RIOT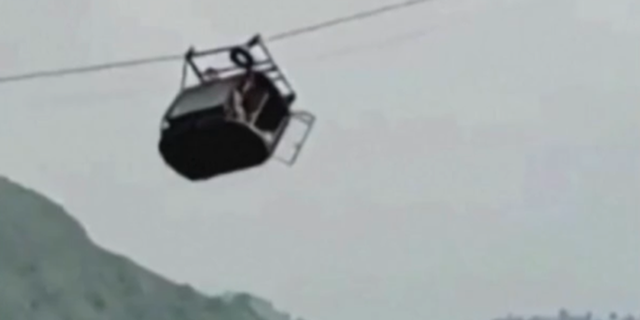 The gondola was carrying eight people when it became stuck Tuesday in Battagram, Pakistan. (Reuters/Umeed Sahar)
Police on Wednesday then arrested Gul Zarin, the owner of the gondola, on charges of ignoring safety measures, the AP reported.
In a post on X, Pakistan's caretaker Prime Minister Anwaar-ul-Haq Kakar described the rescue situation as "really alarming."
He later posted that he was "relieved" that "all the kids have been successfully and safely rescued."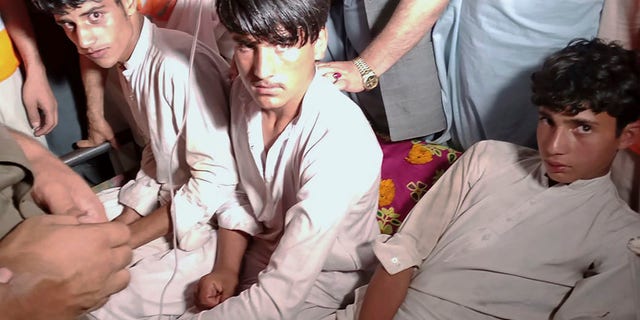 Pakistani boys who were trapped in the broken gondola are surrounded by villagers following their rescue late Tuesday. (AP/Nasir Mahmood)
CLICK HERE TO GET THE FOX NEWS APP
"Great teamwork by the military, rescue departments, district administration as well as the local people," he wrote.
The Associated Press contributed to this report.
Greg Norman is a reporter at Fox News Digital.