close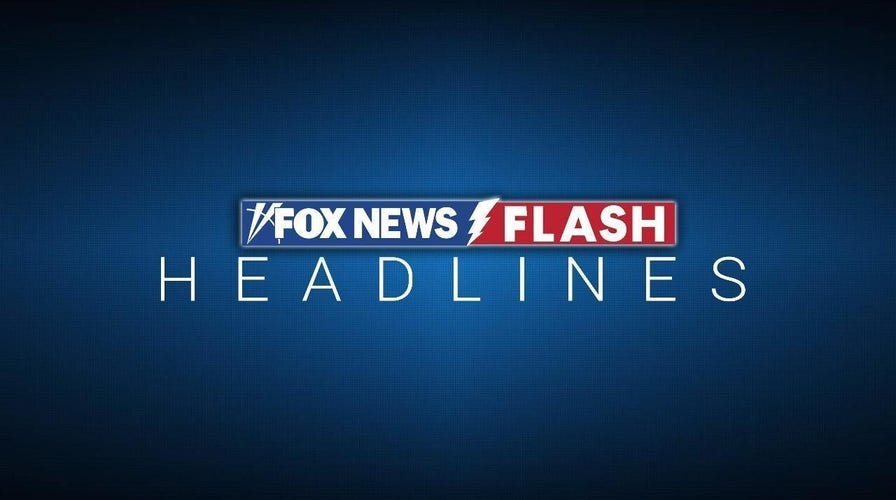 Video
Fox News Flash top headlines for March 30
Fox News Flash top headlines are here. Check out what's clicking on Foxnews.com.
Pakistan on Thursday boosted security after 11 people were killed in stampedes at free wheat distribution centers for the poor since the start of the Islamic holy month of Ramadan last week, officials said.
Cash-strapped Pakistan last week launched the initiative to distribute free flour among low-income families to ease the impact of record-breaking inflation and soaring poverty during the holy month.
But as crowds swelled at the distribution centers across the country, many would panic in fear whether they would be able to get the flour, triggering the deadly stampedes. Eight deaths were reported in northwestern Pakistan and three in the eastern Punjab province.
Observant Muslims abstain from food and water from dawn to dusk during Ramadan and then, as the sun sets, break their daytime fast with iftar, the evening meal.
The flour distribution initiative was launched by Pakistan's Prime Minister Shahbaz Sharif as his government is facing the worst economic crisis amid a delay in getting a key $1,1 billion tranche of a $6 billion bailout package originally signed in 2019 with the International Monetary Fund.
PAKISTAN BOWS OUT OF US-LED SUMMIT IN POTENTIAL MOVE TO WOO CHINA
"So far, the Punjab government has distributed 20 million bags of flour," said Mohsin Naqvi, the head of the caretaker government in Punjab.
Along with Punjab, additional police were also deployed Thursday in northwestern Khyber Pakhtunkhwa province. Haroon Shah, a government adviser in Khyber Pakhtunkhwa told The Associated Press that the stampedes happened because desperate "people were impatient" and were not sure whether they will get the flour.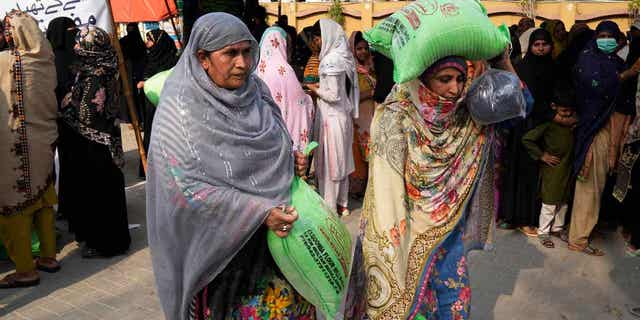 Women leave while others wait their turn to get a free sack of wheat flour at a distribution point in Lahore, Pakistan, on March 30, 2023. The country's government is providing flour to poor families during Ramadan due to high inflation in the country.  (AP Photo/K.M. Chaudary)
"We have enough flour in our stocks," he said.
On Thursday, housewife Zubaida Bibi was smiling as she came away from an Islamabad distribution center with three sacks of flour after having waited for hours.
PAKISTANI COURT RULES IN DEFENSE OF FORMER PRIME MINISTER IMRAN KAHN
The South Asian nation is currently going through one of its worst economic crises amid depleting foreign exchange reserves and increasing cost of living. The weekly inflation is 45%, unseen since the country got its independence from British colonial rule in 1947.
Rising food costs and soaring fuel bills have raised fears of public unrest. Economists say Pakistan is currently facing a default-like situation mainly due to a delay in the release of the loan from the IMF. They say the cost of energy and prices of dairy products, maize, fruit, vegetables, and grains have doubled in the past year, and farmers are struggling to get fertilizers at higher rates for crops.
"This government of Shahbaz Sharif is worse than his predecessor Imran Khan," said Mohammad Afzal, a villager who lives near Islamabad.
CLICK HERE TO GET THE FOX NEWS APP
A former cricket star turned Islamist politician, Khan served as prime minister 2018-2022 before he was ousted in a no-confidence vote in Parliament last April. He has since campaigned as opposition leader against Sharif's administration. Sharif claims the economic problems stem from Khan's bad governance.
Sharif visited a flour distribution center in Islamabad earlier this week. No violence was reported during his visit. Information Minister Marriyum Aurangzeb said Sharif was at the scene and wanted "to ensure uninterrupted" distribution of the flour to the people. She said 4.2 million people had already received free flour.